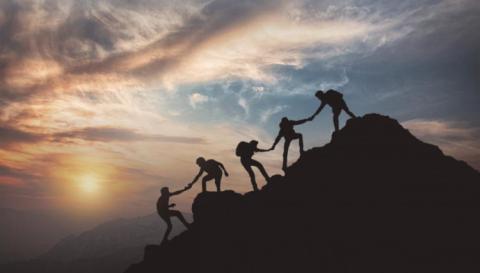 By Micah Colbert. Reposted from Rooted Thinking.
Introduction
Servant leadership is something people frequently talk about but rarely understand or practice. Many Christians seem to equate servant leadership with passive or subservient leadership. They envision the servant leader as a gentle, accommodating person who works hard to meet everyone's needs and keep everybody happy. True servant leaders, however, are not docile. They're driven. Captivated by the love of God and the mission of God, they use "their gift of leadership by taking initiative to focus, harmonize, and enhance the fits of others for the sake of developing people and cultivating the kingdom of God."1 They proactively labor to equip and empower God's people so that they can accomplish God's purposes in the world together. They serve so that each person under their care becomes all that God has called and gifted them to be.
A Biblical Theology of Servant Leadership
The study of leadership should begin with the study of Scriptures. Leadership theories ultimately flow out of our functional theology. Sadly, there's often a lack of congruence between the stated beliefs and actual practices of Christian leaders. One author states, "While most ministry leaders hold to a biblical theology, too often their theory of leadership comes from popular books that run counter to good theology. It is dangerous to lose the connection between the theory and theology of leadership."2 Servant leaders seek to root their leadership philosophy and practices in the eternal, timeless truths of Scripture. Some of the key truths that inform their theology of leadership are as follows:
The Servant Leadership Mandate ~ Genesis 1:26-28
Leadership is both a gracious gift and a God-given responsibility. Genesis 1:26-28 has often been referred to by theologians as the "Dominion Mandate." In this text, God commissions Adam as the head of humanity to be fruitful, to multiply, and to exercise dominion over His created world. God's design for humanity was to rule over creation in such a way that life would flourish and multiply. As one author states, "God's plan from the beginning of creation was to entrust leadership to His people so that they might fill the earth with glory-reflecting image bearers who strive to make the earth a glory-yielding garden for the name of Jesus."3 We were uniquely made by God to live and lead under His reign so that His Kingdom would advance on earth.
Instead of serving under God as His coregents, humanity chose to rebel and establish their own kingdom in defiance against their Creator. The results were devastating. Leadership became self-serving and oppressive, bringing death instead of life. Because of the corrupting nature of sin, humanity now uses leadership to dominate instead of cultivate.
Key Principles
Several principles about God's design for servant leadership emerge from this passage. First, servant leaders value people as divine image bearers. They do not see people as assets or liabilities, but as individuals made uniquely in God's image for God's glory. They treat each person under their care with dignity, worth, and respect. Secondly, servant leaders are cultivators. They work hard to cultivate their relationships, work, and ministries so that they can grow and thrive under their leadership. Servant leaders also recognize that their leadership is both a stewardship from God and an extension of His leadership to others. Finally, servant leaders realize that indwelling sin thoroughly corrupts God's good design for leadership. They are keenly aware of how their sin affects themselves and others. As a result, they welcome accountability, mentoring, and opportunities to share their power with other leaders.
Servant vs. Self-Serving Leadership ~ Mark 10:42-45
Mark 10:42-45 might be the most well-known passage on servant leadership. In this text, Jesus contrasts the culturally prevalent leadership model of His day with His humble, servant approach to leadership. As Jesus notes, the world "practices leadership from a model of dominance, authority, and the effective uses of power and position."4 Their leadership is ravenously ambitious and self-serving. They use their power to exploit others and elevate themselves.
In stark contrast, Christ proclaimed that those who would lead in His kingdom must become "slaves of all" (v. 44). In a culture that placed a premium on individual freedom, the idea of posturing oneself as a slave or servant would have been profoundly demeaning.5 Slaves had no freedoms or rights. They were despised, rejected, and treated with utter contempt. This cultural context makes Christ's servant leadership model even more astounding and revolutionary. Emptying Himself, Jesus willingly became a servant, sacrificing His life so that others might live (Phil.2:5-11).
Key Principles
The implications of this text are weighty for those who would follow Christ. Leadership, as embodied by our Savior, begins with humility. Humility is not self-seeking, but self-emptying. It is "a lifestyle, not isolated incidents. It is an attitude towards God, ourselves, and others that permeates our thoughts and deeds."6 Humility has rightly been called "the chief of virtues, the best paradigm of all proper Christian thought, word, and deed—the very definition of what it means to have a Christian worldview."7 In humility, servant leaders "count others more significant" than themselves (Phil. 2:3). Servant leaders don't use people to build their ministries. Rather, they use their ministries to build people.
It is important to note that servant leaders recognize that they are primarily servants of God, not man. The service that they offer to others is an expression of the service they render to God. This Godward mindset keeps leaders from becoming enslaved by the fear of man (Prov. 29:25). Just as Christ did not get sidetracked from His mission by the messianic ideals of His disciples (see Mt.16:21-28), servant leaders do not get distracted from fulfilling their primary task of equipping God's people for ministry work.
Conclusion
Servant leaders equip God's people to be all that God has called and gifted them to be. Guided by the mission of God and the Word of God, they humbly lay down their lives so that those under their care can flourish.
In our next post, we will explore two more Biblical principles that shape the servant leader's philosophy and practice of leadership.
Notes
1 James Plueddemann, Leading Across Cultures: Effective Ministry and Mission in the Global Church (Downers Grove: IVP Academic, 2009), 15.
2 Plueddemann, 170.
3 Eric Geiger and Kevin Peck, Designed to Lead: The Church and Leadership Development (Nashville: B&H Publishers, 2016), 57.
4 James R. Edwards, The Gospel According to Mark, The Pillar New Testament Commentary (Grand Rapids: Eerdmans, 2002), 324.
5 Robert Horst Balz and Gerhard Schneider, The Exegetical Dictionary of the New Testament (Grand Rapids: Eerdmans, 1990), 350.
6 Elmer, Duane, Cross-Cultural Servanthood: Serving the World in Christlike Humility (Downers Grove, IL: InterVarsity Press, 2006), 32.
7 Christopher A Hutchinson, Rediscovering Humility: Why the Way Up Is Down (Greensboro, NC: New Growth Press, 2018), 25.
---
Micah is the discipleship and outreach pastor at Community of Grace Church in Buffalo, NY. He is also the author of two outreach books: Good News for All Nations and Discovering Hope. Micah enjoys reading, coffee, hearty conversations, and time spent with his wife and four children.
1247 reads