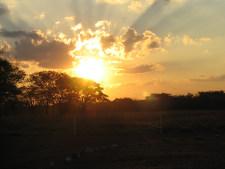 From Voice magazine, May/June 2016. Used by permission. Read Part 1.
We Rejoice in Ministry Because of the Privilege of Serving
When we encounter trials and difficulties, ministry can soon become a burden. Instead of the joy, we wonder if ministry is a curse that we must endure. However, for the apostles, the call to ministry was the greatest privilege that could be given. It is not an accident that the writers of the New Testament refer to the service of God as a "gift." But the word "gift" is more than something given without cost. Paul uses the same word to both describe the incredible gift of our salvation (Romans 6:23) and to describe the spiritual gifts we have received to serve him (Romans 12:6; 1 Corinthians 12:28). In contrast to a wage which someone gives based upon the merit of the recipient, a person gives a gift freely, and it demonstrates the benevolence and loving character of the giver.
When we think of the unparalleled demonstrations of God's infinite grace we most often (and rightfully so) refer back to our salvation. But no less a demonstration of his infinite benevolence is the call and privilege to serve the living God of the universe. We easily become discouraged if we do not receive any positive affirmation or encouragement. But we do not find the joy of ministry in the response of the people we serve, but in the privilege of serving the one who called us. Serving God is its own reward. We continually rejoice because God has bestowed upon us the honor of serving him. What greater favor can be bestowed than serving the living God on a daily basis? There is no greater privilege than serving Christ and his people with our time, talents, and spiritual gifts. As pastors, we have the privilege of being the vessels that God uses to communicate his life-giving message to a dying world. We have the privilege of representing and communicating his love letter to people.
This is your calling, that God has chosen you to be among those sent by the living God to bring his message to lost and broken people. There is no other occupation like it in all the world. You have the privilege of affecting the lives of people for all eternity. How could we ever become disillusioned in ministry? How could we ever shrink back from the calling and become angry with God for calling us to this task? The gift of being a pastor-teacher, along with every gift given to the church, is priceless. God has given us a great privilege: the task of being his vessels through whom he communicates his salvation.
But with great privilege comes great responsibility and great opposition. If our calling is so great, then we can expect that there will be opposition and personal attacks. This comes with the territory. The fact remains that not only do we remain in a broken world, we enter a spiritual battle where Satan desires to destroy any and all the works of God. Where God's grace is most evident, Satan's opposition will be most pointed. So we should not expect to escape the onslaught of his attacks. Rather than becoming disillusioned in ministry, adversity serves as a continual reminder of the greatness of our responsibility.
We Rejoice in Ministry Because of the Sufficiency of Christ
As we go about our daily tasks, we must remember that Christ personally empowers us. Not just that Christ watches over us and even injects his protective hand from time to time, but that Christ actively equips us to achieve his work. When Paul evaluated his own ministry, not only did he see the eternal significance of it and the importance of his all-out effort, but he saw that everything he did was done through the empowerment of Christ rather than his own strength (Colossians 1:28-29). It is easy and inevitable to become discouraged if we look only at ourselves: our abilities, our talents, our wisdom, and our strength. But Paul reminds us that our sufficiency is not in ourselves but in Christ who empowers us.
First, he is sufficient to empower us to effectively accomplish his eternal purpose. This becomes the basis for our confidence as well as our assurance that our ministry will be effectual. We are not called to a task that we are ill equipped to perform. Through Christ, we possess everything necessary to accomplish his purpose for our life and ministry even if we fail to see the results (2 Peter 1:3). But therein lies the problem. Discouragement plagues us because we often do not see what our efforts accomplish. You compare yourself to others who appear to be "successful" and you see yourself as coming up short. Other pastors are better communicators, better organizers, more dynamic, more gifted, clearer visionaries, stronger exegetes, and the list goes on.
When you start to compare yourself to others, you soon wonder if the church would be better served by a different pastor. It is not the Moses who led the people of Israel that we identify with, but the Moses who cried out, "Please, Lord, I have never been eloquent, neither recently nor in time past, nor since You have spoken to Your servant; for I am slow of speech and slow of tongue" (Exodus 4:10). Even after God reminded Moses that he had equipped him for the task set before him (vv. 11-12), Moses still saw himself as unfit, crying out, "Please, Lord, now send the message by whomever You will" (v. 13). What Moses needed to learn (and each of us also) is that the sufficiency for ministry comes not from ourselves, but from the empowerment of the living God. You can be confident in ministry, not because of your intrinsic talents and abilities, but because of the living God who both calls you and equips you. Your competence is found in Christ, not yourself; it is his work, not yours.
Second, because of his enablement and grace, we can experience God's blessing upon our ministry. We constantly feel inadequate, not only because we feel ill equipped, but also because we feel wholly unworthy of the task. So we fall into the trap of trying to earn the blessing of God upon our life and church. We desire nothing more than this. But it always seems so elusive. While pursuing and seeking his blessing, we are never sure we ever attain it. This is especially true when our ministry seems to be floundering in the realm of stagnation, when attendance decreases and programs are getting nowhere, when people continually struggle with the same old problems and remain unchanged by our most powerful sermons. Sometimes we cry "Ichabod," wondering if the glory of God has departed from our ministry. Accordingly, we equate God's blessing with our worthiness and efforts. This then robs us of our joy. We continue to serve, but we feel forgotten and forsaken by God.
Rediscovering your joy in ministry is not found in the attainment of success but rather in the reaffirmation of the sufficiency of Christ's grace. You are competent in ministry because his grace is sufficient, and his empowerment is abundant. Because of the grace of Christ, not only do you no longer need to earn God's salvation, you no longer need to earn his blessing upon your life and ministry. Just as you can never earn salvation, you can never earn God's blessing. Rather, he freely gives it because of the work of Christ on the cross.
1462 reads