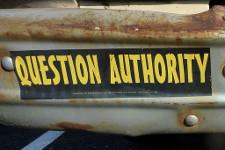 I saw it again the other day, a bumper sticker that said, "Question Authority." That's the prevailing mood of our day, perpetual skepticism towards human authority and the notion that we should question and challenge it at every opportunity. This is hardly surprising given the rebellious nature of humanity, but it's puzzling to see many Christians join the chorus.
In our adamic depravity we all have a natural distaste for authority. Resistance can run the gamut from mild to intense, but this basic sentiment lurks in the shadows of every human heart, "Ain't nobody gonna tell me what to do!" Rugged individualism can digress into sinful anti-authoritarianism almost imperceptibly.
Personal independence is lauded in movies, television, and popular songs. Frank Sinatra sang, "I did it my way." Society makes heroes of those who defy authority, whether parental, ecclesiastical, political, or economic.
How many Sanctuary Cities proudly proclaim their disdain for Federal and State laws as they harbor illegal aliens, many of whom have committed crimes for which Americans would be prosecuted. Because they are "undocumented immigrants," they are sheltered and protected from the reach of the law. In other words, because they broke the law by entering this country illegally, they are now exempt from other laws! How does one explain such seeming insanity unless it is driven by deeply rooted rejection of governmental authority?
If someone does not approve of our nation's immigration laws, why not work through the legislative process to have them changed? Please don't defy them simply because you don't like them! What do these agitators want? A society in which everybody disobeys the laws with which they disagree? Do they want a complete break-down of law and order? That seems to be the only explanation which accounts for such folly.
From whence comes the recent distrust of policemen? Do officers of the law perform perfectly at all times? Of course not, but to assume that every conflict is the result of misbehaving policemen, not people breaking laws, not only strains credulity, but undermines the ability of law officers to do their job. Do these people really want a society in which there are no policemen?
I've often wondered what would happen if every law officer in America walked off the job? But as I ponder that possibility, I shudder at the consequences. I don't want to live in a society without law enforcement, and I suspect you don't either. And yet, if the real criminals are the cops, why not fire every policeman, thereby eliminating crime and conflict from American society, not to mention saving tons of money. Does anyone really think that would work?
The Need for Authority
Humanity needs authority because of sin. If nobody sinned, we wouldn't need others to remind us what is right, and correct us when we're wrong. In a perfect society, everyone would love one another, and nobody would harm another person. That's utopia, and it can happen only when all sin is removed from every human heart. Until then, sinners need restraint, and human authority is essential to keep society from self-destructing.
The Problem with Authority
There is a problem, however, namely that every person in authority is also a sinner. Sinners need authority to restrain sin, but the ones appointed to restrain sin are sinners, too. That explains why sometimes policemen lose their tempers and violate civil rights. It explains why husbands abuse their wives and children. Politicians may misuse their office for personal gain because they, like others, are sinners, too. This is a real dilemma. Society needs authority because of sin, but people in authority perform imperfectly, also because of sin. What's the answer? There is no permanent solution until Jesus returns, but I can tell you what the answer is not. Attacking the principle of authority, and undermining governing institutions is not the solution. That only multiplies the problem. Human society needs human authority.
God Ordains Human Authority
Society needs authority, which is why God ordained authority structures for the good of mankind. God designed a plan for the family. Husbands are instructed to lead their wives, and parents together are commanded to exercise authority over their children (Ephesians 5:22,23; 6:1-4). God designed authority for the civic arena, which we call government. God commands people to obey kings and the officials who serve them (1 Peter 2:13-15). God has an authority plan for human labor, and commands workers to submit to their supervisors as if serving Christ Himself, because properly understood, that's exactly what they are doing (Colossians 3:22-24).
God designated authority for the church and appointed spiritual leaders to be honored and followed by Christians (Hebrews 13:7,17). Does anyone imagine that all of these leaders will exercise authority perfectly? Not in this fallen world! But God, who knows the sinfulness of every human heart, ordained human authority for the good of human society. Fallen sinners need societal structure and restraint.
Those who submit to God-ordained authority will be rewarded by God, and those who resist will answer to God for their disobedience. Likewise, human authorities who rule well will be rewarded by God, and those who misuse their position will face the consequences of Divine justice. God is the ultimate authority to whom all must give account.
The Limits of Human Obedience
How far should we go in submission to human authority? Some say that we should obey the requirements with which we agree and resist the rest. But that results in chaos and anarchy in this fallen world. Fortunately, God does not leave us without guidance. His Word instructs us to obey every human regulation unless these authorities require us to disobey God's commandments. At that point, we must obey God rather than man, but until that point is reached, God expects us to submit to human authority (Acts 4:19; 5:28, 29).
Jesus Christ furnishes a striking illustration of this principle. He pointed to the Scribes and Pharisees, Jewish religious leaders who were sitting in the seat of Moses, that is, exercising Moses' authority. They were defiant towards Christ, their rightful king. They were anything but models of godly behavior. Nevertheless, Jesus commanded His followers to submit to their authority. "Do what they say, not what they do," was Christ's instruction (Matthew 23:1-3). Imagine that! Christ said to submit to those whose actions violated God's Word, but whose teaching authority was to be obeyed unless they directly commanded people to violate God's revealed will. Clearly Jesus Christ had a higher view of human authority than most people today.
The Bottom Line
Sin, by its very nature, is defiance against the authority of God, and a heart in rebellion against God will also resist God-ordained human authority. God expects people to have a prevailing attitude of submission towards authority, not one of second guessing and rebellion. We would expect the world to encourage defiance, for that reflects the sinful nature of human hearts in rebellion against God and His laws. God requires submission because submission reflects the renewed condition of hearts changed by His Spirit, and surrendered to the Lordship of Christ. "Question authority?" Not unless it commands you to disobey God. "Respect authority" is the proper attitude of God's blood-bought children who live in this world of sin and darkness.
---
G. N. Barkman received his BA and MA from BJU and later founded Beacon Baptist Church in Burlington, NC where has pastored for over 40 years. In addition, Pastor Barkman broadcasts over several radio stations in NC, VA, TN, and the island of Granada and conducts annual pastors' training seminars in Zimbabwe, Africa. He and his wife, Marti have been blessed with four daughters and six grandchildren.
1110 reads
8562 reads