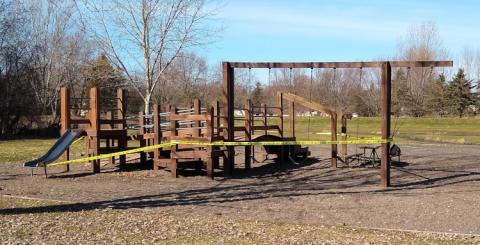 Everyone is annoyed at times by a stupid rule or a bad decision by a leader. But lately, conservative Christian responses to government rules look and sound about the same as non-Christian attitudes on the political right: they're dominated by anger, harsh judgments of motives, mockery, and defiance.
Sanctimonious defiance is still really just defiance. If you put lipstick on a pig, it's still… etc., etc.
Christians are called to better attitudes—ones fueled by a different focus. Keeping some realities in mind may help chill the anger and judgmentalism and foster something closer to our duty to "honor all" and "honor the king" (1 Pet 2:17, KJV).
Reality 1: All rules are stupid at the margins.
Observing how life works can lead to wisdom (Prov 24:32, 8:1-3). Observe that mailing or transmitting your tax return at one second past 11:59:59 PM on tax day is late. Going 70.00001 mph in a 70 mph zone is, technically, a violation. One second before midnight on the eve of your 18th birthday, you're a minor and you can't join the Army. One second later, you're an adult, and you can.
Law is like that. No matter where you draw the line, it's going to look silly, or worse, under certain conditions. In unusual cases—the marginal ones—the law not only seems stupid: it really is stupid. But there's no way to fix that. In lots of places you can be a citizen where you stand, then take one step and become a foreigner.
That's not to say all rules are equally wise or foolish, but it should slow us down from looking at special situations where a rule doesn't work and using those to mock or dismiss the rule as a whole. It's especially easy to overlook the power of a small change in behavior when it's multiplied by thousands or millions of people repeatedly, over time.
So that annoying rule might not be as ridiculous as it seems. Consider what it may do most of the time or much of the time, not just what it fails to do here or there.
Reality 2: Leaders on the wrong side are still humans with ordinary human motivations.
We sometimes hear pulpit claims that unbelievers are incapable love, aren't interested in doing good, and are always only seeking their own gratification or power.
I don't know how widespread this thinking is, and I can't fully dismantle it here, so, a compressed version:
Obviously, not everybody is Hitler. That's not what being a "natural man" (1 Cor 2:14) means, or what "total depravity" means.
Most people are better than the worst people.
Romans 3:10, 3:23, 8:7, Colossians 1:21, and many other passages, are clear that those without Christ are in a state of hostility toward God and unable to even begin to pay (Titus 3:5) for the sins we're all guilty of by nature. In that sense, there is no "good" in them.
It doesn't follow that the unregenerate have no compassion, no sense of responsibility, no desire to accomplish good that will outlast them, no desire to bring about a better society, or no desire to protect those they love.
Less noble, but still not "evil," motives are common among all of us as well—regenerate and unregenerate alike: fear of harm, desire to be successful in our work, desire to be respected, desire to feel important and competent, desire to be more comfortable and prosperous.
Because both the saved and lost are still fully human, even the worst of leaders is more like us than not.
So when Governor X or Mayor Y or School District Superintendent Z issues some directive that seems oppressive or foolish, we should hesitate to go straight to "they don't really care about people's health" or "they just want to harm churches," etc.
Other motives are more likely. Even other sinful motives are more likely.
Being "pro-choice," for example, doesn't make a leader incapable of caring about the lives and wellbeing of the post-natal citizens in their care. Humans are like that. We aren't logically consistent. Sometimes that's a good thing.
Reality 3: Leadership is hard and leaders need prayer.
Maybe some leaders are so intuitive they never agonize over having to make decisions with inadequate information and no way to see any high-probability outcome. I doubt it, though.
In the first quarter of 2020, decision-makers from the White House on down to county health commissioners had to look at messy data, conflicting claims, oversimplified and overdramatized interpretations of models and studies—and their own instincts—and make decisions about how to respond. All the while, the perceptions of their constituents, their own job security, and the wellbeing of their own families were on the line, too.
They're still in that predicament. You might have to be Bill Gates to pay me enough to take a job like that!
Should we evaluate their decisions? It's our duty. Should we make a case that a different decision would have been better, given the facts at hand? That's often the responsible thing to do as well. Should we reflexively reject their every move as sinister or idiotic or both, before we've even engaged our imagination to consider more charitable explanations for their actions? I'll let the Bible answer that.
Be subject for the Lord's sake to every human institution, whether it be to the emperor as supreme, 14 or to governors as sent by him to punish those who do evil and to praise those who do good. 15 For this is the will of God, that by doing good you should put to silence the ignorance of foolish people. 16 Live as people who are free, not using your freedom as a cover-up for evil, but living as servants of God. 17Honor everyone. Love the brotherhood. Fear God. Honor the emperor. (1 Pet 2:17, ESV; emphasis added.)

First of all, then, I urge that supplications, prayers, intercessions, and thanksgivings be made for all people, 2for kings and all who are in high positions, that we may lead a peaceful and quiet life, godly and dignified in every way. (1 Tim 2:1–2)
Reality 4: When stakes are high, fear's other name might be wisdom.
Almost from the start of the coronavirus outbreak, leaders' efforts to take steps toward caution and safety have been dismissed or mocked by many as "driven by fear"—or so-called "panic."
But should we be so sure that doing something "out of fear" is a bad thing? Scripture doesn't back that. There's foolish fear and there's wise fear. We call the latter caution, wariness, wisdom.
Proverbs highlights the principle multiple times:
The prudent sees danger and hides himself, but the simple go on and suffer for it. (Pr 22:3 and 27:12)

One who is wise is cautious and turns away from evil, but a fool is reckless and careless. (Pr 14:16)
Though we're warned that fear can be sinful (Isa 51:12-13, Matt 10:28), the New Testament contains about a dozen commands to "beware," and several calls to "watch out," as well as instruction to "be alert," "be sober minded" (1 Pet 5:8), and "take heed" (1 Cor 10:12). Peter goes so far as to say "live out your time as foreigners here in reverent fear" (1 Pet 1:17, NIV).
Reality 5: I would want an open mind if I were in their shoes.
All the Monday morning quarterbacking—especially where the decisions of left-leaning leaders are concerned—reminds me of the Sermon on the Mount, two portions in particular.
For with the judgment you pronounce you will be judged, and with the measure you use it will be measured to you. (Matt 7:2, ESV)

So whatever you wish that others would do to you, do also to them, for this is the Law and the Prophets. (Matt 7:12)
These principles aren't limitless in application. I'd prefer that nobody ever judge or criticize me at all in any way, ever, but we don't get to treat others that way. By the end of the same chapter, Jesus is instructing His hearers to gague the quality of people "by their fruit" (Matt 7:20).
Still, at the very least, we'd all like people to judge us fairly—to hear us out and give us a chance to be right, even if we've been wrong in the past or are still wrong about other things. We'd like people to consider the possibility that we have to consider factors they're not aware of.
Reality 6: We're in a war, but it's not really a political war.
Maybe the worst effect of all the politically-driven harshness toward decision-makers and their rules is that we tend to forget there's a much bigger war going on. It's bigger than the culture war. It's way bigger than the latest political tactical battles. The war of the ages includes two easily overlooked aspects:
Our personal and church-wide battles against sinful attitudes, desires, and conduct (1 Pet 2:11, Rom 7:23, Gal 5:17).
Our struggle against the nonphysical rulers of the darkness of this age (Eph 6:12).
Paul goes out of his way to point out that our war is "not … against flesh and blood." Ultimately, human beings are not really the enemy. Subtler but weightier things are going on, and the toughest and most important battles are the ones closest to home, in our own movements, our own congregations, our own families, and our own lives.
---
Aaron Blumer is a Michigan native and graduate of Bob Jones University and Central Baptist Theological Seminary (Plymouth, MN). He and his family live in small-town western Wisconsin, not far from where he pastored Grace Baptist Church for thirteen years. In his full time job, he is Information Coordinator for a law-enforcement digital library service.
1662 reads
2020 reads