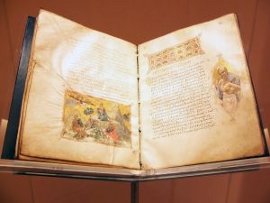 Read Part 1 and Part 2.
Does the Bible teach that God's people will always be able to point to a particular text1 of the Bible and know that it is the word-perfect, preserved text? Those who believe a particular choice of translations is "the biblically right" option, tend to answer (passionately) in the affirmative. But many who use other translations or simply prefer the KJV are not so sure. Who is right?
Points of agreement
Nearly all involved in the controversy are agreed that God has preserved His Word for us in some sense. Nearly all are agreed as well that Scripture teaches God will preserve forever, somewhere and in some form, every one of the words He inspired and that some believers will always have access to Scripture in some form. God's ability to use imperfect sinners to perfectly preserve His Word is also not in dispute, nor is the fact that we should accept what the Bible reveals to be true regardless of the claims of the "science of textual criticism" or any "high thing that exalteth itself against the knowledge of God" (2 Cor. 10:5, KJV).
It is also agreed that the Bible depicts human beings as both finite and fallen and prone to error in what they do, but that God overcame human fallibility when He inspired "holy men of God" to record the Scriptures (2 Pet. 1:21). This is where we come to a major fork in the road. Though we do not have equally direct and clear statements to the effect that God also ensures word-perfect preservation (see part 2), many believe a compelling case for this kind of preservation can be derived from less direct passages. The book Thou Shalt Keep Them (TSKT) is an important example.
The next two articles in this series aims to examine all of the relevant biblical arguments in TSKT to see whether we have sufficient grounds for believing God has continuously overcome the limitations of His servants so that they maintain a word-perfect, preserved text of the Bible.
Passages handled previously
TSKT has chapters devoted to several of the seven popular preservation texts I examined earlier in this series: Psalm 12:6-7 (TSKT, ch. 1), Matthew 5:17-18 (TSKT, ch. 3), Matthew 24:35 (TSKT, ch. 5) and 1 Peter 1:23-25 (TSKT, ch. 7). These passages clearly affirm a concept of preservation, but do not tell us to expect a word-perfect text to be available to every generation.
Though all of these passages would be consistent with the idea that we will always be able to access word-perfect copies of Scripture, "consistent with" is not strong evidence that God has chosen to overcome the human fallibility the Bible clearly teaches us to expect.
Other important passages
Perhaps recognizing that these often-cited passages are not sufficient to support their conclusions, the writers of TSKT look to several other verses as well. We'll consider these individually.
"Every word that proceedeth"
But he answered and said, It is written, Man shall not live by bread alone, but by every word that proceedeth out of the mouth of God. (Matt. 4:4)
Thomas M. Strouse handles this passage in TSKT's second chapter and concludes the following:
The Lord clearly stated His belief in the availability of Scripture by assuming the accessibility of every Word. The Savior clearly stated His belief in the verbal, plenary preservation of God's Words since they had been and were still preserved intact in His day. (p. 39)
But Strouse's case proves to be weak on several grounds. First, the perfect tense of "it is written" (gegraptai), does not indicate anything about the future of what is written, as he asserts (p. 38). Rather, the tense indicates an action that occurred in the past and has produced a state that continues in the writer's (or, in this case, speaker's) present. The idea here is simply "it stands written."
Second, Jesus describes the "every word" He has in mind as coming from the "mouth" of God, and uses the Greek rhēma (ῥῆμα) for "word." Rhēma normally indicates spoken rather than written words.
Third, "proceeds" is in the present tense. The sense is "every word that is proceeding from the mouth of God." Though continuation is not always part of the meaning of a present tense verb, the fact that "shall live" is future almost requires that sense here. "Man shall live now and in the future by every word that is proceeding from the mouth of God."
Finally, the context is also significant. Deuteronomy 8:3, which Jesus quotes here, is a reminder to the children of Israel that they are dependent on God's decrees for their well being. And in the immediate context, Jesus is responding to pressure from Satan to turn stones into bread (during a long fast).
These details do not prove that Jesus was referring to unwritten words, but together they do strongly suggest He was speaking of God's continual commanding of what we need to "live." He was emphasizing our dependence on the Father as well as the Father's sovereign control over our lives. In Matthew Henry's words:
It is true, God in his providence ordinarily maintains men by bread out of the earth (Job 28:5); but he can, if he please, make use of other means to keep men alive; any word proceeding out of the mouth of God, any thing that God shall order and appoint for that end, will be as good a livelihood for man as bread, and will maintain him as well.2
Jesus' statement here does not communicate that He had access to an Old Testament text that contained every word originally inspired. The statement is even further from teaching that every generation of believers will have access to such a text.
"They have received them"
For I have given unto them the words which thou gavest me; and they have received them, and have known surely that I came out from thee, and they have believed that thou didst send me. (John 17:8)
In ch. 4, Strouse takes up the case once again, this time emphasizing the concept of a "received Bible."
This essay will demonstrate that…the Lord Jesus is the Author of the received Bible mindset and expects His followers to be united around the received Bible movement throughout history. (p. 52)
The chapter's argument is based in part on the view that "the words" Jesus says the Father gave Him are the entire "Bible canon," and the same as the "all Scripture" of 2 Timothy 3:16—the same words Jesus said would never pass away (Matt. 24:35, p. 53). Furthermore, since all will be judged by these words (John 12:48), all of the "canonical Words" must be written and preserved. To judge men by anything less than "perfectly preserved, inscripturated Words" would be unjust (p.53).
Strouse then cites several references to believers "receiving" the word (pp. 54-55) and, in the process, gives "receive" a special meaning: something along the lines of "to get a hold of a copy of the entire Bible that you know is a word-perfect copy" (my words, not his).
A close look at the text, however, reveals that it does not support the conclusions Strouse draws from it. That Jesus is referring to the entire canon when He says "the words which thou gavest me," is far from "presumably" true (p. 53), especially since much of the canon had not yet been written at the time. Plus, the words Jesus says His hearers will be judged by (John 12:48) refers most naturally to those He had been speaking to them personally. Other passages may expand on the content of what men will be judged by, but can we reasonably argue that every word of Scripture must be preserved, recognized and accessible in order for this judging to be just? How would someone be judged differently if Luke 9:3 reads mēte ana duo chitōnas, "not two tunics apiece" (Textus Receptus), rather than simply mēte duo chitōnas, "not two tunics" (Nestle-Aland 27th ed.)?3
What Jesus says in John 17:8 is simply that He has faithfully passed on the words He was given. Turning this into "every single one of the words of Scripture" is reading into the text. Even if we suppose that Jesus meant exactly that, the conclusion that He promises a word-perfect text for every generation does not follow.
"Thou hast known the holy scriptures"
In ch. 6, Charles Nichols argues that "inspiration implies preservation," based on 2 Timothy 3:15-17.
15And that from a child thou hast known the holy scriptures, which are able to make thee wise unto salvation through faith which is in Christ Jesus. 16All scripture is given by inspiration of God, and is profitable for doctrine, for reproof, for correction, for instruction in righteousness: 17That the man of God may be perfect, throughly furnished unto all good works.
Nichols summarizes his claim as follows:
2 Timothy 3:15-17 strongly suggests perfect, available, verbal and plenary preservation of Scripture just as it establishes God's inerrant, verbal, plenary inspiration. (p. 68)
His argument asserts that "holy" (v.15) indicates "unadulterated, and pure from defilement" (p. 65). He argues further that the primary meaning of grammata ("scriptures" in v.15) is "letters," therefore, Paul was pointing out to Timothy that Timothy had grown up having access to a letter-perfect Old Testament text (p. 66). On the basis of the relationship between v.15 and v.16, Nichols observes, "what God inspired is perfect. Therefore, the Old Testament was perfectly preserved to Timothy's day" (p. 66).
Based on the sufficiency of Scripture expressed in 3:17, Nichols concludes that "Sufficiency depends on every writing God breathed" and "the availability of every writing is an obvious ramification of 'all Scripture is profitable' " (p.67). His conclusion is that "the unadulterated Words, recorded up to or more than a thousand years earlier, were available to Timothy."
A closer look
Several problems exist with this line of argument as well. First, "holy" (hieros, which Nichols says is synonymous with hagios) does not always mean completely pure. For example, 1 Corinthians 7:14 describes the children of believers as hagios.
Second, the passage does not say that Timothy "had access to" or "possessed" the "holy scriptures" but that he knew them. Unless we suppose that young Timothy knew every single inspired word of the Old Testament, "holy scriptures" in v.15 cannot have that meaning. Rather, it refers to the subset of the Scriptures Timothy had personally learned.
Verse 16, however, does specify that "all Scripture" is theopneustos (an adjective rendered "given by inspiration" in the KJV). Paul's point is that the Scripture Timothy knew was powerful and sufficient because the Scripture that was inspired was powerful and sufficient. He does not say that what Timothy knew included every word originally given.
Third, even if Timothy had had access to a word-perfect copy of the Old Testament, what would this prove about what we have today?
The sufficiency argument based on 3:17 remains. Nichol's reasoning is that if "all Scripture" is sufficient, missing any words would render it insufficient. But the reasoning is faulty. If I say "all of my money is sufficient to buy a hamburger," I'm not denying that "some of my money is sufficient to buy a hamburger." Granted, if the "some" is reduced to a small enough subset of "all," it eventually becomes insufficient. But it is far from obvious that the discrepancies we find in the MSS cross that threshold.
Conclusion
Several passages and Bible-based arguments in TSKT remain to be considered. So far, its case for a biblical doctrine of word-perfect text preservation proves nothing beyond what is generally agreed: that God has seen to it that we have His Word today in a form that is sufficient to inform our faith and direct our obedience.
Notes
1 "Text" here means a complete Hebrew and Aramaic OT and complete Greek NT.
2 Matthew Henry's Commentary on the Whole Bible, (Matt. 4:4).
3 Of course, not all manuscript differences are so minor, but a vast quantity of them are. TSKT's preservation argument here requires that every pronoun and qualifier be preserved in order for God to judge justly.
---
Aaron Blumer, SI's site publisher, is a native of lower Michigan and a graduate of Bob Jones University (Greenville, SC) and Central Baptist Theological Seminary (Plymouth, MN). He, his wife, and their two children live in a small town in western Wisconsin, where he has pastored Grace Baptist Church (Boyceville, WI) since 2000. Prior to serving as a pastor, Aaron taught school in Stone Mountain, Georgia and worked in customer service and technical support for Unisys Corporation (Eagan, MN). He enjoys science fiction, music, and dabbling in software development.
31502 reads