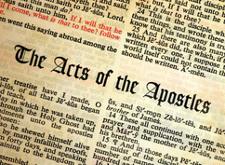 (Read Part 1.)
5 - Jesus Did Good by Preaching the Gospel
How God anointed Jesus of Nazareth with the Holy Ghost and with power: who went about doing good, and healing all that were oppressed of the devil; for God was with him., (Acts 10:38)
Some "churches," some denominations, and many cultural "Christians" seem to think of the Lord Jesus Christ as a Salvation Army employee. His job is to do nice things to make disadvantaged people feel happy, and to foster a sense of well-being and happiness in the community. This is the social Gospel, popularized by the novel In His Steps. It's a false Gospel, which doesn't bring peace.
This is not the sense in which Jesus went about "doing good." Jesus went around preaching the gospel. That's the "good" that He did.1 Peter was paraphrasing a quotation from Isa 61:1-2, which tells us exactly what Jesus Christ would do—about 700 years before He did it!2
The Spirit of the Lord GOD is upon me; because the LORD hath anointed me to preach good tidings unto the meek; he hath sent me to bind up the brokenhearted, to proclaim liberty to the captives, and the opening of the prison to them that are bound; To proclaim the acceptable year of the LORD, and the day of vengeance of our God; to comfort all that mourn, (Isaiah 61:1-2)
The Spirit of God came upon Jesus at His baptism. God appointed Him to preach good tidings to those who are meek, or afflicted, poor in spirit, hurting, etc. Jesus came to bind up, or tie back together, the broken pieces of sinner's broken hearts. Jesus came to proclaim liberty and freedom to people who are in captivity as Satan's slaves. Jesus came to open the doors of the dark prison of sin and wickedness which every single man, woman, boy and girl are born into. Jesus came to proclaim the year of jubilee, when (among other things) the law commanded all slaves be set free. Jesus came to set all people free from slavery to Satan, in order to be slaves for God.
The "good" a local church does must be directly connected to the gospel of Jesus Christ. Every ministry, every activity, every event and every dollar spent must be a vehicle or a channel for the gospel message to flow out like a great and mighty river.
6 - Jesus Has Power Over Satan
How God anointed Jesus of Nazareth with the Holy Ghost and with power: who went about doing good, and healing all that were oppressed of the devil; for God was with him. (Acts 10:38)
Jesus created everything after His Father's sovereign plan (Heb 1:1-3). Because we know this, we should always remember something else—Jesus is Satan's creator, and is infinitely more powerful than he could ever hope to be. This is not an equal contest or an equal struggle—far from it! One of the things Jesus did during His earthly life, during the incarnation, is prove to us once and forever that He can defeat Satan even as a flesh and blood man, without making use of His divine qualities, power or attributes! In the incarnation, Jesus did not stop being God. Instead, in a way we'll never fully understand until we get to glory, He added a complete human nature to His divine nature when He was conceived by a miracle of the Holy Spirit in Mary's womb. And, throughout His life here on earth, He was sinless, holy and He defeated Satan as a flesh and blood man.
This is what Peter meant when he said that Jesus healed "all that were oppressed by the devil."3 The Messiah conducted exorcisms by casting out fallen angels (i.e. "demons") from sinner's bodies. He healed people who had terrible diseases, which the Bible says had been inflicted by Satan (Lk 13:10-17). Jesus saved people from Satan's power by bringing them the message of salvation.
The dark dungeon of unbelief and rebellion against God is the most severe and most common way Satan oppresses people. Men, women, boys and girls throughout the world, untold hundreds of millions of them, are oppressed by the devil right now because they won't believe the gospel—they laugh at it, they dismiss it, they ignore it, they mock it, they reject it. I believe that most of the "healing" Peter spoke about was this kind of healing—not physical, but spiritual. Every miracle of physical healing only served to accompany and accredit the divine message of spiritual healing through the gospel.
Every single person is born being oppressed by Satan. They can only be healed by the power of Jesus Christ, through repentance and faith in the gospel. If a local church isn't preaching and begging sinners to believe this, and once they believe it to hold fast to that profession of hope with a death-grip (Heb 10:23), then that local church is fooling people, deluding them, and even making sinners twice the children of hell they already are (Mt 23:15)—because they're doling out false hope. This whole world lies in wickedness (1 Jn 5:19), and the local church is entrusted with the only message which brings victory over Satan. God was with His eternal Son on this mission, and a church's mission is to keep proclaiming that message and its implications for believer's lives.
7 - Jesus Died for the Gospel
And we are witnesses of all things which he did both in the land of the Jews, and in Jerusalem; whom they slew and hanged on a tree, (Acts 10:39)
Jesus willingly and voluntarily died for the sake of the gospel. He died so that His message could be proclaimed by His ministers and by His people who have been called to salvation. He left eyewitnesses, like Peter, who recorded what happened under the care and guidance of the Holy Spirit (cf. Mk 12:36; Acts 1:16; 28:25; 2 Tim 3:16-17; 2 Pet 1:1, 2:21; Heb 3:7).
Jesus' life wasn't taken from Him by force—He chose to give it. He has power to give His life, and power to take it back again (Jn 10:17-18, 14:30-31). Satan is the prince of this sin-cursed world, but Jesus is the ruler and creator of this entire creation. Satan has "nothing in" Jesus (Jn 14:30), which means no claim to Him, no hold on Him, no evidence against Him, no jurisdiction over Him.4
So, why did Jesus die? He died because His Father sent Him to die in the place of sinners, not because He was cornered or checkmated. If a local church cheapens and insults His sacrifice by not proclaiming it, then it's an apostate organization that might as well schedule a date with a wrecking ball. If you ever attend a local church where the gospel is hidden under the pews, stuffed out of sight in the furnace room in the church basement, or where the gospel is downplayed so it won't offend people—you have a duty to flee from that place, if you claim to know and love Jesus Christ. No Christian should ever attend a local church where the people are ashamed of the gospel Christ died for.
(More to come next week.)
Notes
8328 reads