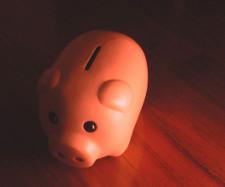 Read the series so far.
In a Twilight Zone kind of moment, imagine an all-night grocery store. Few are there: a stocker, a maintenance worker, and a check out cashier. Three shoppers arrive at approximately the same time. Sleepily they shop for the few essential items on their list. Coincidentally, and unbeknownst to each other, they manage to add the same six items—down to the very brand and packaging—to their shopping carts: milk, cereal, hamburger, two loaves of bread, and pancake mix. They move to the checkout.
The cashier is amazed by the oddness of the event: three shoppers, three carts, six items in each cart. And each cart has the very same identical items. He rings up shopper 1 then shopper 2, and then shopper 3:

The cashier is confused—there must be something wrong with the store computer! The shoppers are incensed!
While this scenario would never play out at the grocery store, it unfolds daily for customers shopping for credit. Suppose the grocery items are instead credit products and the price is APR (Annual Percentage Rate) interest rates instead of dollar amounts. It might look something like this: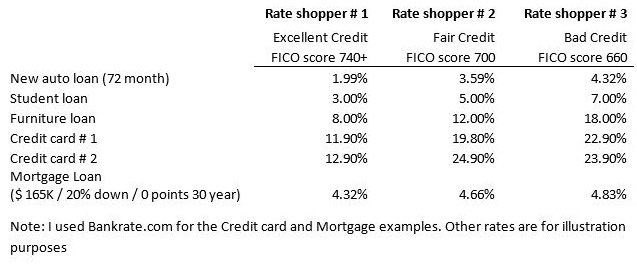 How the difference of the mortgage loan compares between the FICO® score of 740+ and the FICO score of 660:

So just what is the FICO score? And how can one change it?
First, why a "score"? "Credit scores are essentially your credit report's grade"1.
Have you noticed that when you apply for a loan, the decision is normally made in very short order? The last time I applied for an auto loan the auto finance office had the decision in a matter of minutes. The last time I applied for a credit card, the decision was made almost instantaneously.
When someone applies for a loan, the lender does not pull your credit report and pour over every little detail. That would take a lot of time and would be very subjective. Instead leaders use a scoring system. While all the major credit bureaus have a scoring system, by far the Fair Isaac Company is the leading credit scoring company.
Enter the FICO score. FICO is an acronym derived from the company's original name Fair, Isaac and Company. Per the FICO website, "the FICO Score is the standard credit score in the US, used in more than 90% of lending decisions…. Since its introduction 20 years ago, the FICO Score has become a global standard for measuring credit risk in the banking, mortgage, credit card, auto and retail industries. 90 of the top 100 largest U.S. financial institutions use the FICO Score to make consumer credit decisions."
The FICO Score is a number that summarizes your credit risk.

Range of 300 to 850
60% of people falling between approximately 650 and 799

Lenders use it to make credit decisions, such as the interest rate you get when you apply for a loan. One may model interest rates on various products at www.bankrate.com.
The FICO score considers these five factors:

Payment history
Amounts owed
Length of credit history
New credit
Types of credit used

Deanna Templeton lists2 what counts in one's FICO score:


Depending on the credit scoring model, the percentages and how much each category counts will vary slightly. However, to give you a general idea, here's a look at how the FICO score model breaks down your credit report data:

Your Payment History—35%: Pay your bills on time and you'll score very well in this category. Late payments, missed payments, charge-offs, collections, judgments, liens, foreclosures, short-sales, settlements and bankruptcies should be avoided if you want to score well in this category.
How Much You Owe (debt)—30%: Paying your bills on time may be the largest factor in your credit score calculation, but how much debt you're carrying comes in a very close second. Combined, these two categories make up 65% of your score. This category places a significant amount of emphasis on your revolving utilization—the proportion of your balances in relation to the credit limits on your credit cards. Carrying high credit card balances or maxing out your credit cards will hurt you here.
Length of Credit History—15%: The longer you've had credit, the better. This category looks at the date each of your accounts were opened and calculates your length of credit history on an individual account-by-account basis, and also on an average total age across all of your accounts.
New Credit (inquiries)—10%: The more inquiries you have in a short period of time, the higher the risk. To score well in this category, you'll want to avoid applying excessively for new credit. There are a few caveats to this rule, depending on the types of credit you're applying for—namely auto, student and mortgage loans.
Credit Mix (types of credit)—10%: This category looks at the specific types of credit accounts you carry and wants to see how well you manage a variety of different types of accounts—including revolving accounts (credit cards) and installment accounts (auto, mortgage, and student loans). The more diverse your credit mix, the better for your scores."

The FICO website provides tips to improve one's FICO score:

Pay your bills on time. Delinquent payments negatively impact one's FICO score.
Keep balances low on credit cards
Pay off debt
Don't open unnecessary credit lines
A good FICO score can save one money in a loan. FICO provides this chart3: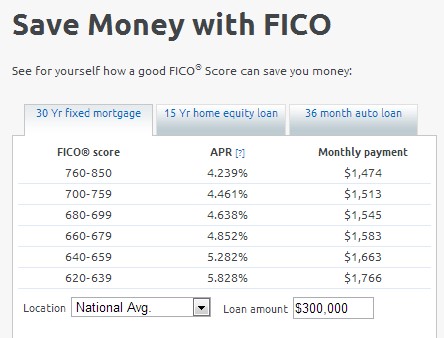 Over the last three years my wife and I have endeavored to increase our FICO score. I've never seen this "trick" documented but this is what we did. We would pay the credit card balance off several days before the statement ending date. I reasoned, why wait for the statement. I know the statement closing date and I know how much I owe, so I will make a payment early. The result was that "how much I owe" factor which is 30% of the score was nearly zero. We were able to improve our FICO score by more than 50 points.
If one were never to borrow, the FICO score would be unimportant. But most of us use and will continue to use credit. Understanding and leveraging the FICO score will enable one to borrow at more reasonable rates.
8917 reads