Making Disciples in a Millennial Generation , Part 2
Image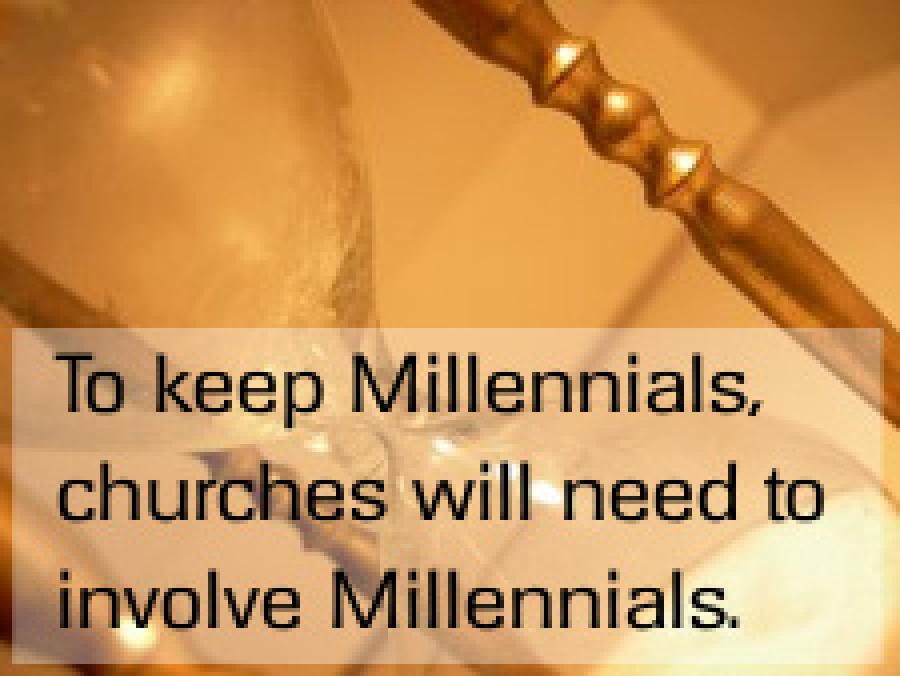 Read Part 1.
What can Baby Boomer church leaders do to develop growing disciples from the Millennial generation?
1. Motivate and train older people to build growing relationships with younger people in your church.
Godly older people can be a powerful positive influence, if they don't become isolated, bitter and alone. This is why church leaders must make ministry to senior citizens a top priority, and not just to provide aging generations fellowship with other old people. An effective senior citizens program must be much more than that. Left alone, seniors are likely to feel put out to pasture, as if their days of effectiveness for ministry are long gone. They need to be motivated and trained to spend their retirement years being proactive about building positive relationships with the next generation. Emerging generations need to hear their stories and learn the lessons of living for Christ over the long haul. In fact, I encourage church leaders all over the country to recruit older people to be youth workers. Yes, their days of playing tackle football are long gone, but one never gets too old to build relationships. The generation gap is perhaps best bridged by older people taking the initiative to develop growing, encouraging relationships with young people.
2. Equip all believers to actively look for opportunities to share their faith in their daily lives.
It is true that Baby Boomers often think that sharing faith must involve a prescribed outline, and Millennials prefer to develop relationships with unsaved people. These different perspectives can be unified by an approach that equips people to share the Gospel individually. It usually doesn't work to just tell people that they should share their faith. That approach can lead to guilt without motivating most people toward outreach. Instead, church leaders should train people of all generations to look for opportunities to share their faith, and tell their own salvation story, in day-to-day conversational opportunities. This approach can work with all generations.
3. Clearly communicate the purpose and philosophy of all church services and functions.
One of the major conflicts in the clash of generations is the seeming tension over the schedule and number of weekend church services. Baby Boomers came of age in an era of over-scheduled and over-programmed services. As mentioned above, their common Sunday church experience was a full day of classes, meetings, lectures and more lectures. Millennials have made it very clear that this structure is not what they want. They are more relational and want a more interactive experience. This fact does not mean that churches should water down the truth or provide an entertainment-driven approach. This is not want Millennials prefer, and it is certainly not what they need.1 More and more members of this cohort are indicating that they want church to be serious and important, and many are even wondering about a return to liturgy.2 Churches will need to figure out what specific programming methods and what number of weekend events will attract and keep emerging generations. But it will be increasingly imperative for churches to emphasize the relevant and life-related presentation of God's Word that is creative, complete and well-crafted for new generations.
In an attempt to resolve this particular generational conflict, church leaders must be willing to clearly communicate the purpose of all church services and programs. It's not enough to say that "we've always done it this way." Millennials want to know why. They want to know that church is absolutely vital to their spiritual growth and maturity and that what they invest their lives in matters for eternity. Church must be much more than a weekend concert and lecture.
4. Be intentional about identifying the next generation of leaders in your church, and provide hands-on training for them.
To keep Millennials, churches will need to involve Millennials. Since they crave relationship building with significant older people, the church has a genuine and significant opportunity to identify and mentor younger leaders. I'd love to see all churches include the mentoring of next-generation leaders into the fabric of their culture. Teachers can and should mentor younger teachers; small group leaders can and should mentor younger small group leaders; deacons can and should mentor younger deacons, and so forth. This approach can work with any ministry position in the church. Millennials want to be involved, and their desire for relationships can be utilized effectively as an occasion to grow, learn and be active. Mentoring relationships can also be an ideal way for Millennials to have a voice in influencing the direction of the church as they have the ear of older mentors.
5. Organize inter-generational fellowships that provide opportunities for members of different generations to interact and share their stories.
It's time to shatter the generational gap that exists in so many churches. Young people need older people, and older people need young people. But church leaders must realize that inter-generational connections will not happen without intentionality.
I believe that's why the Apostle Paul gave Titus his familiar mentoring challenge in Titus 2 for older women to teach younger women and for older men to exhort younger men. Churches need to be intentional about providing opportunities for various generations to connect with each other. This can be as simple as senior citizens hosting a table‑game night for the youth group or as organized as inter-generational Sunday School classes or small groups.
6. Develop creative learning environments for God's people to learn the Word of God and to see how Biblical principles apply to their lives today.
Traditional church programming does not appeal to many Millennials. They would much rather gather in a coffee shop than in an old-fashioned church classroom. But, this trend does not mean that they do not want or need the clear presentation of Scripture. Quite the contrary. Preaching will still be very important to them if it's balanced with creative, life-related, interactive opportunities for them to personalize and apply what they are learning.
7. Create a church-wide climate of discipling leaders to disciple younger leaders.
As I mentioned above, Millennials want to do life together within a caring community. This is an ideal environment for real discipleship to take place. That is, if Baby Boomers are willing to set aside their busy, over-scheduled lives enough to make time for it. My experience tells me that this will be a major hurdle. Many boomers feel as if they are busier than ever. Churches need to navigate a balance between what weekly services to hold and how to provide real-life ways for older and younger believers to interact, serve and learn from each other.
God designed His church to be both cross-cultural and inter-generational. The generations need each other. The very best place for godly, older believers to encourage and mentor younger people to live for Him should be the local church—a local assembly of Christ-followers who are committed to reaching emerging generations with the Gospel and then helping them grow closer in their relationship with Jesus Christ.
"To Him be glory in the church by Christ Jesus to all generations, forever and ever. Amen."3 (Ephesians 3:21).
Notes
3 Scripture taken from the New King James Version. Copyright 1982 by Thomas Nelson. Used by permission. All rights reserved.