Making Disciples in a Millennial Generation , Part 1
Image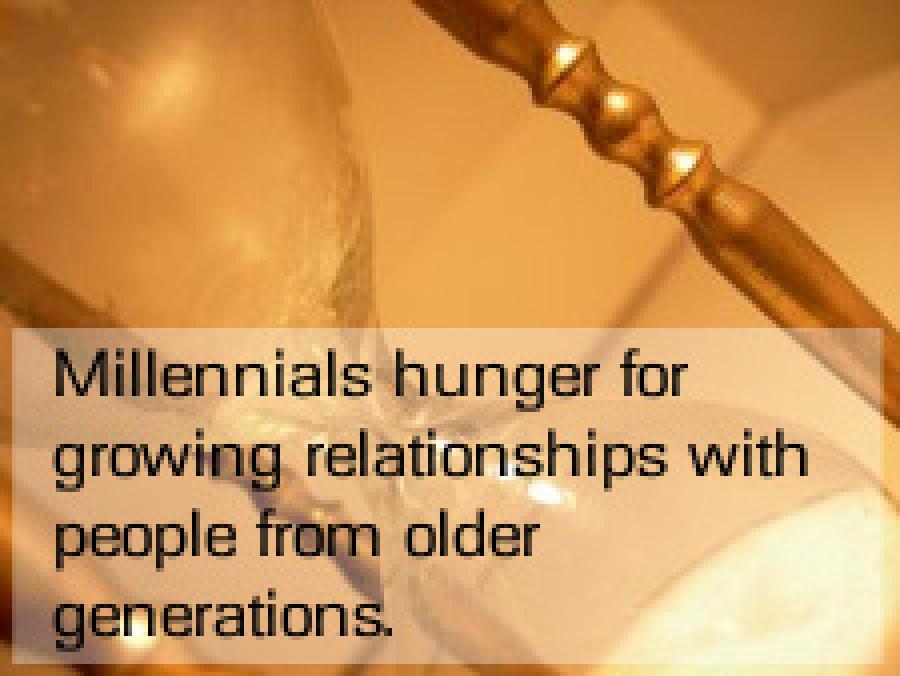 From Voice magazine, Mar/Apr 2016. Used by permission.
We are facing a clash of generations in America. The Baby Boomers—the generation of "The Sixties," Woodstock and The Beatles singing "You say you want a revolution"—are kicking and screaming into retirement;1 while the Millennials, the first generation of "digital natives"2 and the most-observed generation in history, are facing their 30s.3
Boomers don't want to give up their positions of influence or control and Millennials don't see value in Boomers' old-fashioned methodology. Instead, the younger generation is creating a new way of doing things. This phenomenon is true with everything from pocket-sized computers (thinly disguised as cell phones) to the Church. Millennials are walking away from traditional churches en masse;4 plus, an entire new generation of pastors would rather plant new churches than minister in established, traditional churches.5
There is a prevailing paradox here that is so often true in today's culture. Most Millennials seek out growing relationships with older adults as mentors.6 But, from my perspective as a longtime youth worker, these generations look at basic aspects of life and ministry very, very differently. I believe the different generations need each other, probably more than ever before.7 However, it often looks like the two are speaking different languages when it comes to church ministry.
We will look at some of the generational differences that will effect today's ministry, and then we'll consider what to do about it. But first, let's define terms.
Millennials are those born between 1980 and about 1996.8 This cohort currently comprises almost 100 million people in the United States between the ages of 20 and 35. Baby Boomers9 are people born in the U.S. from 1946 to 1964, equaling around 80 million people.
A generation can be defined as a group of people who are approximately the same age who have encountered key historical events and social trends while in the same phase of life. Members of a generation are shaped in lasting ways by the major circumstances they encounter as children and young adults.10 For instance, the pivotal moment in the lives of most Boomers was the brutal assassination of President John F. Kennedy; while the most memorable moment for Millennials was undoubtedly the terror attacks on September 11, 2001.
It's important to also understand that generations tend to look at life differently than did previous generations. Their perspective, priorities and values are typically not the same as those who have gone before.
This brings us to consider the generational differences facing today's churches and church leaders. A quick look at some of the basic functions of church ministry will reveal that Millennials and Baby Boomers look at church programming very differently.
Mentoring
Boomers view mentoring as a sharing of knowledge in which the older people tell younger people what they need to know. Millennials crave personal relationships with significant, older people and want input into the conversations.
Evangelism
Baby Boomers believe that "witnessing" is usually a systematic presentation or outline. Millennials want to build growing relationships with unsaved people within existing communities.
Church Services
&

 Programs

Boomers grew up in an era when structured church services filled their Sunday schedules (Sunday school, morning service, training hour or youth group and evening service). Millennials prefer one worship service each weekend and then want relational conversations in an accepting environment around a cup of coffee.
Leadership
Boomers tend to think that leaders should "pay their dues" before assuming positions of leadership. Millennials have been told they have much to offer and want a voice in influencing the direction of the church or organization.
Fellowship
Boomers seek out fellowship with people their own age. Millennials hunger for growing relationships with people from older generations.
Education and Equipping
Baby Boomers are used to classes and curriculum that are organized around different age brackets. Millennials find information online and want to learn via select relationships.
Discipleship
Boomers believe discipleship is built around a series of scheduled meetings. Millennials want to "do life together" with significant, influential leaders.
Let's face it, these generational differences are considerable enough to cause havoc in many churches today. So what can Baby Boomer church leaders do to develop growing disciples from the Millennial generation?
Notes