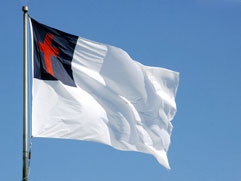 Note: Reading
Part 1
of this series is recommended before reading Part 2.
Background
In the introductory article to this series, I suggested that Christ's confrontations with the Pharisees are a valid source for determining whether or not we are practicing legalism. I was not writing at all from the "all Fundies are Pharisees" perspective so frequently employed against Fundamentalists. I assume that the prominent place the Pharisees have, and that our Lord's rebukes of them have, in the Gospels suggests that our Lord is broadly concerned with such legalism. I believe these texts serve as a warning to all of us because legalism is entrenched deep in the fallen human heart and easily expresses itself in the lives of the redeemed unless we are very careful.
Thesis
In the first article, I admitted there are many fine Christian schools which do not operate in a legalistic fashion. But I believe that the majority of Christian schools operate with three fallacious legalistic premises prominent in their thinking.
Man-made rules that prevent violations of God's rules have inherent spiritual value (discussed in Part 1).
Rules promote godliness, in that behavior change leads to heart change (dealt with here).
Enforcement of righteousness is valid and valuable as a first step to sanctification (the subject of Part 3).
False Premise 2: Rules promote godliness, in that behavior change leads to heart change.
In Matthew 23:25-26 and related passages, the clear emphasis of Christ is that heart change (inward spiritual transformation) is the basis of all true transformation, whereas external transformation without inward spiritual transformation as its basis only invites ongoing inward corruption.
A bit of theological care is needed here. It would be too easy to argue that the mission should have been to persuade the young man in question of the dangers of the prom rather than merely forbid him (my personal position) but this solution is not the primary thrust of the passage.
The inward spiritual transformation that is needed as the basis of all external change begins, at least, with the coming of the Holy Spirit in salvation. The thrust of Christ's condemnation of the Pharisees was that they thought their conformity to rules was sufficient. One of the purposes of the Sermon on the Mount (Matt, 5, 6, and 7) was to persuade a people immersed in this Pharisaical mindset that mere external rules were not enough. The following examples illustrate the pattern.
You've heard don't kill. I say don't hate.
You've heard don't commit adultery. I say don't lust.
You've heard don't break a vow. I say just keep your word—vowed or not.
You've heard love your neighbor. I say love your enemy also.
The effect of these was to awaken the people to a higher spiritual need than mere conformity. Christ wanted them to understand the real depth of their need. In that sense, the Sermon on the Mount is a fine "pre-Gospel" message (though it is much more than just that).
The coming of the Holy Spirit to provide the power for inward transformation is a beginning that leads to a chance at real sanctification—not a mere veneer of holiness based on external compliance. The real sanctification process must never be presented to the student—whether in teaching or by example—as being a mere exercise in conformity to established norms of Christian behavior.
Having said this, it's important to ask ourselves what message do we send by creating a rules-based system in our schools—particularly with rules that are associated so closely in the minds of our students with what it means to be righteous?
For too many administrators and teachers, the process of promoting righteousness is simplified to a matter of compliance to rules.
For too many students, compliance generates a faulty assurance, a self-righteousness that is the reverse of the kind of brokenness we need before God.
For too many parents and leaders in our movement, there is an arrogance about lifestyle—an ugly arrogance that is anything but Christian.
Rules too easily become a substitute for true Spirit-empowered change. While this is not an inherent condemnation of rules, it provides us with a motivation for great caution.
Rules must never become the end in themselves. Counseling, discipleship, mutual challenges to righteousness, and confrontations that unmask hidden motives, reveal secret sins, and expose prideful attitudes must be the nursery in which a true spirituality is nurtured. Too often, rules become the easy but far less effective substitute.
Practically speaking, I recognize that rules may inhibit a student from experimenting with certain sins during a period of rebellion and thus limit damage later in life when the heart is turned toward Christ. Even extra-biblical rules may do so. Even extra-biblical rules may do so. This is one of the common justifications for such rule structures being in place. But it's important to remember that many times parents of students are not in agreement with the school's rules. Sometimes, they are not in agreement with the spiritual intent behind those rules. In such cases, who will teach discernment? I would not put such rules in place at all. I think they tend toward legalism. But those who disagree and do use such rules must couple them with a very careful program to disciple and teach why they exist, what they mean, and the fact that they are the product of a discernment process that is similar to the kind of processes the student will need to exercise in adulthood. The discernment process should dominate in any discussion of extra-biblical spiritual standards, so that there is no confusion between explicit statements of God and the conclusions of man, and so that discernment skills can be sharpened (Heb. 5:14).
---
Mike Durning
has been the pastor at
Mt. Pleasant Bible Church
in Goodells, MI for 15 years. He attended
Hyles-Anderson College
, Midwestern Baptist Bible College and
Bob Jones University
over 8 years and somehow emerged with a mere bachelor's degree. Despite this defective planning, he somehow believes himself to be informed enough to have something to say to others. He lives in Goodells with his wife Terri and 18 year old son, Ryan, dog Lindsey, and about 12 chickens that have wandered into his yard and like it better than the neighbor's yard. Mike is flattered if you call him a "young fundamentalist," since he is 46 and is prone to self-deception on such issues. If you see someone on the street who looks like the picture of Mike, but with gray hair, it probably
is
Mike.
3642 reads