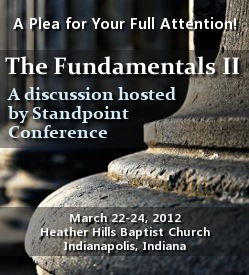 The first thing Aaron Blumer (publisher, SharperIron) said to me when we talked about our next conference was "I'm pretty skeptical of the idea of convergence." Convergence—the idea that fundamentalism and conservative evangelicalism are heading toward, or should be working toward, convergence into one movement—has certainly been what some have perceived Standpoint Conference to be about. We would argue that's an oversimplification of what we're about. As our last Standpoint Conference concluded, we made a conscious choice to leave previous issues behind and move on to more critical issues.
Specifically, we believe that fundamentalism and evangelicalism face similar crises. For different reasons, fundamentalism has lurking at its most conservative end some who are less concerned with doctrine than they should be. Evangelicalism has, in the mainstream, those who are also less concerned with doctrine than they should be. On the extreme right of fundamentalism, this expresses itself with a near-obsessive attention to stylistic details that distracts from doctrinal issues. On the left of evangelicalism, church growth, political activism and social influence provide similar distractions.
The alarming result is that both are disengaged from issues that have serious doctrinal consequences. Among those on the far right of fundamentalism, the disengagement results from a feeling that the larger problems of Christianity are irrelevant to them. ("All who are to the left of us are 'liberals' anyway.") Among those on the left of evangelicalism, the disengagement results from a feeling that all must be well because their churches are growing numerically.
Meanwhile, battles are being waged over ideas that represent vast theological shifts. These shifts are happening not just in institutions of higher learning, but in the pews. Rob Bell preaches a form of universalism, and thousands don't know how to respond—or feel the need to soft-pedal their rejection. N.T. Wright's New Perspective on Paul is only dimly understood (if at all) by the vast majority of those reading this article. The gay theologians advance their theories and they are uniformly rejected—but few realize that they are using hermeneutical models that are only slightly more radical than the ones taught in our colleges and seminaries. Ground is given, or freedom granted, on the roles of women in leadership, hermeneutics, creation models, eschatological views, all without recognizing that all of the changes are attached to theological structures that mean something and that changes in one area are harbingers of other changes to come—or changes that have already been made in theological viewpoints.
The role of writing
In the early 1900s, the spread of liberal theology drove a few men to engage in a series of lectures, papers and eventually books designed to address the crisis. The goal was to draw attention to liberal theology and renew interest in good theology. The Fundamentals, as a publication, became the foundation for all the fundamentalisms and evangelicalism we see today. They raised awareness of the issues and helped to turn back the tide of Liberalism.
We at Standpoint Conference propose to begin something similar. Over our next three conferences, we intend to address key issues that have theological implications that should alarm us. Your written contributions—or even lectures—may be helpful to us, and we desire your input.
We believe that the doctrinal drift of our times transcends the very real issues that still divide conservative evangelicals and those within the fundamentalist movement. Regardless of whether you believe in what Standpoint Conference has done in the past, or agree with its leadership team on certain particulars, you ought to care about theological purity. We challenge you to be part of the discussion.
This year's planned topics include the importance of gender in theology and practice, the sufficiency of Scripture and modern counseling, the new mechanistic hermeneutics, responses to the gay theologians, which eschatological schemes are orthodox (and which are not), what constitutes authentic worship, the essentials of a believer's life within the church body, the recent resurgence of various forms of inclusivism and universalism, and issues surrounding how we promote sanctification (if we can at all). The Standpoint Conference leadership is prepared to address some of these topics, if necessary; we are confident that there are persons with better knowledge of the topics who could address them more effectively. Perhaps you are one such person.
This need not be limited to the work of great doctors of theology. Pastors grounded in the Word through years of study can have equally valuable input. A detailed description of our topics for the next conference is at our website. Please consider them. In fact, we would welcome work on an entirely different topic of major doctrinal concern.
As of now, the conference has a great key-note speaker in Phil Johnson, of Grace to You. Phil is passionate about this topic and has spoken elsewhere on the need to re-emphasize sound doctrine in the church. Other speaker announcements will be made shortly. But we need the doctrinal core of the conference to come together soon—and that involves your help. Please stop by www.standpointconference.com today, look over our topics, and consider being part of the discussion.
[node:bio/mike-durning body]
25829 reads