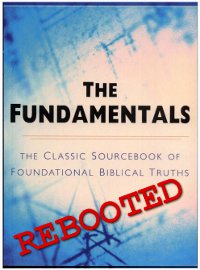 A few weeks ago, Standpoint Conference began to actively promote our conference for 2011, entitled "The Fundamentals II." There are actually a number of compelling reasons to "reboot" The Fundamentals,* re-analyzing good doctrine in light of certain attacks of our time.
Before listing those reasons, let's allay any fears regarding this subject.
Some might fear that we are suggesting that major doctrinal formulations need to be changed or adjusted. "Where there's smoke, there's fire!" Or is it mirrors? The suspicious always imagine a conspiracy. We do not propose that orthodoxy needs any kind of re-definition or adjustment. But we believe that the doctrines so well defended in the past need to be more clearly defined in the light of modern challenges, not altered in keeping with the spirit of our age.
Some might cynically suggest that we may have difficulty finding the quality of scholarship among conservative theologians that was available for the original Fundamentals between 1910 and 1915. But we believe that the scholarship exists for another set of great works on doctrine. And we believe that this will be borne out in the next few years as we take on this important project.
For those tempted to yawn, complain about doctrine being boring, roll over, and renew their slumber, we suggest that most of our problems in the church today can be traced back in some way to the apathetic approach to doctrine that has characterized much of the church (at least in America) for the past 60 years.
Why have a conference called "The Fundamentals II"?
1. In some parts of Fundamentalism and Evangelicalism, doctrine does not receive the attention it merits.
As Fundamentalists in whatever sense of the word we embrace it, all of us at Sharper Iron surely revile the liberal conception that doctrine is divisive. But there are segments of Fundamentalism that lampoon doctrine as "boring," a reflection of an anti-intellectual tendency that exists in their segment. In some parts of mainstream Evangelicalism, the belief is that doctrine isn't practical, and that it does not promote church growth. Some strains of Fundamentalism have long ignored doctrinal development in the interest of pursuing endless debates on standards or resistance to modern culture, rather than analyzing culture in light of doctrine.
All such views are aberrant. Doctrine is simply "that which is taught"—eternal truth taught by the true church based on the Word of God. If it is divisive, it is necessarily so, as truth is a great divider from error. If it is boring, it is because it has been presented unskillfully. If it seems impractical, it is only because the correct connections have not been made between faith and practice. If it is ignored in preference for debate on topics of lesser or no importance, then this inversion speaks to the faulty judgment of those who do so.
Anything we can do to highlight the importance of good doctrine will benefit all of Evangelical Christianity, using "evangelical" in the historic sense of those who name Christ and believe in the transforming power of the gospel of grace.
In the case of the original Fundamentals documents, W.B. Riley and his cohorts created an excitation about theology and doctrine that helped birth a movement that we all now share in common. It is our hope that such interest can happen again, revitalizing our movement and correcting errors of emphasis at the same time.
2. Church history suggests that doctrinal understanding can increase in response to crises.
Good doctrine is more sharply defined in the crucible of the battle against false doctrine.
In the epistles we find clear references to a kind of proto-gnosticism that taught that Christ had not come in the flesh. The apostles plainly defined as heretics all who taught this.
In the early church era, the extensive debates about the nature of the trinity and the relationship of God the Father to God the Son gave rise to our current understanding of the Trinity. It is not that the church voted for something to become true (sorry, Dan Brown). It is that the church was driven to the Scriptures to more tightly define what is true based upon careful study of the Scriptures.
History is replete with examples of false doctrine forcing true believers to closely examine and better understand true doctrine.
It is clear that fresh attacks on good doctrine are occurring at every quarter. These attacks should be driving us to the Scriptures, forcing us to respond to these attacks from Scripture. While this has surely been happening informally, the process has been slow and spotty. We propose 3 conferences (1 per year) in which to address these attacks from a scholarly perspective but with practical application as well.
3. Postmodernism and even Modernism still require some appropriate Biblical and doctrinal responses.
Postmodernism is supposed to be the new paradigm. While it is clear that the triumph of postmodernism has been over-inflated (as a theory it works better with Literary Criticism than with Organic Chemistry, for instance), the younger generation seems to have embraced an essentially postmodern approach to theological, moral, and ethical truth. The fact that everyone is one Google search away from a well-written page defending something utterly foolish doesn't help. In such a world, all ideas and philosophies appear equal to the unreflecting reader. If you do not believe that this has infected our churches, have a conversation about an ethical dilemma with one of your church's teenagers. You will be suitably dismayed.
In such an environment, taking time to tightly define the absolutes of the faith, and the underpinnings of them (particularly the under-explored area of Christian Epistemology) is a very good idea.
Meanwhile, some of our theologians have adopted very Modernistic-sounding approaches to areas such as hermeneutics and apologetics. In an attempt to stave off the invasion of Post-moderns, they have succumbed to an old danger they once abhorred. Very few are talking about this in any comprehensive way. Some serious thinking has to take place, or we will find future generations in an intellectual cul-de-sac that blocks them from true orthodoxy.
4. The ongoing dispersal of theological/ministerial education requires that we revisit this soon.
Recent developments in distance learning at major Fundamentalist and Evangelical Higher Education establishments are just a beginning. Major changes in the distribution of theological knowledge are on the horizon. The availability of everything from blogs to recorded seminary classes on the internet will require a major change in the required discernment level of the learner.
There are several good things about this change, most notably that ministerial students can be mentored in their own churches by their own pastors while getting a world-class education in Bible and related fields.
The challenge is that there will be far more opportunity for seriously divergent viewpoints to gain popularity. An effort now, a century after the original Fundamentals, may do much to raise awareness of doctrinal accuracy and purity at this critical juncture. It will also help to nail down foundational issues that will help us to navigate through this morass.
We at Standpoint Conference beg of you all not to take this issue lightly, and to consider participating in our effort. We are now soliciting scholarly papers from like believers on foundational issues of doctrinal importance. Details can be found at www.standpointconference.com.
Notes
*The Fundamentals was a series of essays published in twelve volumes from 1910 to 1915. The essays focused on the core doctrines of the faith and their defense. The series greatly influenced the early fundamentalist movement. Sample it at Google Books.
[node:bio/mike-durning body]
9363 reads