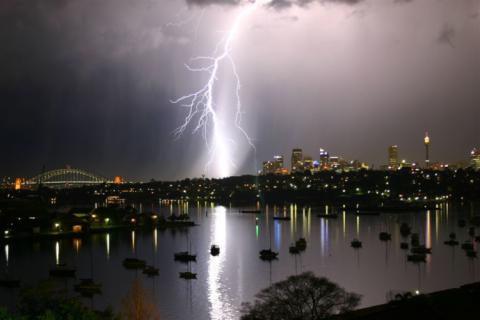 In April of 2020, as COVID-19 was disrupting all our lives in ways most of us had never experienced before, I wrote about my personal need to revisit my theology of suffering. It's interesting to look back on the set of uncertainties that was on my mind at the time.
Now, more than a year and a half later, much has changed, but much hasn't. Oddly, now that the pandemic is something we've mostly gotten used to, it seems like people I know, or loved ones of people I know, are dying of the disease all around me. So what I expected more of in 2020 is reality now, near the end of 2021.
One constant through this is an old, old one. It's been a constant since Adam and Eve transgressed and were evicted from Eden—the certainty of uncertainty. When things are going smoothly, we experience the illusion of certainty in "life as we know it." But it's never truly certain at all.
Some people like that about life. I usually don't, but—like it nor not—it's a good thing. In the longest of long runs, all that is unsure and fleeting now is context for a deeper appreciation of what's sure, unchanging, and eternal (see Rom 8:18). In that spirit, I want to revisit seven certain things in the life of every Christian (today, the first four).
1. Our suffering is never meaningless.
For those who are in Christ (Rom. 8:1), there is no certainty that we'll be spared suffering. What we are spared, always, is random, meaningless, pointless suffering. Whole books have been written on the purposes of suffering in the lives of believers. As Elizabeth Elliot put it, in the title of her final book, Suffering Is Never for Nothing.
Every single thing God brings into my life and yours is bursting with purpose, suffering included.
In him we have obtained an inheritance, having been predestined according to the purpose of him who works all things according to the counsel of his will (Eph 1:11, emphasis added)

who by God's power are being guarded through faith for a salvation ready to be revealed in the last time. In this you rejoice, though now for a little while, if necessary, you have been grieved by various trials, so that the tested genuineness of your faith—more precious than gold that perishes though it is tested by fire—may be found to result in praise and glory and honor at the revelation of Jesus Christ. (1 Pet 1:5–7)
2. Our suffering is never solitary.
In tough times, it's easy to begin to feel that God isn't personally interested. In my own case, this has sometimes resulted in a false, self-inflicted loneliness. The loneliness piece was the old "nobody really understands" feeling, but it's a lie, and if we buy into it and isolate ourselves, we're comitting a kind of self-sabotage.
When we connect with our spiritual forbears in Scripture and our spiritual contemporaries in the body of Christ, we discover that when we're going through pain and loss, we're always in good company. We also discover that God is not coldly witnessesing our struggle from afar. He is intimately involved in our suffering.
Are not five sparrows sold for two pennies? And not one of them is forgotten before God. Why, even the hairs of your head are all numbered. Fear not; you are of more value than many sparrows. (Lk 12:6–7)

O Lord, you have searched me and known me! 2 You know when I sit down and when I rise up; you discern my thoughts from afar. 3 You search out my path and my lying down and are acquainted with all my ways. 4 Even before a word is on my tongue, behold, O Lord, you know it altogether. 5 You hem me in, behind and before, and lay your hand upon me. 6 Such knowledge is too wonderful for me; it is high; I cannot attain it. 7 Where shall I go from your Spirit? Or where shall I flee from your presence? 8 If I ascend to heaven, you are there! If I make my bed in Sheol, you are there! …. 17 How precious to me are your thoughts, O God! How vast is the sum of them! 18 If I would count them, they are more than the sand. I awake, and I am still with you. (Psalm 139:1–8, 17-18)
In a section on the pain of living in a cursed world, Paul wrote of the Holy Spirit:
And not only the creation, but we ourselves, who have the firstfruits of the Spirit, groan inwardly as we wait eagerly for adoption as sons, the redemption of our bodies. 24 For in this hope we were saved. Now hope that is seen is not hope. For who hopes for what he sees? 25 But if we hope for what we do not see, we wait for it with patience. 26 Likewise the Spirit helps us in our weakness. For we do not know what to pray for as we ought, but the Spirit himself intercedes for us with groanings too deep for words. (Rom 8:23–26)
In our sufferings, we can be certain: God is close to us—extremely close—every single painful moment of the way.
3. Our suffering is never payback.
Though our experiences of fear, pain, and loss may feel a whole lot like punishment, that's not what's going on the life of those who are "accepted in the Beloved" (Eph 1:6). For those who believe, there is nothing left to pay as far as sin is concerned. Christ is our redemption and propitiation (Rom. 3:23-25), our ransom (1 Tim 2:5-6). There's a world of difference between the dealing out suffering as payment of a debt vs. dealing out suffering to teach and transform—though they may look and feel the same.
Even when our sin leads to disaster, our Father isn't seeking justice (Rom 8:1, 1 Thess 5:9). He has a different goal.
It is for discipline that you have to endure. God is treating you as sons… . we have had earthly fathers who disciplined us and we respected them. Shall we not much more be subject to the Father of spirits and live? For they disciplined us for a short time as it seemed best to them, but he disciplines us for our good, that we may share his holiness. For the moment all discipline seems painful rather than pleasant, but later it yields the peaceful fruit of righteousness to those who have been trained by it. Therefore lift your drooping hands and strengthen your weak knees, and make straight paths for your feet, so that what is lame may not be put out of joint but rather be healed. (Heb 12:7–13, emphasis added)
4. Our suffering is never unfair or cruel.
As a sinner, Job wasn't entitled to a trouble free life. He probably understood that, and we usually understand that about ourselves as well. But with that principle in place, Job was still left to wonder, "Why me and not him or her?" Relative to most people, Job deserved better than he got.
There was a man in the land of Uz whose name was Job, and that man was blameless and upright, one who feared God and turned away from evil. (Job 1:1)
Along with Job, we sometimes inwardly chafe. Shouldn't suffering be fair? Shouldn't people who sin more suffer more, and people who sin less suffer less? So why is this particular grief for me?
The lesson of the book of Job is that humility is required in suffering. God doesn't choose to explain Himself to Job but, instead, reframes the question of who is qualified to judge what's fair and what isn't. In chapters 38-41, God posed question after question to Job until Job recognized that he really had no idea what he was talking about (Job 42:3).
The point is that God's reasons for what He does are complex, eternal, and can't fit into the tiny box that is our sense of fairness. What we have to cling to is the fact that He is wise, and good, and in the best sense, fair.
Humble yourselves, therefore, under the mighty hand of God so that at the proper time he may exalt you, casting all your anxieties on him, because he cares for you. (1 Pe 5:6–7)
---
Aaron Blumer is a Michigan native and graduate of Bob Jones University and Central Baptist Theological Seminary (Plymouth, MN). He and his family live in small-town western Wisconsin, not far from where he pastored Grace Baptist Church for thirteen years. In his full time job, he is content manager for a law-enforcement digital library service.
2200 reads
1338 reads