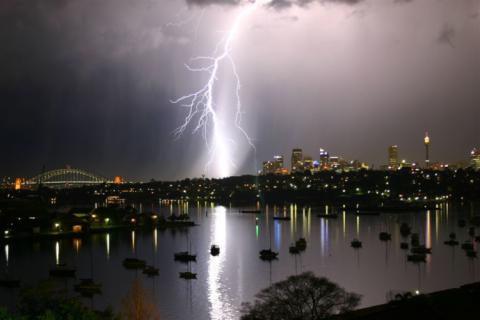 Mark Twain never wrote, and almost certainly never said, "Denial ain't just a river in Egypt." But, Twaininess aside, there's an underlying truth. When confronted with a severely negative turn of events, it's human nature to reject it. "No way! … this is not happening!"
It's just as natural to scale it down to a size we feel better equipped to handle, "That's not what's happening. This is what's happening…" followed by a simplified, more understandable, less frightening version of things.
But a Christian is called to think differently about everything, including calamities and disasters. He is to "speak truth in his heart" (Psalm 15:2) as well as "with his neighbor" (Eph. 4:25). In the case of disasters, this means facing the full reality of a mess out of our control, recognizing that what is, is.
This honesty has consequences. Because "the prudent sees danger and hides himself" (Prov. 22:3), facing a time of suffering with eyes wide open and lights on allows us to act wisely in response. "The simple go on and suffer for it" (Prov. 22:3b).
Because the times seem to call for it, I've been shoring up my practical theology of suffering by pondering seven certainties. These are the final three.
5. Our suffering is never easy.
If it's easy, we aren't suffering. We may be uncomfortable, inconvenienced, or disappointed, but unless there is real pain, we're not suffering. This reality is why it's a mistake to read (and cruel to teach) passages such as Psalm 91 and Philippians 4:19 in a way that suggests believers always glide effortlessly through, or entirely above, life's woes—"wings as eagles," right? (Isaiah 40:31).
Psalm 91:7-10 seems to promise believers that "no evil shall be allowed to befall you" and "no plague come near your tent."
Psalm 37:25 is often read as a promise that a Christian's children will never go hungry.
Philippians 4:19 seems similarly reassuring that all needs of every kind will be continuously supplied.
But these passages—and others like them—have been taken out of context or just misread.
It's no coincidence that the promises of the Psalms and similar passages (e.g., Isaiah 40:31), are so similar in wording to the covenant promises God communicated to Israel through Moses. The Mosaic Covenant did indeed include promises of physical protection and material blessing (Deut. 28:1-14) as long as His people kept the terms of the covenant. But the covenant also promised all sorts of disaster and grief if the people violated its terms (Deut. 28:15-68). The promises of the Psalms and Prophets must be read in the context of the covenant.
For those of us who aren't parties to that covenant—which is now everyone (2 Cor. 3:3-11)—the message is that God always has His wise and good purposes for both sparing and allowing suffering.
He does not promise us ease.
The misreading of Philippians 4:19, though, isn't a failure to put it in its covenant context. It's partly an overlooking of the immediate context (Php 4:18), and partly a hasty handling of the word "need."
Need is always a contingent idea: "Need for what?" What I need in order to be comfortable and happy isn't the same as what I need in order to bring God glory as He transforms me into the image of His son.
The latter can hurt.
A lot.
Could it mean loosing my job and not finding another? Could it mean my family starving or watching everyone I love die? It absolutely could!
Adoniram Judson famously took the gospel to India, lost his funding after arriving, had to flee to Burma, and suffered illness after illness there along with his wife. His wife worked for over a year to get him released from a prison where he was tortured nearly to death, only to die herself shortly after his release. Several of his children and close relatives died over the next several years.
Though Judson's tale is among the worst, he isn't alone in the history of believers suffering greatly.
They were stoned, they were sawn in two, they were killed with the sword. They went about in skins of sheep and goats, destitute, afflicted, mistreated— of whom the world was not worthy—wandering about in deserts and mountains, and in dens and caves of the earth. (Heb 11:37–38)

Three times I was beaten with rods. Once I was stoned. Three times I was shipwrecked; a night and a day I was adrift at sea; on frequent journeys, in danger from rivers, danger from robbers, danger from my own people, danger from Gentiles, danger in the city, danger in the wilderness, danger at sea, danger from false brothers; in toil and hardship, through many a sleepless night, in hunger and thirst, often without food, in cold and exposure. (2 Co 11:25–27)
Passages excised from their context and turned into "promises" easily become clichés—bumper sticker slogans, saccharin lies. "I'm inright outright upright downright happy all the time"? There's nothing Christian about that. When things are horrible they're horrible, and enduring them Christianly accepts that reality.
Speaking truth in our hearts in this way is important for its own sake, but it's also essential for properly appreciating the glory to come. Our affliction is only "momentary" and "light" in contrast to the "eternal weight of glory beyond all comparison" that's yet to come (2 Cor. 4:17). And the contrast works in both directions. When that Day comes, our joy will be deepened by our first-hand knowledge of what we experienced here—what has passed away.
6. Our suffering is never unbearable.
On one hand, we can overstate the aid God provides to His own in hard times—implying painlessness and ease. On the other hand, we could overcorrect, and some have. Three examples:
In most cases, these writers are just using unfortunate language. They aren't really arguing that God allows His children to experience pain at a level that will certainly defeat them. Rather, they're drawing a sharp distinction between what we can handle on our own vs. what we can handle through God's resources.
But the distinction between the two is not really that sharp for a believer.
It's true that Paul characterized a tough experience as "beyond our strength" (2 Cor. 1:8) and explained that God's purpose was, in part, to teach him to "rely not on ourselves but on God."
But it's also true that a person who is "in Christ," is also a "new creation" (2 Cor 5:17), is delivered from "the domain of darkness" (Col 1:13), is indwelled by the Spirit (1 Cor 6:19), and experiences the "energy Christ so powerfully works" in him or her (Col 1:29, Php 2:13). When properly joined to a body of believers, a Christian also has all those transformative benefits "as each part does its work" (Eph 4:16).
Add to that the power we enjoy through the Scriptures (1 Cor 1:18, 1 Pet 2:2).
Sure, if believers were somehow godless, Scriptureless, and churchless, it would be true that "God will allow more than they can bear." But the nature of a Christian is that he is never fully isolated from the power of the Spirit of God, the word of God, and the people of God.
So, I'll say it unequivocally: Our suffering is never unbearable.
7. Our suffering is never exclusive.
When things are going badly for me I often slip into a sense of entitlement I later recognize to be shockingly stupid. In those moments, my attitude assumes I'm supposed to have what nobody else since Eden has had: pain-free, loss-free, unfairness-free life. I'm singing variations on Nobody Knows the Trouble I've Seen and I Am Man of Constant Sorrow.
But the truth is that songs like those only exist because people suffered a lot more than I ever have. The truth is, "man is born to trouble as the sparks fly upward" (Job 5:7).
Maybe my false sense of entitlement never goes so far as being angry with God, but if I indulge in resenting my experiences as if they were especially severe and unfair am I doing much better? It's not just objectively untrue. It's a lie built on a lie.
It's foolish, too, to think that our personal troubles have to be about us. As a believer, God uses pain in my life to chisel away what isn't like Christ, but it doesn't follow that all my pain is about improving me. (Note the wonderful circularity of 2 Cor 1:4 on this point!)
No, there's a much larger story unfolding in this world—a millennia-spanning story of creation, fall, and gracious redemption. And while we wait for the redemption to be fully realized, there is the curse.
Sometimes, that's all your pain and mine is: an experience of the curse, a tiny moment in the process of an unimaginably big God revealing the glory of His grace.
For I consider that the sufferings of this present time are not worth comparing with the glory that is to be revealed to us. 19 For the creation waits with eager longing for the revealing of the sons of God. 20 For the creation was subjected to futility, not willingly, but because of him who subjected it, in hope 21 that the creation itself will be set free from its bondage to corruption and obtain the freedom of the glory of the children of God. 22 For we know that the whole creation has been groaning together in the pains of childbirth until now. 23 And not only the creation, but we ourselves, who have the firstfruits of the Spirit, groan inwardly as we wait eagerly for adoption as sons, the redemption of our bodies. (Rom 8:18–23)
---
Aaron Blumer is a Michigan native and graduate of Bob Jones University and Central Baptist Theological Seminary (Plymouth, MN). He and his family live in small-town western Wisconsin, not far from where he pastored Grace Baptist Church for thirteen years. In his full time job, he is content manager for a law-enforcement digital library service.
2210 reads
2356 reads