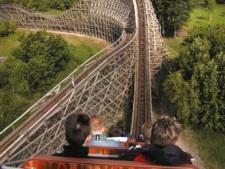 From the archives…
There are basically two ways to ride a roller coaster. The first is to resist the ride. You can press your feet against the floorboard and arch your back. You can grip the handle bar so hard your knuckles turn white. You can tense your jaw, tighten your abdominal muscles, and scream bloody murder as you descend the precipitous drops and are flung around the death-defying turns.
Somewhere in my rather limited experience of roller coasters, I discovered a second approach. You can actually relax on a roller coaster. Really! You can loosen your grip on the bar, relax your jaw, legs and abdominal muscles. In fact, you can take a roller coaster ride in the same physical condition and mental state of a couch potato.
Obviously, your physical state will have no influence on the roller coaster. No matter how tense or relaxed you may be, the roller coaster will not alter its route one inch or adjust its speed one iota. Either way, you will be delivered to the platform on time and in one piece. You cannot control the ride, you can only control the rider.
1969 reads