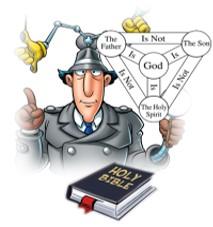 In the local church, the Trinity is usually expressed as an established truth; a fact. It's often accompanied by a nice summary statement and some key verses. In a seminary context, the student (let's call him Biff!) will be forced to go a bit deeper than that.
In theology proper, Biff will be introduced to the doctrine itself. In christology, Biff will study the virgin conception, the kenosis, and the ascension. If Biff is compelled to take historical theology, he'll learn all about the Christological heresies of the early centuries. If he goes to a serious seminary, he might even be forced to present a biblical theology of the Trinity during a systematic theology class. Then, he graduates and is off to a local church—ready to conquer the world!
However, we live in the real world. In this world, it's entirely possible Biff didn't pay attention during theology proper. Maybe he sleepwalked his way through his term paper that semester. Maybe he went through seminary without ever even studying the doctrine for himself. Perhaps Biff took his required two years of Greek, then sold his battered copy of Mounce on Amazon and donated his tattered edition of Young's intermediate grammar to Goodwill. He still has Wallace's tome, but it's in a box somewhere in the basement … with the spiders. Biff hates spiders, so Wallace stays in his box.
Biff doesn't have the capability to interact with Jehovah Witness literature about the absence of the article before θεὸς in John 1:1. He doesn't know who Colwell was, and he certainly isn't interested in his "rule."1 Pastor Biff cannot appreciate how significant the title κύριος is when it is applied to Jesus Christ, because he has never looked at the Septuagint … because he hates Greek. He used his old Greek flashcards as kindling for the youth group bonfire this summer. Everybody ἠγάπησαν the s'mores!
The result is that Biff believes the Trinity, but he doesn't know why. He knows he's supposed to believe the doctrine, so he does. Simple! His standard proof text is 1 John 5:7-8, along with Genesis 1:26. He faithfully preaches the Trinity at the appropriate times, and even throws in a three-leaf clover illustration every once and a while, for good measure. Pastor Biff doesn't realize it, but he's actually a modalist. His congregation is even worse.
Biff's problem is a symptom of a larger issue; Christians often believe doctrines simply because they know they "should." Many believers are orthodox because of convenience, not conviction. This is a pitiful state of affairs. The doctrine of the Trinity goes right to the heart of who God is. We must know this doctrine, understand it as best we can from the pages of the inspired and inerrant Scripture, and believe it because we know it's the truth. That's where Inspector Gadget comes in. But first, a brief definition!
Definition of the Trinity
James White provided the best and most helpful definition of the Trinity I've found:
Within the one Being that is God, there exists eternally three co-equal and co-eternal persons, namely, the Father, the Son and the Holy Spirit 2
This definition is excellent, because it captures five key things about the doctrine of the Trinity which every Christian needs to understand.3 Each of these facts are always true. In fact, this definition and the five implications should be memorized by every Christian:
Each Person is fully and completely divine4
Each Person has always been co-equal,5
Each Person has been around forever,6
Each Person is, in some way, distinct from the others, and yet
Each Person is, in some way, one with the others7
This definition is not found, verbatim, anywhere in the entire Bible. The clearest single passage in the KJV which supports the Trinity (1 Jn 5:7b-8a) is likely not original at all.8 Much more could be said about the Trinity. I could begin quoting systematic theology texts. I could dive into historical theology. I could cite Tertullian. I could trot out some valuable church creeds (the Athanasian Creed is especially helpful). I could direct you to Tim Challies' extraordinarily helpful infographic about the Trinity, which, by the way, is a very good poster to hang on the wall at your church for members of the congregation to gawk at (the kids especially like it). But, I don't want to do that. In technical terms, I'm going to present a biblical theology of Jesus Christ and the Trinity from the Gospel of Mark. In real language, we're going to do a Bible study. We're going to take an orthodox statement of Trinitarian doctrine and put it to the test through an entire book of the Bible. It should be a real hoot.
Inspector Gadget & the Trinity
I was on active-duty with the U.S. Naval Security Forces for 10 years. I was a criminal investigator at two different duty stations. I'm a Maranatha Baptist Seminary graduate, a Pastor, and now a senior insurance fraud investigator with the State of Washington. I'm used to detective work. When you get a criminal complaint, your job is to gather the facts, lay them out, and accurately interpret them. Did an offense actually happen? What offense was it? In light of the facts, can I demonstrate the suspect's actions meet the legal criteria of that crime? Can I prove it? Bible study is the same way.
Christian doctrine about the Trinity was formulated by meticulously piecing together everything the Bible says about our One God, and the Divine People of Father, Son and Holy Spirit. Christian doctrine, properly done, is the result of pure detective work. Your only infallible authority is the Word of God; not commentaries, not books, not Pastor Google, not favorite preachers, and not (heaven forbid!) internet chat forums. Gather the Biblical evidence, lay it all out, and interpret it—what do the facts tell you? This is why Inspector Gadget is important. He's a detective. He's "always on duty!" Yes, he is incompetent—but we can do better. This is how you study out a doctrine for yourself, and do Biblical detective work:
You survey everything Scripture has to say about a particular issue. For example, the intention of Christ's atonement, what the Gospel is and isn't, what baptism really means, etc.
This can be an overwhelming task, so you usually start with a small slice of Scripture (e.g. the Gospel of Mark)
You lay out all the data and take a fair and honest look at it. You ignore what you want to see, and deal with what you actually see. Our preconceived notions and ideas are always subject to the Bible, not the other way around
Based on the Biblical data you've gathered, you pull together some conclusions and make a summary statement. This is systematic theology, a systemized presentation of doctrine based on an honest and thorough study of the text
You expand your scope of inquiry to different texts (e.g. the General Letters), gather even more evidence, and re-evaluate your summary conclusions as necessary
That is how you study a subject in the Bible fairly and honestly. You systematically comb through the Scriptures. You do it line by line, chapter by chapter, book by book, testament by testament. You gather data, you fairly and accurately interpret that data, and only then can you come to conclusions. This is detective work. It's the most rewarding thing in the world to know, in your own heart and soul, that you've studied a Bible doctrine and you're convinced of it in your own mind for a real reason. You shouldn't plan to stand before Jesus one day and stammer, "But, Pastor Biff said! …"
This series will be a Bible study on the Trinity. This is obviously a massive subject, so we're going to take some realistic steps to narrow down our focus. We're only going to look at Jesus Christ, and we're only going to look at the Gospel of Mark. This will be a long series, and no doubt some people will tune out or lose interest along the way. But, no matter how much (or how little!) time somebody spends in studying the Trinity, any investment of effort and energy on this topic is certainly time worth spending.
Notes
8860 reads