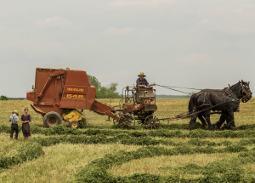 I enjoy reading quotes about a variety of topics. Good quotes are condensed truth delivered in a fashion that is as amusing as it is thought-provoking. But sometimes I read a quote, which at first sounds so wise, witty, or practical, and then after a few seconds I'm like, "What?!"
I recently read a quote credited to Sir Richard Charles Nicholas Branson, a successful businessman, investor and philanthropist, and founder of the Virgin Group, which, by the way, controls more than 400 companies. I'm all for listening to what hard-working, successful people have to say.
You don't learn to walk by following rules. You learn by doing, and by falling over.
Makes sense. Children often learn by doing, which involves failing, or in this case, falling. I get it. It's an illustration we understand because we've all seen it for ourselves. But learning to walk has nothing to do with following rules.
I'm sure the context of that quote is about how Branson took huge risks to become as successful as he is, which has involved many failures and controversies.
But that's the problem with quotes. Some are all pith, no substance. I believe I can say with confidence that Branson has followed many, many rules while building his business empire, investing in space tourism, and breaking world records kitesurfing.
From the Ten Commandments to "Abstain from all appearance of evil" (1 Thess. 5:22), we understand rules as boundaries of behavior and measures of maturity. Parents use rules as safety nets to keep children from breaking moral codes and making dangerous mistakes, as well as standards of conduct which serve to assess a child's character growth.
Rules are good. Rules are important.
However, I can also read Branson's quote and see the danger of being so focused on what our children shouldn't be doing that we don't teach them what they should be doing. His success is not a result of rule-breaking, but of focused, relentless, innovative work. 
Think of the dynamics of the Garden of Eden. God placed His perfect creations in a perfect environment, and gave them meaningful work, along with the opportunity for choice, a rule to govern the parameters of that choice, and the corresponding consequences.
As we know, Adam and Eve chose to disobey, and thus God began the process of chastisement and restoration. He lovingly meted out the consequences, gave them hope through a prophecy regarding His plan for redemption, and then He told them to get back to work. Hard, sweat-of-the-brow, painful work.
I think after we deconstruct this whole scenario for the thousandth time, what we take from it again and again is the idea that we will be able to do better than God at keeping our kids in the garden, because we aren't going to give them the same choice God gave Adam and Eve. We are going to give them better rules and dire consequences; the kind that will prevent any such nonsense as fruit eating or talking to snakes.
It's folly, of course. We know in our heads that we can't keep our kids from making poor choices, but our hearts are full of love and fear, and sometimes our heart drowns out the sensible voice in our heads.
Our children will inevitably experience failure and sorrow, so what should we do?
We know to help them develop the habit of Bible reading and prayer, to give them a firm foundation of sound doctrine on which to base their faith and practice. We can also give them the skills to guide them through life's decisions, circumstances, and challenges. We need to put our kids to work, and to let them make choices.
I remember years ago hearing a preacher make an off-the-cuff comment that the only thing we know about Jesus as a boy was that at 12 years old he could survive on his own for days without his parents, and speak intelligently and respectfully to adults. He was already serving as His father's apprentice, so it's fair to say He was skilled in a marketable trade.
Could our kids do any of that? Is what we know of a 12-year old Jesus a parental goal worth considering?
I think so. And I think it's needed more than ever—if the headlines are any indication of the world our kids will face as independent adults.
Have our kids learned coping skills so they can deal with stress, peer pressure, emergency situations?
Do they possess self-control in areas of temperament, as well as health, finances, and time management?
Do they have a sense of empathy and compassion for others?
Are they self-motivated with a strong work ethic?
Do they know how to persevere through difficult situations?
Are they forgiving, generous, and merciful?
Do they know how to anticipate problems and be proactive in finding solutions?
Can they work well with others to complete a project?
Our kids need purpose just as much as we do, and purpose involves work. It might start with chores, but if there is an opportunity for a young person to do meaningful work, they should be given the opportunity to experience it.
Most parents don't do this because they are afraid of what influence the world might have on their child. It's a valid concern, but in my experience, it isn't the influence of the world that's the problem; it's the idle mind without focus and hands that never get dirty.
And then there's where the rubber meets the road; change of heart is wrought by the power of the Holy Spirit. When we attempt to act in place of the Spirit, we rob our children of the opportunity to be moved by God's Word, hear the convicting voice of the Spirit, and learn how to be doers of the Word and not hearers.
God has a plan for our children, and while He uses godly parents to lead and guide, He does not need us to act as mediators. He can and does speak directly to our children. He knew what Adam and Eve would do, but He loved them enough to give them a choice. Can we follow His example with our children?
Furthermore we have had fathers of our flesh which corrected us, and we gave them reverence: shall we not much rather be in subjection unto the Father of spirits, and live? For they verily for a few days chastened us after their own pleasure; but he for our profit, that we might be partakers of his holiness. (Hebrews 12:9-10 )
I think we have the all the parenting examples we need. What we lack is the courage and faith to enact them.
6171 reads