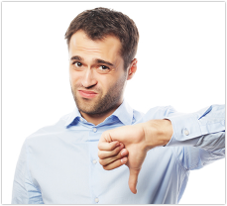 I have concluded that most church people are positive, encouraging, and supportive. Nonetheless, it generally takes at least ten encouraging things to offset one discouraging thing (this varies a lot with intensity).
The greatest discouragement most pastors face is from within the Kingdom. Jesus warned his disciples that they would have to bear insult because they belong to him (Matthew 5:11). What Jesus did not warn his disciples about is that Christians would insult fellow Christians, and particularly that Christians would insult or demoralize their leaders. I call these offenders the "ungracious ten per cent."
Most insults are passive-aggressive—insinuation and inference. Here are some common insults—coupled with my subjective rating scale rating intent to insult.
1. All brain and no heart
"You should have been a scholar or seminary professor."
Chance of being an insult: 67%
Some mean this as a compliment. Odds are this is a passive aggressive insult.
Interpretation: "You are not good at meeting people's needs (or your teaching is not relevant to me); you belong with the egg heads."
2. Preacher vs. Teacher insults
A. "You are more of a teacher than a preacher."
Chance of being an insult: 70%
Negative Interpretation: "Your sermons are not practical (or challenging or inspiring) or they bore me."
B. "You are more of a preacher than a teacher."
Chance of being an insult: 70%
Interpretation: "Your sermons are too emotional and shallow in content and doctrine."
One pastor friend chatted with two different men from his church in the same day, both of whom had set up appointments with him. One man informed the pastor he was leaving the church because the pastor's preaching was too passionate, the other because it was not passionate enough.
3. Comparison to other pastors
A. "I love to listen to Pastor___________ on the radio. His messages really help me and motivate me to walk with the Lord.He's the best!"
Chance of being an insult: 60%
B. "Pastor so and so (your predecessor perhaps) used to ______________, and God blessed our church more in his days."
Chance of being an insult: 95%
C. "At my friend's church, the pastor is involved in practically helping the community."
Chance of being an insult: 95%
Interpretation: "You are inferior to the radio pastor or your predecessor or my friend's pastor, so you should either leave so we can get a better pastor or work hard at imitating him."
Many people do not realize how intensely insulting it is to suggest you surrender your personality and become a robot or actor who imitates another.
Could you imagine a pastor telling a member the following? "You should be like Mrs. Smith. She volunteers for every ministry, has a beautiful voice, never misses church, is always on time, tithes, and has never gossiped or complained."
4. Implications of failure, and the pastor is to blame.
A. "People are saying that the church is declining or losing quality under your ministry."
Chance of being an insult: 95%
Interpretation: "I believe the church is declining under your ministry and it is your fault."
There are few insults more cowardly than the "people are saying" insult. Another variation is, "The church is growing numerically under your leadership, but people are saying the type of people we are drawing are shallow or odd."
Sometimes baseball teams lose, not because they have a bad manager, but because they have bad players, or their players have been injured (unfortunate circumstances). The same can be true in a church.
B. "We need to the get the Holy Spirit's power and passion back in our church."
Chance of being an insult: 85%.
Interpretation: "You are not a Spirit-filled man or leader. You are leading the church downward because you don't have the relation to the Holy Spirit that I do."
A theological agenda or an attitude of superiority is often hidden in such statements.
C. "That church over there is growing leaps and bounds. Why can't we?"
Chance of being an insult: 50% (might not be directed at the pastor)
This is not always an insult, sometimes simply the expression of frustration the person feels when comparing his church to another.
Negative Interpretation: "You are not in tune with God or are not diligent enough or a strong enough leader; if you were, our church would be growing numerically."
The belief that bigger is better remains to be proven. By such a standard, Jesus was a major flop as a shepherd (John 6:66).
4. Bolder Insults
A. "Today's sermon was better."
Chance of being an insult: 99%
This is very different from saying, "I really enjoyed today's sermon," or "Better than usual." In that case, the baseline might be "good" or at least "fair." In the quotation above, the baseline is "poor."
Interpretation: "Hallelujah—finally a decent sermon out of you. It wasn't great, but better than your usual flop. Your sermons are typically poor."
B. "I was just teasing. Can't you take a joke?"
Chance of being an insult: 85%
Interpretation: "I am too cowardly to insult you directly, so I do it indirectly. If you are offended, I can escape responsibility by claiming it as a joke and put you in the hot seat instead of me, accusing you of being a poor sport."
C. This is a generalized insult not directed toward the pastor (supposedly), but actually is so directed. "America has too many pastors who think they own their churches and won't share authority."
Chance of being an insult: 75%
Interpretation: "You are one of them and need to be reined in" (probably spoken from someone who has an agenda and actually needs to be reined in himself).
5. Family insults
These can be directed at the pastor's wife or the pastor's children. Nothing nastier than attacking a pastor through his family.
"The pastor's wife in the church down the block volunteers for our club. She believes in getting out into the community."
Chance of being an insult: 99%
Interpretation: "Your wife is a loser as a pastor's wife. We own you and your family."
6. Praising someone who has hurt the pastor badly
"That person (who hurt you badly) is really a great Christian guy who really cares about this church."
Chance of being an insult: 50%
Sometimes a comment like this is based upon the misguided belief that talking kindly about someone who hurt you will help you to like him or her. People often fail to realize that this just rubs salt in the wounds.
Negative interpretation: "That guy is right and you are wrong. I'm with him."
7. Broadcasting disagreement with the pastor
From the platform/microphone,"I know our pastor doesn't' believe in (getting emotional, healing prayer, the Holy Spirit, revival, etc.), but I see it this way."
Chance of being an insult: 90%
Interpretation: "The pastor is defective in his thinking, theology, or practice. I want you all to know it." There is a 10% chance the person is just incredibly ignorant.
8. Negative Assumption Insults
A. "I thought you might be willing to take on this or that, since you have the time."
Chance of being an insult: 80%
Interpretation: "Pastors have little to do with lot of free time, unlike 'we who work for a living.'" No other way to interpret this one. The truth is that most ministers have to switch hats so often and squeeze their schedules for an amazing amount of tasks. Flexibility of schedule, however, is a great benefit. But it doesn't mean we work fewer hours (we don't), and it certainly doesn't mean we have less stress!
The reason I allowed for 20% otherwise is to make room for new believers or people who have never done much with the church.
B. "I know you wanted to get the funeral, but they wanted another minister to do it."
Chance of being an insult: 50%
I have been insulted many times this way, mostly by people who do not know me and perhaps either are not involved in church nowadays or never were.
Negative Interpretation: "I know you ministers love the money from doing a few minutes work at a funeral." Or, "I know you are in a competition with other ministers, and you lost this one, buddy."
Positive Interpretation: "I don't want you to feel rejected or unappreciated because I know you cared about that person."
Most ministers have a holy jealousy for their flock, but they do not stand ready to pounce on an opportunity to officiate a funeral to pick up an honorarium, as cynics believe.
Conclusion
In this world of ours, insulting and being insulted is part of life. We all must develop a thick skin, but even thick skins can be pierced and feel pain.We all slip up, but we must heed the Scriptures, which tell us to "show perfect courtesy toward all people" (ESV, Titus 3:2).
Pastors deserve the same courtesies we show to other people, and perhaps a little more: "respect those who labor among you and are over you in the Lord and admonish you" (1 Thess. 5:12). The good news is that the overwhelming majority of believers treat their pastors with great compassion and respect. The bad news is that some do not.
21187 reads