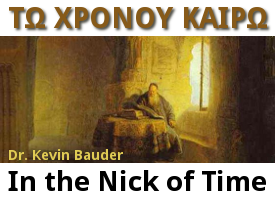 O God of God, O Light of Light, O very God of very God, toward You I cast my mind as the tempest casts waves from the sea. Like breakers upon ancient crags do my small thoughts dash against You and fall back into themselves. In You I find—and fail to fathom—height above height and depth beyond depth, eternal and incomprehensible.
Lover of my soul, You veil Yourself from prying eyes. You hide Yourself from the curious and You rebuff the inquisitive. You hold Your radiance as a precious treasure, not as merchandise to satisfy faithless seekers who peer into the transcendent.
O Alpha and Omega, O Uncreated One, O First and Last: You are the only-begotten Son, of one substance with the Father, begotten before all worlds, begotten but not made. You made all things, both visible and invisible, whether things in heaven, or things on the earth, or things under the earth, whether thrones, or dominions, or principalities, or powers. By You all things consist, for You uphold all things by the word of Your power. You are before them all, and they all are by You and for You and in You.
Divine Poet, creation is Your stanza. Though You are altogether above the things that You have made, yet through Your handiwork You disclose Yourself. In the created world have You shown Yourself. By it do we clearly see invisible mysteries. Throughout Your poem have You spoken a message of eternal power and Godhead. The very skies declare Your praise to every eye. Day speaks to day and night whispers to night, and no ear is deaf to their voice.
Let the whole creation sing to Your glory! Let the fowls of the air and the fishes of the sea, the beasts of the field and the trees of the forest cry out Your praises! Let the sea roar and the fields rejoice in Your presence! Let the mountains tremble at Your majesty and the heavens be afraid under Your dominion!
O Helpless Babe, O Mary's Child, O Immanuel, I bow my heart to You. For me and for my salvation You came down from heaven. Of the substance of the Father, You are very God. Of the substance of Your mother, You are very man. Born in this world, You have taken into Your eternal person a perfect humanity, full and real. To Your unaltered deity have You added a reasonable soul subsisting in human flesh, perfect God and perfect man.
In Your person (indivisible!) and through Your natures (unconverted! unconfounded!) does omnipotence grasp weakness, tranquility embrace sorrow, and immortality own death. Before this impenetrable mystery I stand still. My mind balks. You are a wall that I cannot climb. You are a chasm whose depths I cannot fathom. You are a height shrouded in mist and cloud.
I believe.
I believe.
I believe.
I believe though I do not understand. I believe what I do not understand. I believe in order that I might understand.
Through Your incarnation You reach out to me—Word of the Father, now in flesh appearing. Of the Father's love were You begotten, and in love did You assume my nature. Though You subsisted in the form of God, You considered eternal glory a thing to be ungrasped. You emptied Yourself, coming to be in my likeness. For me You made Yourself a slave. When You were found in fashion as a man, You humbled Yourself to the point of death.
O Lamb of God, O Servant of Jehovah, O Savior of Mankind, how can this be? The death of the cross? Bearing my sins in Your own body on the tree? Made to be sin for me—You, who knew no sin?
Frightful love! Dreadful love! Appalling love! Such love reeks of tears and blood. It rings with thunder and wrath. It overpowers Omnipotence and drives it to a cross. O, God! What if this love were to seize me? Where would it take me, and how could I bear it?
Your name is Jealous. You will not serve my gods. I cannot fashion You as I might wish, but must take You as You are in the unity of Your being. Because You have no parts, I cannot select which part appeals to me. If I choose You, still I cannot choose what You will do with me. You bid me come, bid me bow, bid me trust—and You are beautiful in Your holiness! Yet this holiness too, like a naked sword, warns me and resists me and affrights me until I come without demands.
O Advocate, O Mediator, O Merciful and Faithful High Priest, You are my intercessor. Those wounds that on earth for me did bleed do now plead for me before the Father's face. No law can incriminate, nor can any accuser recriminate. My guilt has been charged once-for-all, and once-for-all credited is Your righteousness.
You are my shield and my hiding place. Over Your head broke the storm of divine wrath once; now, safety and peace dwell under the shadow of Your brow. The Hand whose justice smote and crushed at the cross is now the Hand from whose refuge none can pluck. Neither death, nor life, nor angels—You hold me firm, hold me fast, hold me secure. Nor principalities nor powers—You say that I am Yours. Nor things present, nor things to come—forever have You claimed me. Nor height, nor depth, nor any other creature—this oath, this consolation, this hope, this expectation I find in You alone.
O Alpha and Omega, O Faithful and True, O KING OF KINGS AND LORD OF LORDS, Your day draws near. Soon shall the legions of heaven gather in Your train. From thence shall You return to judge the quick and the dead. You shall tread out the winepress of the fierceness and wrath of Almighty God. You will be revealed from heaven in flaming fire with mighty angels, taking vengeance upon those who know not God.
You are the comfort for which my heart yearns. You are the justice for which my soul hungers and thirsts. With the gladness of Your presence shall I gird myself. You are my portion, my inheritance, and my reward. My heart and flesh cries out, not for Your gifts, but for Yourself. As the swallow seeks its nest, so my soul seeks You.
O Savior, I thank You.
O Christ, I bless You.
O Lord Jesus, I praise You.
May the meditation of my heart be acceptable in Your sight, O Lord, my Strength, and my Redeemer. Worthy is the Lamb that was slain to receive power, and riches, and wisdom, and strength, and honor, and glory, and blessing. As it was in the beginning, is now, and ever shall be, world without end. Amen.
[node:bio/kevin-t-bauder body]
617 reads