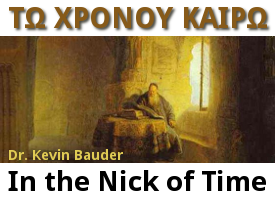 "Just the facts, ma'am." This line is widely believed to have been made famous by the character Joe Friday, detective sergeant in the famous Dragnet television series. Actually, Friday never spoke the line. It was popularized by Stan Freberg in his parodies of the show.
Nevertheless, the line summarizes modernity's fascination with facts. For the modern, if you possess the facts, then you possess the truth. Facts equal truth, and whatever is factual is necessarily truthful.
Of course, the truth may be complicated if it involves a large number of facts. Even so, an objective observer need only examine and correlate a sufficient number of the facts. If someone gathers enough of the facts and stares at them long enough, the truth is sure to emerge.
Postmoderns have critiqued the equation of facts with truth as horribly naïve. They have also critiqued the notion of a truly objective knower. Both of these critiques ought to resonate with conservatives. In particular, a genuine conservatism rejects the fact-truth equation.
The most important Christian critique of facts as the guarantor of truth comes from Cornelius Van Til. He and his followers have been eager to point out that there is no such thing as a brute fact. Facts do not exist in isolation, but in relation to other facts. The relationship among facts must be grasped in order for any fact to be rightly construed. The only mind that really grasps the network of relationships among facts is the mind of God, and humans have access to that network only through revelation. The upshot is that only Christians are in a position to have true knowledge of the world—i.e., to know facts as they ought to be known.
Van Til, however, was not the only conservative thinker to critique the fact-truth equation. Of equal note was Van Til's contemporary, historian John Lukacs. In his work Historical Consciousness: The Remembered Past, Lukacs offered a sustained critique of the attempt to equate facts with truth.
Lukacs began by noting that a fact by itself is entirely without value. He realized that people are inundated with large numbers (billions? more?) of events and objects that they never notice. These events or objects are only registered in the mind (they are constituted as facts) when they are somehow associated with other facts. Says Lukacs, "Facts are meaningless by themselves: they mean something only in relation to other facts" (104).
In other words, a fact has to be construed before it counts as a fact. As Van Til would be quick to point out, such a construal is always an act of interpretation. Consequently, all of the facts that we know are always already interpreted. They are never neutral. They are already value-laden before we become aware of them.
For this reason, telling the truth is not simply a matter of repeating the facts. To tell the truth, we must relate the facts in a way that reflects their actual arrangement as it exists in reality (i.e., as it is known by the mind of God). If we have all the facts, but we construe them wrongly, then our perceptions and articulations will be false. If we misconstrue the facts maliciously, we may commit slander without ever uttering an unfactual word. For Christians, such malicious utterances must be taken seriously, for Jesus taught us that character assassination is the same sin as murder (Matt. 5:21-22).
In order to tell the truth, we must not omit any relevant fact. Imagine a high school principal who announces, "In basketball last weekend, our team finished in second place, while our rival team across town only managed to come in second-from-last." This announcement creates the impression that the principal's team did pretty well. What he neglects to add, however, is that the only game played was between his team and the rival team across town, which beat his team badly. The principal has spoken only the facts, but he has used them to disguise the truth.
Facts cannot be truthfully separated from their associations. Nor can these associations be separated from their expressions. Imagine a man who works in an office with several men and several women. Some of the latter are quite attractive. One day, he goes to work even though his wife has come down with a cold. We could, if we wished, say factually that he had left his sick wife alone and spent the day with a beautiful woman. If that is what we said, however, we would become guilty, not only of deceit, but of slander.
To be sure, the charge of slander would likely be dismissed in a court of law. Our legal defense would be that the statement was entirely factual. We might even preempt a charge of slander by offering in advance to correct any factual errors. The slander, however, does not involve the facts, but their construal. When we appear before the Judge of all flesh, we will surely stand as liars and murderers.
Those who value truth will not separate facts from their associations. They will not separate associations from expressions. Furthermore, they will not separate expressions from purposes. In other words, lovers of truth must constantly evaluate truth claims by judging motives.
Evangelical Christianity experiences a kind of hypocritical paranoia about judging motives. Supposedly, we cannot perceive the motives of someone's heart, and therefore we must not judge. True enough, part of the time—but obviously false in many instances. We can and do judge motives constantly.
Suppose you are crossing a crowded room. Someone treads on your foot, then apologizes. Though you experience real pain, you accept the apology and dismiss the incident. You have judged the person's motive and decided that the event was unintentional.
Continuing across the room, you spot a former co-worker who was recently fired because you reported him for unethical practices. His eyes narrow, his fist doubles up, and he takes a swing at your nose, missing by a fraction of an inch. Instead of dismissing the incident, you prepare to defend yourself. Again you have judged that person's motive.
Judging motives is unavoidable. Christians are not forbidden to judge motives, but are forbidden to impute ill motives without adequate justification. Especially among our brothers and sisters, we ought to construe motives as charitably as we reasonably can. Nevertheless, we always judge a person's utterances in terms of what that person is trying to accomplish.
A woman reports her income to the IRS for tax purposes. The same woman reports her income to a mortgage company in order to secure a home loan. The two figures will almost certainly be different. Shall we judge that the woman has lied?
Not necessarily. Her purpose is to report to the IRS what the IRS considers to be income, and to the mortgage company what the lender considers to be income. Both of her statements may be entirely factual and entirely truthful, but they are responding to different questions. The woman is not necessarily engaging in some version of Orwellian doublespeak. She is simply relating the facts in ways that are appropriate to their context. A charitable understanding would require us to assume as much until we have reason to suspect otherwise.
Facts do not equal truth. Truth consists in a right arrangement or construal of the facts. When we evaluate truth claims—especially accusations—we have to do more than to ask whether the claims are factual. If we intend to know the truth, then we shall have to examine both the accuser and the accused in terms of how they arrange the facts, how they express those arrangements, and how the expressions are motivated. Simply because an accuser's facts cannot be challenged does not mean that he is telling the truth. As far as God is concerned, the accuser may be both a liar and a murderer.
Blessed Jesus at Thy Word
Tobias Clausnitzer (1619-1684), tr. by Catherine Winkworth
Blessed Jesus, at thy word
We are gathered all to hear thee;
Let our hearts and souls be stirred
Now to seek and love and fear thee,
By thy teachings, sweet and holy,
Drawn from earth to love thee solely.
All our knowledge, sense, and sight
Lie in deepest darkness shrouded
Till thy Spirit breaks our night
With the beams of truth unclouded.
Thou alone to God canst win us;
Thou must work all good within us.
Glorious Lord, thyself impart,
Light of Light, from God proceeding;
Open thou our ears and heart,
Help us by thy Spirit's pleading;
Hear the cry thy people raises,
Hear and bless our prayers and praises.
Father, Son, and Holy Ghost,
Praise to thee and adoration!
Grant that we thy Word may trust
And obtain true consolation
While we here below must wander,
Till we sing thy praises yonder.
[node:bio/kevin-t-bauder body]
2329 reads