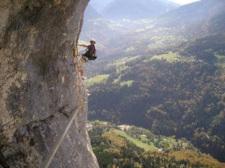 Introduction
A. In 1982 a book appeared in the United States that revolutionized thinking about the way American corporations are run and the way business should be done in our country.  That one book sold more than 6,000,000 copies and spawned a new effort to make business more effective and productive.
B. The book was In Search of Excellence by Thomas J. Peters and Robert H. Waterman, Jr.
The book studied many companies and identified ones that the authors judged to be most successful.
They identified eight principles that characterized those companies.
Peters said he had a passion to prove just how crucial people are to the success of a business enterprise.
C. Scripture has much to say about excellence in every part of life.
Proverbs 17:7 commends excellent speech: "Excellent speech is not fitting for a fool, much less are lying lips to a prince."
Daniel 5:12 and 6:3 record that Daniel possessed an "extraordinary" or "excellent" spirit.
Paul informs the Corinthians that there is a surpassing or "more excellent" way than the use of the spiritual gifts (1 Cor 12:31). That is the way of love (1 Cor 13).
In Philippians 1 the Holy Spirit inspired the recording of one of Paul's several prayers in the New Testament. He prayed for the Colossians, for the Ephesians, and for the Philippians. His prayers revolve around a deep concern for the people in those churches.
Paul reveals his God-given passion for the people to whom he ministered (Phil 1:7, 8).
In this prayer Paul expresses an intense desire that the Philippians demonstrate excellence in their lives as believers.
He prays: 9 And this I pray, that your love may abound yet more and more in knowledge and in all judgment; 10 That ye may approve things that are excellent; that ye may be sincere and without offence till the day of Christ; 11 Being filled with the fruits of righteousness, which are by Jesus Christ, unto the glory and praise of God (Phil 1:9-11).
D. Proposition: In his prayer for the Philippians, Paul makes specific requests to God for them that all revolve around the concept of excellence in service for Christ and in the Christian life.
Body
I. The Possibility of Excellence – Participation in the Gospel – Philippians 1:5-7
Paul remembers how the gospel came to Philippi (v 5).

He preached the message of Jesus Christ to the Jewish women by the river side (Acts 16:13-15).
In the power of the Spirit, he delivered the demon possessed slave girl (v 16-18).
They preached the gospel of faith in Christ to the jailer (v 31).

Scripture emphasizes at least three major truths about the gospel in this book.

The message of the gospel is the message of Christ – He is eternal God who humbled Himself to become man and die for sinners. God has exalted Him, and He will be the eternal judge of all men (Phil 2:5-11).
Salvation does not come by any religious work (Phil 3:2-3).
Salvation is received one way – by faith in Christ (Phil 3:8, 9).

The Philippian believers could grow and mature because they had begun at the beginning – at the place of faith in Christ for salvation. They had participated in the gospel.
Have you been saved? Your greatest need is to know Christ as your savior.  "You cannot live the Christian life without Christ."
II. The Source of Excellence – Abounding Love – Philippians 1:9
Scripture indicates that the excellence Paul desires in the Philippian believers will only come when they increase more and more in love.
In this passage he is talking about their love for God.

Our love for God is only possible when we respond to His love for us (1 Jn 3:1, 2; 4:19).
God's love for us should result in our love for our Christian brethren (1 Jn 4:10, 11).
We are to keep ourselves in God's love (Jude 20, 21; Rev 2:4).
This matter of a godly, biblical love is far more important to the Christian life than we realize (Eph 3:14-19).
God's greatest commandment is to love God (Dt 6:5; Mt 22:37-39).

It is no wonder Paul prayed that the believers in Philippi would be characterized by a greater and constantly increasing love.
III. The Product of Excellence – Knowledge, Discernment, Tested Judgment – Philippians 1:9-10
Scripture affirms that this increasing love for God will produce a definite result in the Christian's life.

The believer will gain a "real knowledge" of God (v 9).


The word means more than facts. It is an acknowledgement of God and His rightful place in our lives.
Paul prayed the very same thing for the believers in Ephesus (Eph 1:17).
This is giving Christ His rightful place of authority in our lives.
It is akin to the instruction of Proverbs 3:5, 6.
Sinful mankind does not like to acknowledge God (Rom 1:28).

This real knowledge will produce "discernment" (v 9).


This has to do with right moral choices.
These right choices will come not from mere knowledge, but from an ever-increasing love for God that produces an acknowledgement of His rightful place of lordship and authority in our lives that produces discernment to make right choices.

This discernment results in "approving things excellent" (v 10).


We are able to see the difference in the quality of spiritual values and to choose the best.
Illustration: Approve – to prove the value of metal by assaying
We can see and make those evaluations in the physical realm. We must let God use His Word to develop those same evaluations of excellence in the spiritual realm.

This comes from an increasing love for God.
IV. The Testimony of Excellence – Sincere and Without Offense – Philippians 1:10
This saving grace of God, which can produce increasing love for God and will produce discernment in the Christian life, results in an outward evidence of our lives.
The first great evidence is that we are "sincere." The word may have its roots in the concept of being proved in the sunlight or proved by sifting.  At any rate it means "pure, unsullied."
The second important evidence of this saving grace, increasing love, and discernment is that we will be "without offense until the day of Christ" (v 10). The saved and unsaved around us will see a consistent testimony of God's work in our lives.
V. The Proof of Excellence – Fruit of Righteousness that Glorifies God – Philippians 1:11
The progression in the passage is clear.

God's work in our lives begins with the gospel.
Growth is built around the increase of love.
Love for God produces acknowledgement of Him and discernment in moral choices that are excellent.
We are seen before men as pure and unsullied.

There is an ultimate end to God's working in our lives.

We are filled with the fruits of righteousness.


Righteousness cannot come by religious work or human effort (Phil 3).
God produces it when our love for Him increases and grows.

God is glorified.


This is God's ultimate aim for our lives (Eph 1:6, 12, 14).
This should be our desire as Christians (1 Cor 10:31).

Notice that this comes "through Jesus Christ." None of this is possible without the right relationship to Him that the gospel produces.  We end with the dictum with which we began – "you cannot live the Christian life without Christ."
Conclusion
In his prayer for the Philippians, Paul makes specific requests to God for them. These all revolve around the concept of excellence in service for Christ and in the Christian life.
This must begin with a saving faith in Christ who came to earth to die for us.  If you are not saved, receive Him today.
This excellence is developed by increasing in love for God.  That love for God will produce growth, obedience, and love for others.
This increasing love for God results in acknowledging Him and in right moral choices.
We will appear to others to be sincere and blameless.
God produces the fruits of righteousness in our lives to His glory.
None of this can happen without a right relationship to Jesus Christ.
1961 reads