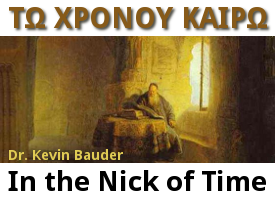 One of the hottest controversies in apologetics has to do with the possibility of common ground between Christians and unsaved people. The question is whether Christians, in order to persuade unbelievers, must find some kind of neutral territory that both can occupy as objective, fair-minded persons. Classical and evidential apologists believe that such common ground exists and is important. Presuppositionalists reject the notion of common ground and insist upon the antithesis between revealed truth and all human attempts to discover truth while denying revelation.
Much of the debate focuses upon Acts 17, in which Paul presents the gospel at Athens. When he spoke to the philosophers at the Areopagus, Paul was standing at the epicenter of intellectual life in his civilization. Consequently, Paul's presentation is sometimes treated as a model or test case for apologetic systems.
Apologists in the classical and evidentialist traditions believe that Paul made effective use of common ground in Athens. He approached the philosophers on the basis of their shared belief in a deity, found a common category in the "unknown God," fit the true and living God into that category, and then proceeded to the details of the gospel. These apologists make much of Paul's success: even at a center of hardened unbelief (the Areopagus), some believed and others continued to express interest. Paul's citation of the pagan authors Epimenides and Aratus is seen as a further indication that he was appealing to common ground.
Some presuppositionalists take exactly the opposite approach. They do not deny that Paul was appealing to common ground, but they maintain that Paul was mistaken to do so. They note that no mention of the cross occurs in the Areopagus address. They point to the relative paucity of Paul's results (only some believed). They further draw attention to the strongly cross-centered content of Paul's preaching in Corinth, his next stop after Athens. They tend to see 1 Corinthians 1-2 as Paul's repentance and renunciation of his botched apologetic at Athens.
If these are the only two perspectives considered, then the choice between them rests primarily upon one's understanding of human nature after the Fall. If sin has left human intellection largely intact, then finding common ground with unbelievers is an acceptable and perhaps preferable option. If, however, depravity has affected the human ability to think and perceive—if it has corrupted the mind itself—then common ground becomes much more problematic. Those who believe in total depravity (which includes the depravity of the mind) will tend to see common-ground apologetics as mistaken, harmful, and perhaps even sinful.
Both interpretations of Acts 17 share the assumption that Paul is appealing to common ground, i.e., that he is trying to gain favor for his preaching by starting with categories that are already accepted by his audience. This assumption, however, can be challenged. What if Paul is not doing common-ground apologetics? What if he is actually doing something else altogether?
Paul was in Athens alone, which was unusual. Paul was normally surrounded by an entourage of helpers. He had been sent to Athens hastily and perhaps not entirely in accord with his own wishes. He had been abandoned there by his conductors.
Alone in Athens, Paul found the city completely given to idolatry. If he had been minded to keep silent, the sight of glory being given to idols rather than to God was more than he could bear. Paul was not so much concerned about the poor souls of the Athenians (though he must have been) as he was provoked at the effrontery of worshipping created things.
Consequently, Paul began to start arguments. He argued with Jews. He argued with God-seeking Gentiles. He began to go to the market place every day and to argue with everyone who would listen. He created an intellectual splash that caught the attention of the philosophers. They invited him to explain his views before the Areopagus.
Gazing at these hardened idolaters, Paul began by remarking that they were "very religious." Given his provocation over idols, this can hardly be meant as a compliment. Paul then claimed that he had examined their objects of worship and found an altar "to the unknown god." The irony here is thick. These are very religious people, but they do not even know their own gods. Paul goes on to suggest that they are actually worshipping ignorantly—not exactly a word of praise for the intellectual luminaries of the day. Then Paul went on to show what even pagan philosophers are obligated to understand about God.
The Stoics and Epicureans both understood that God or the gods were essentially spiritual, a point that Paul reinforces by bringing in their own poets. Yet here they were, surrounded by material idols and temples. They were bringing material offerings to the gods, as if humans could somehow supply what the gods needed. They should have known that God was unlike anything that humans could manufacture.
Think of the implications of Paul's approach. The Athenians admitted that there was at least one god whom they did not know. If they did not know this god, then how could they be certain whether they had neglected other gods? Or how could they be sure whether the god whom they had neglected was the greatest, most powerful, most transcendent god of all? By starting with their own humanly-constructed intellectual systems, the Athenians had doomed themselves to ignorance of the most important things.
Paul was not doing common-ground apologetics. He was offering what Cornelius Van Til called the "transcendental critique." Paul was charging the philosophers with neglecting the most important things. He was showing them that their starting point would lead them only to emptiness. He was pushing them to see that they could no longer live with their own presuppositions.
The Areopagites were depraved, but they were not really and naively ignorant. At some level, they did know the true and living God. The knowledge of that God was pressing in all around them, seeping through into their consciousness. They constantly had to patch up their system of philosophy and idolatry in order to plug the leaks. When Paul quoted Epimenides and Aratus, he was drawing attention to the leakage. He was showing the Athenians that they were trying to hold on to categories that only Christians can rightfully claim. He was accusing them of living inconsistently with what they couldn't not know.
In other words, up to this point, Paul's apologetic was essentially negative and destructive. This transcendental critique comes to a focus in verse 29. Paul intimated that the true and living God was aware of the Athenians' folly. God had been overlooking their foolishness until now, but His patience was at an end. He now commanded them to repent.
From verse 30 onwards, Paul shifts into a presentation of the gospel. Apparently that presentation was interrupted, so we do not know what all the details would have been. We do know that Paul preached future judgment of injustices at the hands of a man whom God raised from the dead (which, of course, implies that this man had first died). And, of course, Paul preached repentance. If the gospel was not fully presented in all its details, it was at least implied in what Paul said.
According to Luke, some believed. Perhaps not many, but some. Luke even offers names. If this seems paltry, then perhaps we ought to remind ourselves of the value of a soul. We also ought to remember the nature of the crowd that Paul was addressing.
The Areopagus was the leading intellectual institution of its day. It was the intellectual equivalent of the Oxbridge and Ivy faculties of today. If an evangelist today had the opportunity to preach to those professors and "some believed," would not Christians rejoice?
Scripture does not condemn Paul for his presentation at Athens, and I am inclined to think that we should not condemn him either. Nevertheless, we should not assume that Paul's Athenian ministry provides a model for common-ground apologetics. It is better understood as an instance of the transcendental critique.
Hymn 103.
Christ's Commission, John iii. 16 17.
Isaac Watts (1674–1748)
Come happy souls, approach your God
With new melodious songs;
Come, render to almighty grace
The tribute of your tongues.
So strange, so boundless was the love
That pity'd dying men,
The Father sent his equal Son
To give them life again.
Thy hands, dear Jesus, were not arm'd
With a revenging rod,
No hard commission to perform
The vengeance of a God.
But all was mercy, all was mild,
And wrath forsook the throne,
When Christ on the kind errand came,
And brought salvation down.
Here, sinners, you may heal your wounds,
And wipe your sorrows dry;
Trust in the mighty Saviour's Name,
And you shall never die.
See, dearest Lord our willing souls
Accept thine offer'd grace;
We bless the great Redeemer's love,
And give the Father praise.
[node:bio/kevin-t-bauder body]
1835 reads