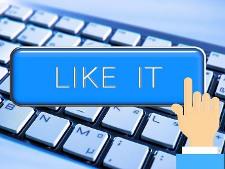 Christians. Purveyors of truth, protectors of principle, stewards of integrity … until we pass on a fake news story or get hooked by clickbait.
We want to be good examples to our children and students so we can teach them biblical principles of honesty and integrity (Proverbs 12:17, Colossians 3:9), but it's far too easy in today's world to react to and share a story before we think it through.
And then with one click, we can spread a lie to a few thousand of our closest friends.
Addressing this issue is a lesson a family can learn together. Here are some useful tips and activities to help you discern truth and avoid passing on gossip and lies.
Types of content; know the difference.
Spoof or satire?
Spoof and satire sites like The Onion and The Daily Currant are funny, with headlines guaranteed to grab your attention, but many share these stories without understanding that they are reading it at a spoof/satire news site.
This is our cue to teach our kids about satire, irony, and parody.
Sometimes people who do know the difference may share a story, but without any preface or context—which results in outrageous and inaccurate stories being passed around as if they are true news. If you share a story from one of these sites, always include an explanation that it is satire or a spoof.
News or opinion?
My mom and I used to have an evening ritual—we watched Bill O'Reilly three or four times a week, agreeing and disagreeing with Bill and his guests at about 120 decibels. It was all in good fun, because Bill O'Reilly is not a reporter. He is a commentator, a pundit. He shares the news, but delivers it in an entertaining style, loaded with his signature "I'm just an ordinary guy" charm and promise that "the spin stops here."
The channel name may be "Fox News," but we can't lay our responsibility to discern truth on their doorstep.
What's an even bigger problem is that news reporters seem to have all become commentators, sharing only the most shocking details, or those they deem important, possibly in the hopes of swaying the audience, creating a marketable persona, and getting an anchor chair and a book deal.
The moral of the story is—just because it was on the news doesn't mean it's accurate.
Native advertising
Advertisements used to look like advertisements, but banner blindness has caused marketers to look for other ways to get products in front of people and increase clicks. Native advertising can take many forms (advertorials, product placement, sponsored content) but it cleverly blends in with the other content on a site.
An example (and a 2-for-1) is this "article" in The Onion, sponsored by H&R Block: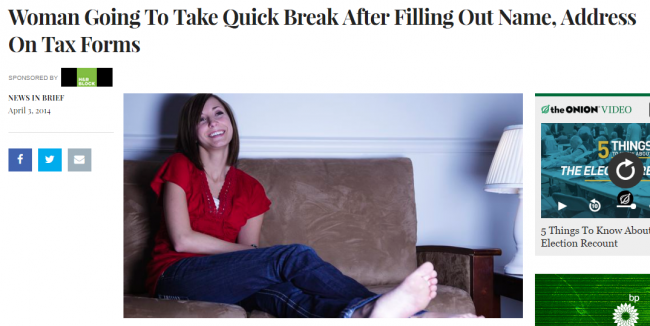 Search engine ads look a lot like normal search results, except for the teeny-tiny ad icon.
Remember Mutual of Omaha's Wild Kingdom? General Electric Theater? There is nothing new under the sun, my friends.
Verify the source.
A quick and easy way to check a story online is to use the Google search box to search for the site instead of clicking on a link or typing in a URL. The results may yield clues to the veracity of the site. Or use a link scanner.
There are other indications of whether or not a site is legitimate. The most obvious are unusual URLs, such as those with a well-known domain name but end in ".com.co," which suggests a site is trying to appear as a respected source, when in fact it is a fraud. Poor grammar, spelling, and punctuation are also signs of a lack of quality.
Does the site have an easily accessible "About Us" page that contains information about who owns and runs the site? If not, you should wonder why they aren't being transparent about their origins and staff writers.
Also, search to see which reputable news outlets are also reporting the story. This doesn't always work, because sometimes reporters, occasionally known to be human (although I have my suspicions about Anderson Cooper) get caught up in fake news and repeat a story before they've done their jobs and checked the sources.
Who is the story's target audience?
Have you ever had the feeling someone was telling you what you wanted to hear? If the story invokes extreme emotion, whether it's outrage or smug satisfaction, you should consider whether or not you are being manipulated.
Who benefits from this story?
Will someone get paid if I click on it, like it, or share it? Facebook users may not be aware of the practice of "like farming" which can be used to make money or spread malware. Read this 2014 CNN article with your family to help educate them about some of the problems with social media. Even when a friend likes and shares, you shouldn't do an online transfer in trust of your character.
Who might be harmed by this story?
Unfortunately, we live in a world where words are not only powerful weapons, but they can literally be heard around the world in a matter of seconds. Some abuse this power to harm others who have wronged them, or who they believe deserve to be persecuted or humiliated. We shouldn't be accessories to murder someone's reputation.
We need to remember that allegations are just that—allegations; claims made without proof. Read the article Media Fear Tactics by Gavin de Becker with your family, and make a game with a scoreboard, giving points for every time someone spots one of these uses of "newspeak" that makes a story out of … nothing.
Research before you react.
The above article about media fear tactics is a great place to begin teaching critical thinking skills applied to news stories. Are there missing pieces to the story? What does and doesn't seem credible? Do they use coded language?
Choose a story and research it together.
Summarize the key points of the story.
Make a fact tree with names, places, and dates.
Differentiate between facts and opinions/interpretations.
Be aware of how images influence our perceptions of a story, especially a TV news story recreated as a dramatization accompanied by music.
Compare your fact tree to the information being shared in various news outlets.
It's a waste of time and energy to react to something that isn't real, didn't happen. Get off the emotional rollercoaster, get the facts, and then find ways to be part of the solution, instead of contributing to the problem.
Don't share it before you confirm it—but first, ask yourself "Why?"
You'd think such a simple principle would be easy to explain and put into practice, but it isn't. Our friends and family share stories regularly without any thought to whether or not they can confirm it. Christians are just as guilty as anyone of getting hooked on clickbait and passing on a news story in a surge of outrage or fear. We jump on the bandwagon of liking and sharing because, well, everybody does it.
So, in the midst of all this talk of truthfulness, let's be honest—we all love the feeling of being on the inside, knowing cool stuff no one else knows, and being the one to break some crazy news story first so we can be the center of attention and see everyone's reactions.
Sharing news is not always a bad thing; sometimes we want to spread around the joy a particular blessing has brought to us, or ensure that when a friend is about to receive heartbreaking news, it's done by someone who wants to care for and comfort them.
But most of the time, we are tempted to give in to that part of our human nature that more closely resembles a vulture than a dove. We aren't wise, and we are far from harmless. We need to talk to our kids about why people (including ourselves) are motivated to create and share stories without verifying facts or considering how spreading a story—true or not—might hurt someone.
I don't remember where I heard them first, but these are the questions we taught our kids (long before Facebook was a thing) to ask before sharing something:
Is it true?
Is it kind?
Is it helpful?
It takes time and effort to unlearn bad habits and replace them with good ones. Learning to handle clickbait and fake news is an educational activity that can reap long-lasting benefits in your family's growth in knowledge, wisdom, and understanding.
10661 reads