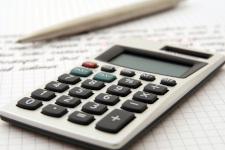 Through an unusual set of circumstances, I am now the treasurer of a church that I was barely acquainted with one year ago.
A year ago, I was 2 months past 39 radiation treatments for cancer and my cancer doctor gave me the news that the regimen was apparently successful. As an aside, doctors never commit to the word "cured." But so far so good! My pastor commented to me, "I guess God is not finished with you yet!"
My wife and I began to pray, what would God have me to do with my retirement time?
In June, I became aware that a small church in an exurb about 25 miles NW of us needed a treasurer. Their treasure had resigned, and no one had stepped up to volunteer. I contacted the pastor and indicated that I would be interested in the position. He was just about to go on family vacation followed by a mission's trip to Kenya, so the meeting was deferred for a month.
On July 3rd I had follow-on blood work and again received the "all clear."
Kathee and I prayed about this and contemplated whether the Lord was in this or not. Some questions and considerations were that we were in a very good church just several miles from our house. The new church would mean quite a bit of driving and a commitment to be very involved no matter how harsh the weather. In Minnesota the weather is a real factor.
(Looking back at the winter — we missed two Sundays: once the driveway was not plowed out by our snow service in time to leave for church; another time we were stuck in a snow bank at the end of the driveway on the way to church.)
We also consulted with our pastor and sought his advice as well as with the provost at the seminary where I volunteer.
I met with the church leadership of the potential church the 2nd week of July and then worked out some of the details with the church pastor in evening meetings in July. In August the transition was announced and then I commenced the Sunday after Labor day.
Basically, I was the assistant treasurer for the remainder of 2018 and used those months to shadow the outgoing treasurer and set up account access and other details.
Why Serve as a Treasurer
Several have asked me these questions: Why would you want to be a church treasurer, and what qualifies you to be a church treasurer?
To the second question, first; in my distant past I graduated with a degree in economics and finance and I had some accounting classes. I have some bookkeeping – treasurer experience as follows:
I served as the treasurer of the Rocky Mountain Regular Baptists for several years while I was on that council. The amounts were not great, perhaps the total budget was under $ 15,000. The biggest project was the annual camp that required handling receipts and expenditures. For this role, I wrote several programs in Basic or C and managed the files on my PC.
Also, in Colorado, I served as the treasurer of our homeowner's association. While our association was rather large, with nearly 400 homes, the amounts were not significant. The bookkeeping here was easier than the RMARBC, but it did involve a lot of cash handling.
Shortly after moving to Minnesota, I served for one year as a church treasurer. We used QuickBooks and I did the payroll manually.
As to the first question, a need was presented, and I sensed that the Lord was leading in this direction and so I volunteered. Frankly, one peril of retirement is that on one has a lot of free time. I'm convinced that Colossians 4:5, "making the best use of the time" is about seizing gospel opportunities, but support ministries (like the treasurer) are vital to the church!
There are a handful of treasurers who have influenced me:
Cole York, who as a retired business man served as a volunteer treasurer at Haddon Heights Baptist. At the time this was a large ministry with a Christian Day School and Cole did all of the accounting manually in the pre personal computer era. Cole is now with the Lord.
Warren R, who as a retired business man served as a volunteer at ABWE. Warren was so cool because he provided his own Apple II. He had memory expansion boards, VisiCalc, and a 132 column Epson dot matrix printer. Warren is also with the Lord.
Gary Blessman who is the financial officer at the Fourth Baptist church and ministries including Central Seminary. Gary is a tremendous resource to me and somewhat of a mentor. Gary views himself as a financial resource to other treasurers in the state.
Diane E was my predecessor at the church where I served as treasurer. She also currently serves as the treasurer of the Metro Women's Crisis Pregnancy Center in Crystal, MN. She's a friend and has inspired me.
Retired U.S. Army colonel and Vietnam War veteran Bill Cooley deserves special acknowledgment because of a crisis that he saw one of our former churches through.
A Church Deep in Debt
The era of bearer bonds is past, but there is a lesson to be learned from it. The Wikipedia entry "Bearer Instrument"1 and the Investopedia article "Bearer Bonds"2 speak to the irregularities and dangers of this now-prohibited instrument.
A church where I served as pastor decades ago had debt but had not kept track of the debt. Bill Cooley's predecessor would basically come to a deacons' meeting with handwritten notes and say something to the effect that "everything's fine!." There was no balance sheet of any kind. Our church had completely lost track of our debts and our creditors – the bearer bond holders. When Colorado experienced the oil-shale bust in the 80's3, jobs were lost and bonds that were in the proverbially "in the bottom of one's drawer" surfaced and were redeemed like a flood.
Bill diligently scoured church records and documented every outstanding bearer-bond in an Excel spreadsheet. This painstaking process brought stability to our church as Bill presented an accurate balance sheet to the congregation. In his commanding military voice, he communicated the – he used the phrase "debt quagmire" – situation to the church. He led the congregation in the development of an austere church budget. Priorities were set. Sadly, for me, my salary was cut! But we paid off, in less than two years, over $ 50,000 in debt. (I'm not complaining about my salary! In the providence of God, I became a bi-vocational pastor. All of the Peet's needs were met, but not as I had expected or planned.)
The Value of a Good Treasurer
The treasurer is an important position! There are these references in the Scriptures:
Mithredath and Sheshbazzar in Ezra 1:7-11, "King Cyrus also brought out the articles of the house of the Lord, which Nebuchadnezzar had taken from Jerusalem and put in the temple of his gods; and Cyrus king of Persia brought them out by the hand of Mithredath the treasurer, and counted them out to Sheshbazzar the prince of Judah. This is the number of them: thirty gold platters, one thousand silver platters, twenty-nine knives, thirty gold basins, four hundred and ten silver basins of a similar kind, and one thousand other articles. All the articles of gold and silver were five thousand four hundred. All these Sheshbazzar took with the captives who were brought from Babylon to Jerusalem." Note the accounting—my brain wants to put this in a spreadsheet format: 30 of these, 29 of those, 1000 of the others!
Nehemiah 13:12-14, "Then all Judah brought the tithe of the grain and the new wine and the oil to the storehouse. And I appointed as treasurers over the storehouse Shelemiah the priest and Zadok the scribe, and of the Levites, Pedaiah; and next to them was Hanan the son of Zaccur, the son of Mattaniah; for they were considered faithful, and their task was to distribute to their brethren. Remember me, O my God, concerning this, and do not wipe out my good deeds that I have done for the house of my God, and for its services!"
Romans 16:23, "Gaius, my host and the host of the whole church, greets you. Erastus, the treasurer of the city, greets you, and Quartus, a brother."
While not named "treasurer," the seven in Acts 6 were chosen to the "duty" (6:3, τῆς χρείας) to "serve tables" (6:2, διακονεῖν τραπέζαις). I posit that there was a financial element to this. I find it interesting that "table" is associated with "money" in Mark 11:15 and "duty" is connected to finances in Romans 12:13, — "Contribute to the needs of the saints."
Then there are those in 1 Corinthians 16:1-4 associated with "the collection [logeia] for the saints" (16:1, τῆς λογίας τῆς εἰς τοὺς ἁγίους) and the "collecting" (16:2, again logeia — λογεία). Logeia is used in a monetary sense!4 The church was to choose individuals they would "accredit [dokimazo] by letter to carry your gift to Jerusalem" 16:3). Dokimazo (δοκιμάζω) has a meaning of to scrutinize and deem worthy! Imagine conveying money before the modern technology conveniences of ACH,5 Paypal® or Zelle.®
In conclusion, the church treasurer is an important ministry in the church. People of fiscal wisdom, spiritual insight and integrity should be selected for this position. I hope in follow-on articles to address various facets of this ministry.
Notes
1 ("Bearer instrument," n.d.)
2 Alan Farley, Bearer Bonds: From Popular to Prohibited, Investopedia, May 31, 2018, https://www.investopedia.com/articles/bonds/08/bearer-bond.asp
3 The Associated Press, "Shell abandons Western Slope oil shale project," September 29, 2013, https://trib.com/business/energy/shell-abandons-western-slope-oil-shale-project/article_f8e1dee8-a04f-5444-ba86-9585b3340f74.html, see especially "Black Sunday," May 2, 1982, when Exxon Mobil Corp. shut down a $5 billion project near the West Slope town of Parachute, throwing 2,200 people out of work.
4 See the Zondervan NIV Study Bible in situ, "The Collection for the Lord's People. Paul gives directions regarding the collection for the Jerusalem church that he is collecting from the churches he has established. Paul is collecting money 'for the Lord's people,' i.e., the believers in Jerusalem (2 Cor 8-9; Rom 15:26; Gal 2:10)."
5 ACH is "Automated Clearing House." See Wikipedia article, n.d.
2353 reads