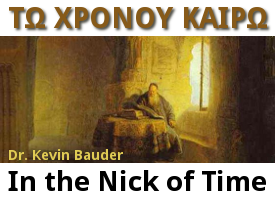 Read Part 1, Part 2, Part 3, Part 4, and Part 5.
J. Gresham Machen's essay on "Christianity and Culture" forces its Christian readers to evaluate their relationship to high culture. While Machen surely did not expect every Christian to become a poet, composer, philosopher, or statesman, he did expect Christians to adopt a generally positive attitude toward such activities. He was particularly concerned with the Christian attitude toward scholarship. He argued that Christians should neither subordinate Christianity to culture (liberalism), nor simply ignore or reject culture in favor of Christianity (obscurantism). Rather, he suggested that Christians should engage in the work of consecrating culture to the service of God.
Not surprisingly, Machen's approach has been rejected by those branches of Christianity that have been most influenced by populism. At best, such Christians see high culture as a distraction. They may even perceive it as an outright threat to the life of faith. Fascination with high culture is thought to exhaust time and effort on education and the arts that might better be spent in winning souls. High culture is presumed to produce arrogance in those who fall under its spell. Worst of all, high culture introduces Christians to corrosive ideas that have the potential to deceive. According to this theory, Christians might better leave such things alone and choose a plain life of humble service to God.
Admittedly, high culture—and especially academic culture—can provide an occasion for arrogance. People who invest years of their lives perfecting their mastery of an art or a learned discipline tend to become a bit testy when critiqued by dilettantes. Furthermore, they sometimes assume that their study grants them authority outside their areas of expertise. Even within those areas their competence may actually be less than they imagine.
Yet avoidance of high culture is not exactly a prophylactic against pride. Ugly as pride of intellect may be, it is not noticeably less sinful than pride of ignorance. Who, after all, is more arrogant: people who believe that they have a right to express an opinion because they have invested years of effort in the study and mastery of their subject, or those who believe that they have a right to express an opinion simply because they occupy space?
As for the objection that one had better spend his time winning souls, it supposes that those who spurn high culture will actually employ a comparable amount of time in witnessing or other spiritual pursuits. The fact is that they rarely do. People who refuse go to the concert hall or the art gallery do not simply go to church. They also go to the ball game. Those who reject education rarely give themselves only to evangelism. They also watch television or go fishing. That is not necessarily a problem: ball games and fishing are enjoyable and legitimate activities, but they are hardly more spiritual than hearing Mozart or looking at a Rembrandt.
More serious is the objection that high culture exposes one to ideas that have the potential to deceive. The point must be granted. The force of this objection, however, relies upon two unspoken assumptions. The first is that Christians must never allow themselves to be exposed to errors. That assumption is patently false. Christians are exposed to persuasive errors when they drive down the highway. They are exposed to errors when they transact business or form friendships with unsaved people. In fact, Scripture itself exposes them to errors. Most Christians would know little about Baal worship or the Galatian heresy if they were not exposed to these things in the Word of God.
The second unspoken assumption is that exposure to error can only weaken an individual, i.e., that one is always worse off for having studied an error. That assumption is also patently false. Clearly the apostle Paul knew the false systems against which he responded. The same is true of all the great teachers of the church. Irenaeus had a detailed and firsthand knowledge of Gnosticism, Athanasius of Arianism, Augustine of Pelagianism, Luther of Romanism, and Machen of liberalism. For a pious person, exposure to error may be a necessary step on the road to becoming a great champion of the faith.
The fundamental problem is not that high culture exposes people to erroneous points of view, but that all humans, including Christians, have depraved hearts that invent idols, whether they are exposed to high culture or not. A more specific problem is that certain kinds of Christians—among them even many Christian leaders—have been poorly equipped to evaluate and respond to error. They have been poorly equipped because they have had teachers who did not understand the errors and who, consequently, could not prepare them for the encounter. These teachers typically spend their time avoiding strongholds or mocking them from afar rather than pulling them down (2 Cor. 10:4-5). Inasmuch as they failed to challenge the strongholds, and inasmuch as they failed to prepare God's people for the errors that they would confront, these teachers were unfaithful to their calling. That calling absolutely demands participation in the world in which ideas are framed and discussed. Teachers of Christian leaders must not neglect high culture, and in particular they must not neglect academic culture.
The same is true of other aspects of high culture. If they are to accomplish their ministries, Christian churches must employ certain arts. For example, singing and making melody requires the production of poetry and music. Too, if churches are to meet indoors rather than in open air, they will unavoidably deal with architecture. Furthermore, churches often dabble in arts that are not biblically required: they employ images (whether material or projected), and they make use of dramatic presentation.
Given that churches use these arts, they must make a choice. They will either employ the arts carefully and intelligently, or they will use them haphazardly and irresponsibly. Either they will give thought to issues of meaning and propriety, or else, to the degree that they do not, they will give themselves over to the pursuit of appetite. In short, they will either produce good work that amplifies the biblical message and brings glory to God, or else they will produce work that is thoughtless and banal, or perhaps even work that subverts and obscures the biblical message.
Christian churches are obligated to judge whether or how a particular art ought to be employed to express Christian ideals. This judgment will be either well informed or ill informed. The only way for it to be well informed is to have leaders who have actually informed themselves, and that requires participation in high culture.
Some versions of Christianity object to the Lord's people involving themselves in the pursuits of high culture. These objections are without force. Furthermore, Christians have serious reasons for demanding that at least some of their leaders breathe the air of high culture.
None of this means that every Christian is obligated to become an artist or a scholar. What it does mean is that every Christian is obligated to understand the value of such pursuits and to encourage rather than discourage those who are most interested in them. Ultimately, what is at stake is not some form of cultural snobbishness or elitism, but the integrity of Christian faith and practice.
The Starre.
George Herbert (1593-1633)
Bright spark, shot from a brighter place,
     Where beams surround my Saviours face,
              Canst thou be any where
                   So well as there?
Yet, if thou wilt from thence depart,
     Take a bad lodging in my heart;
              For thou canst make a debter,
                   And make it better.
First with thy fire-work burn to dust
     Folly, and worse then folly, lust:
              Then with thy light refine,
                   And make it shine.
So disengag'd from sinne and sicknesse,
     Touch it with thy celestiall quicknesse,
              That it may hang and move
                   After thy love.
Then with our trinitie of light,
     Motion, and heat, let's take our flight
              Unto the place where thou
                   Before didst bow.
Get me a standing there, and place
     Among the beams, which crown the face
              Of him, who dy'd to part
                   Sinne and my heart:
That so among the rest I may
     Glitter, and curle, and winde as they:
              That winding is their fashion
                   Of adoration.
Sure thou wilt joy, by gaining me
     To flie home like a laden bee
              Unto that hive of beams
                   And garland-streams.
[node:bio/kevin-t-bauder body]
5774 reads