Can We Celebrate Independence without Celebrating Armed Rebellion?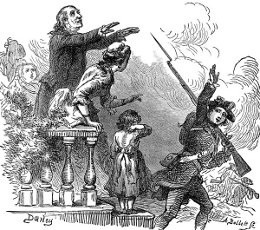 First appeared at SI in July of 2011.
Something doesn't add up. We refer to July 4 as Independence Day. We refer to the war that followed as the Revolutionary War. But if we viewed ourselves as independent of British rule on July 4, how could we have engaged in revolution after July 4? Revolution normally precedes independence. Either the day or the war is a misnomer.
For Christians the incongruity raises deeper questions. Given the response to government that Scripture requires, shouldn't we oppose the whole idea of revolution, regardless of the circumstances? And if we're opposed to revolution, can we rejoice in independence?
The Bible and revolution
Genesis 9 is understood by many to represent God's re-founding of the institution of human government. The NT emphasizes submission to that institution as our Christian duty.
And He said to them, "Whose image and inscription is this?" They said to Him, "Caesar's." 17 And Jesus answered and said to them, "Render to Caesar the things that are Caesar's, and to God the things that are God's." And they marveled at Him. (Mark 12:16–17)

Remind them to be subject to rulers and authorities, to obey, to be ready for every good work… (Titus 3:1)

Therefore submit yourselves to every ordinance of man for the Lord's sake, whether to the king as supreme, 14 or to governors, as to those who are sent by him for the punishment of evildoers and for the praise of those who do good. 15 For this is the will of God, that by doing good you may put to silence the ignorance of foolish men. (1 Peter 2:13–15)
In addition to these, Romans 13:1-7 represents "the governing authorities" (exousias huperechousais) as "from God" and "appointed by God," and asserts that resisting them is resisting "the ordinance of God."
It's hard to imagine how prohibiting the overthrow of governments could be put in stronger terms.
Celebrating independence
Believers must be anti-revolution, just as they are anti-disobedience. But must we be anti-independence? Is there a way Americans can be opposed to revolution yet rejoice in American independence? I believe at least two ways to do this exist.
1. Deny the revolution.
The idea that what occurred in the late 1700s here was not really a revolution has been around for a while. A professor of mine at BJU (back in the 80s) was adamant that no revolution occurred. He had written a book on the subject. (Copies appear to be available still at Amazon).
Though parts of his argument were unclear to me at the time, the gist seemed to be that a British document (perhaps one of the "Intolerable Acts"?) had already effectively ousted the colonies from the empire and that the 1776 Declaration was little more than an acknowledgment of that fact. In this version of events, the war that followed was one of defense, not of revolution—and, though various acts of rebellion did occur, our independence is not the result of a war of rebellion.
More recently, I've encountered a different revolution-denial argument (though it is, perhaps, compatible with the previous one). This view reasons that no revolution occurred because the "governing authorities" (to use Paul's Romans 13 term) were not actually King George and Parliament, but law itself—and the laws of England in particular.
Thomas Paine wrote that "in America the law is king" (Common Sense). Certainly this way of thinking was strong in the "revolutionary" era and echoes some of the thought of Samuel Rutherford (1644: Lex, Rex) and, later, John Locke and Charles (etc.) Montesquieu. (Some trace the idea of "rule of law" or "law as king" back to the Roman Republic, then further to Aristotle. The case could be made that the spirit of it dates to the days of Moses.)
Accordingly, some have argued that Britain violated the terms of its own agreements with the colonies, and some of its own laws in the process, and that, therefore, the contractual relationship between the crown and the colonies was nullified.
In this version of events, no revolution occurred. The colonists who fought in resistance of Britain were fighting in support of law—and the law was the real king. The wording of the Declaration of Independence would seem to support the idea that, right or wrong, the colonists were thinking in these terms.
Perhaps we've done them all a disservice by naming the war "revolutionary," though it seems probable that the likes of Patrick Henry wouldn't object to the term. (Perhaps the writings of the patriots of that era are full of calls to "revolution." If I ever knew that, I've forgotten. I'm sure a historian will straighten me out.)
2. Separate the result from the process.
If you have no stomach for revolution-denial, you can still rejoice in American independence. Sometimes people do the wrong thing and God graciously overrules their conduct to produce a wonderful result (to Him be praise!). Perhaps we American Christians can proudly sing our "revolutionary" national anthem and salute our flag through teary eyes on the conviction that "God meant it for good" (Gen. 50:20), even though we're uncertain that armed resistance was the right thing to do—or even if we strongly believe both the Declaration and the War were unchristian acts.
One thing is certain. Our duty and opportunity as believers is to give thanks for everything (1 Thess. 5:18, Eph. 5:20). Regardless of our view of revolution in general, or the "American Revolution" in particular, God has greatly blessed us, and the independence we now enjoy is a major part of that blessing.
Aaron Blumer, SharperIron's second publisher, is a Michigan native and graduate of Bob Jones University (Greenville, SC) and Central Baptist Theological Seminary (Plymouth, MN). He and his family live in a small town in western Wisconsin, not far from where he pastored Grace Baptist Church for thirteen years. He is employed in customer service for UnitedHealth Group and teaches high school rhetoric (and sometimes logic and government) at Baldwin Christian School.