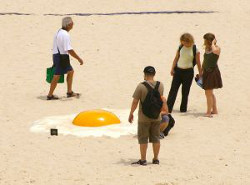 To many of us the outcome of Tuesday's election is incomprehensible. In multiple ways, it doesn't make any sense. But if forty six years of life's puzzles have taught me anything, it's that when you're inundated by the incomprehensible, it's time to focus for a while on what is clear and certain.
Often enough the incomprehensible starts to make sense somewhere in that process.
Maybe you don't need what follows, but I did. Just passing it along.
Four things that are still true after Tuesday
1. God is perfect and unchanging.
For I am the LORD, I do not change; Therefore you are not consumed, O sons of Jacob. (Mal 3:6)

Every good gift and every perfect gift is from above, and comes down from the Father of lights, with whom there is no variation or shadow of turning. (Jas 1:17)
2. God's plan is on schedule and unaltered.
In the days of Hezekiah and Isaiah, Sennacherib imagined that his seemingly unstoppable sequence of victories was due to his own genius and might. God set the record straight.
Did you not hear long ago How I made it,
From ancient times that I formed it?
Now I have brought it to pass,
That you should be
For crushing fortified cities into heaps of ruins.
Therefore their inhabitants had little power;
They were dismayed and confounded;
They were as the grass of the field
And the green herb,
As the grass on the housetops
And grain blighted before it is grown.
But I know your dwelling place,
Your going out and your coming in,
And your rage against Me. (Is 37:26–28)
Tuesday's outcome really surprised and disturbed a lot of us. It didn't surprise or disturb God at all.
3. The human race is weak and wicked.
I really am a believer in American exceptionalism, though what follows may not seem to fit the mold.
If you take all the societies and civilizations that have risen and fallen over the centuries and imagine looking at them from thirty thousand feet, they all look a lot alike. If you imagine how they look from, say, the Moon, they're even more alike. And if we observe them through God's lens, so to speak, the range of quality between the lowest of nations and the best of nations—or between any nation at its best and that same nation at its worst—isn't very dramatic.
Of course, here on the ground the differences between the best and worst societies are pretty huge—and they do matter. It's just that even when a society reaches the best point any human society can reach, God is not going to be impressed, and for good reason.
I keep going back to Genesis 11 these days. Human society got all high on itself, declared it would do what had never been done before (Gen. 11:4), and eventually convinced itself. Then they started saying they could do absolutely anything and convinced themselves of that, too (Gen. 11:6).
For the benefit of all societies thereafter—as well as their own—God gave them a lesson in humility (and in the folly of dreamy-eyed collectivism, frankly). By confusing the languages, He exposed to the ages the true foolishness and weakness of all human societies—even the best of them.
Consider a very different context, but the same principle:
Because you say, 'I am rich, have become wealthy, and have need of nothing'—and do not know that you are wretched, miserable, poor, blind, and naked— I counsel you to buy from Me gold refined in the fire, that you may be rich; and white garments, that you may be clothed, that the shame of your nakedness may not be revealed; and anoint your eyes with eye salve, that you may see. (Re 3:17–18)
If a church of Jesus Christ could be in that condition, we have to conclude that every human being and every human society that has ever existed has been wretched, poor, miserable, blind and naked—or worse.
This reality doesn't call for abandoning the "culture war" or abandoning efforts to improve the morality of our society—but that's a topic for another day. What this truth does demand of us is that we step back, take a deep breath, and realize that if we could snap the USA back to whatever idealized age we like tomorrow morning, we'd still discover that the country is full of bad policy, full of stubborn social problems, and—not coincidentally—full of sinners.
Individual sinners or nations—it doesn't matter; they both utterly fail to bring about the redemption and transformation they truly need. They require rescue by the Redeemer who is "not of the world" (John 17:16).
4. The end of the story is glorious.
Here's the end of the story—or at least, an especially sweet part of it:
Then the seventh angel sounded: And there were loud voices in heaven, saying, "The kingdoms of this world have become the kingdoms of our Lord and of His Christ, and He shall reign forever and ever!" And the twenty-four elders who sat before God on their thrones fell on their faces and worshiped God, saying:

"We give You thanks, O Lord God Almighty,
The One who is and who was and who is to come,
Because You have taken Your great power and reigned.
The nations were angry, and Your wrath has come,
And the time of the dead, that they should be judged,
And that You should reward Your servants the prophets and the saints,
And those who fear Your name, small and great,
And should destroy those who destroy the earth." (Rev. 11:15-18)
The rise and fall of rulers and civilizations—even our own eventually—has zero impact on how the story of life on Earth ends, beyond this: all the weak and foolish and clumsy (and sometimes evil) empires that came before it make the final Kingdom look that much better by contrast.
To some, this is an argument for ignoring policy and public morality entirely. Others of us say, not so fast. But as important as it is to draw the right conclusions from these four truths, this might be a good time to set aside inferences and implications and just revel in the certainty of the premises.
[node:bio/aaron-blumer body]
10525 reads