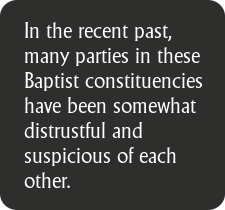 In September, Central Seminary (Plymouth, MN) is hosting an unusual event: a conversation among Baptist leaders with greater unity across splinter groups as a major goal. I asked pastor Greg Linscott, who has led the effort, to tell us more about this conversation.
Q. How did this event come about?
A. A few years ago I began to sense the need for First Baptist of Marshall to become connected with a network more national in scope than our longtime historic affiliation with the Minnesota Baptist Association. Our church has established a ministry with S'gaw Karen refugees from Burma/Myanmar. Because of their missionary connections dating all the way back to Adoniram Judson, the Karen tend to default to the ABC-USA when here in the US. But due to significant differences in doctrine and practice, I did not find that an acceptable option.
As we worked to disciple the believers we had influenced, we wanted to be able to familiarize them with churches whose doctrine would emphasize the authority of Scripture and who would be in general agreement with we teach at First Baptist (including specifics such as a young-earth creationist perspective, cessationist position, and pre-trib dispensationalism) but who also had a large enough network nationally that it would be practical to point Karen believers there as they eventually begin to relocate across the US. The GARBC fit those criteria.
Furthermore, in my limited encounters with Regular Baptists in Minnesota, it had seemed to me that congregations in the MBA and MARBC had much in common with one another—certainly as much as they did with churches in their own associations. The two associations had already been jointly supporting a church planter's efforts in the Twin Cities metro, and the influence of Central Seminary graduates in both Minnesota associations had further served to draw attention to the commonality the two constituencies had with one another.
As I began the process of preparing our church to formally fellowship with the GARBC and MARBC (while still retaining our affiliation with the MBA), I learned that John Greening, National Representative of the GARBC, was lined up to speak to the MARBC's 2014 annual meeting. This event was to be held the same week as the MBA's Men's Fellowship (an event for which I serve as president), where it had been arranged for Mike Harding, who is prominent in the FBFI, to be our speaker. I was also aware of Kevin Bauder's work on a history of Baptist Fundamentalism (the recently published One In Hope and Doctrine from RBP). To have two prominent individuals from national Baptist organizations in the same state seemed like too good an opportunity to pass up.
I contacted Sam Horn (President of Central Seminary) and Matt Morrell (Pastor at Fourth Baptist) to see if they might be interested in arranging an event featuring these two men alongside Kevin Bauder, addressing the current state of Baptist Fundamentalism and its potential future. From the beginning, they were intrigued and enthusiastic about making something happen. The initial participants quickly agreed to participate. We explored a few possibilities before eventually arriving at the current luncheon format on the Fourth/Central campus. Mike Harding turned out to be unable to attend due to a conflict. Though I was disappointed with Harding's absence, Dr. Mike Sproul of Tri-City Baptist Church/International Baptist College and Seminary was interested and available, and graciously agreed to participate in the role that had been vacated.
Q. What do you hope to accomplish?
A. I had a conversation with a fellow pastor recently. His church has gone through some significant turmoil and division over the last few months. He lamented the fact that because of some of his own past decisions over the years, he had isolated himself from fellowship with other pastors and churches around him. "No one should have to go through things like this alone," my friend said, sadly. There is a sense that we need to take that to heart, both locally and on a larger scale. Sorrows shared reduce the weight of the burdens being carried. Celebrating joys and triumphs can encourage and motivate others in their own contexts of ministry. Opportunities can bear more fruit with the enhanced resources of combined efforts.
I think it is fair to say that in the recent past, many parties in these Baptist constituencies have been somewhat distrustful and suspicious of each other. I envision this occasion providing a venue where misunderstandings and misconceptions about one another can be addressed and clarified. Ultimately, the fruits of this conversation may leave us in a position to see if the commonality we share in matters of doctrinal emphasis might prove to be enough of a platform for further collaborative efforts.
This is certainly what I am praying for, and I encourage others to do the same. Our churches already often support many of the same missionaries, send students to many of the same educational institutions, draw on each other for publication and curriculum resources, and so on. Closer working relationships would do nothing but enhance the gospel proclamation and disciple-making efforts of all our churches—not to mention giving a louder collective voice to those championing some doctrinal positions that seem sometimes to be lost in the larger conversation.
Of course, we may also discover that enough differences remain to justify the status quo. The potential benefits that could result from the time taken to have this conversation, however, deserve at least such an effort as this event is striving to provide.
Q. What's planned, in general?
A. I anticipate two panel sessions beginning with some prepared questions, prefaced by a brief historical overview by Bauder, and concluding with analysis and to some degree, possible vision casting for the future coming from Chris Anderson, Matt Morrell, and myself. Lunch will be provided, and a freewill offering will be received to help with expenses.
Q. What do you think has prevented conversations of this sort in the past and how is the situation today different?
A. It is a historical fact that there were differences in influential personalities that became significant factors in the formation of these separate Baptist identities and organizations. Further complicating this historically, there were competing strategies in relation to the Northern Baptist Convention early on. Time moves on, and the issues and personalities of the earliest days are no longer directly relevant to the circumstances of today—but residual tension lingers. Some remember later concerns that developed that were legitimate at the time, but fail to acknowledge how those legitimate concerns were eventually addressed. Some focus on the contrasts the "other side" has in methods and practices they tolerate—while failing to acknowledge similar ranges that exist in their own sphere of influence.
I do not mean to say that differences do not exist. At the same time, I think it fair to say that the range of differences can be as easily observed from one individual congregation to another, regardless of organizational affiliation. When it comes to unifying matters at an organizational level, the principles themselves are remarkably similar.
One thing that has helped pave the way for something like this conversation is what I like to call "cross-pollination." Here in Minnesota, as I have already mentioned, we have Central Seminary graduates serving in MBA and MARBC congregations. Similar observations could be made here for graduates of Faith, Maranatha, BJU, and Northland. Educational institutions have provided a venue for developing familiarity in working relationships. The Internet has helped, as over the last decade, people have been able to access content and interact with individuals whose ideas they can affirm, but whose connections might not always be the familiar ones. There has been some intentional bridge building on national conference platforms, too.
Q. The answer to this one probably depends somewhat on the outcome of this event, but can you tell us more about what you'd like to see happen in the future?
A. As you say, I think that much remains to be seen, and will be influenced by the preceding panel sessions. I wouldn't want to presume to speak for any of the others. At the same time, as Bauder has observed, "unity is a function of what unites." It is my prayer that whatever else might happen, those who come would leave encouraged, being more aware of the degree of unity they share with these like-minded brothers.
If you want anything more specific than that, you'll have to come and join the conversation!
12324 reads