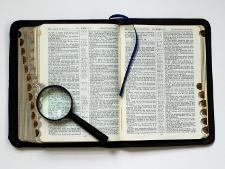 In a recent exchange here at SharperIron, I was asked what I thought 1 Corinthians 8:8 meant. I had just asserted that a being bearing the image of God could not possibly do anything that is morally neutral — neither right nor wrong, because such a being must either express that imago dei, or in some way insult it (or both at once, in different ways).
1 Corinthians 8:8 seems to say otherwise.
After offering a brief explanation of how Paul's meaning there could be understood as consistent with the view that human actions are always moral, the question continued to nag me. My answer felt inadequate. And, since any answer to the question could have a lot of implications, it seems important to be confident.
Hence, this brief study.
The Passage
First, a bit of context. The apostle Paul is helping the Corinthian congregation work through how to behave in the matter of consumption of meat that had been offered to idols. He has just asserted that idols are not really real (1 Cor. 8:4), in the sense of representing or connecting to some deity (but cf. 1 Cor. 10:21, another study for another day). He then points out that not everybody understands this (1 Cor. 8:7), and 8:8 comes as further explanation of the true nature of eating this idol-associated food.
Food will not commend us to God. We are no worse off if we do not eat, and no better off if we do. (ESV, 1 Cor. 8:8)
Three variables require a closer look here, though the second and third tend to collapse into one for all practical purposes:
Commending (παρίστημι, paristemi) to God
Being worse off (ὑστερέω, hustereo)
Being better off (περισσεύω, perisseuo)
The key words are all verbs. "Will (not) commend" is a straightforward future active indicative. "Being worse off" and "being better off" are both present participles (something like "we are (not) worse-off ones" and "we are (not) better off ones"), though "being worse off" here is passive (or middle) and "being better off" is active.
A Few Views
1. It's about the idol
Richard Pratt takes the view that commending here refers to "the god," as in, the idol.
[I]t is also possible (and more literal) to translate, "Food does not bring us near to the god" (i.e., the idol to which the food in question was offered). In light of the preceding context, this seems to be the better option.1
He continues:
The phrase we are no worse if we do not eat, and no better if we do probably expands the meaning of bring us near. It probably refers to the lack of prosperity an idol worshiper might anticipate if he failed to eat of the sacrifice, and to the abundance he would expect to receive if he did eat.
(In all of these excerpts, bold type is original and usually represents quotation from an English translation of the text.)
In this view, believers defending their freedom to eat this food defended their conduct with the claim that eating didn't give them some kind of connection to a god. Paul either extends his reference to their defense in the rest of the verse or agrees with it and adds his own observation that eating also has no result one way or the other from a prosperity standpoint.
I haven't yet found anyone else who takes this view of the passage.
2. It's about God's judgment
Focusing on the first verb, Anthony Thiselton takes exception to how most English translations handle this part of the verse.
The AV/KJV, RV, and RSV, followed by Barrett, translate: Food will not commend us to God. This is too restrictively positive for the verb; Senft, Maly, and Schrage note that had the word meant commend we should expect συνίστημι rather than παρίστημι, for these two verbs are not usually synonymous.2
After a very compressed (and helpful) survey of many views on the meaning of paristemi, Thiselton settles on a judgment focus, agreeing with Murphy-O'Connor and others:
Murphy-O'Connor and Jeremias take up the emphasis reflected in our proposed translation "Food will not bring us to God's judgment," viewed as both a negative or pejorative allusion to being judged and as a slogan or catchphrase of "the strong." This allusion to judgment already finds expression in Weiss, Robertson and Plummer, and BAGD. In 2 Cor 4:14 the verb presupposes an allusion to God's judgment, and some stress the eschatological reference which is implied in v. 8a. Similarly, Heinrici has little doubt that the issue concerns divine judgement.3
Thiselton seems less confident about the rest of verse 8, but prefers to see it as a response to a quoted slogan of the "strong" in the broader context, who were using it to justify themselves. However, he does see Paul's response as a statement of principle for everyone in Corinth. In that context, he translates the verse as follows:
"Food will not bring us to God's judgment"; neither if we abstain from food do we lose any advantage, nor if we eat do we gain any advantage. 4
3. It's about indifference
Some interpreters summarize the verse as an expression of spiritual indifference, though it's unclear what their concept of "spiritual indifference" is, exactly. Harold Mare observes,
First, as in 8:1, we should know that there is nothing inherently wrong with sacrificial meat and that in itself food neither enhances nor minimizes our standing before God. Second, since the eating of meat is of no spiritual importance and so is a matter of indifference, the Corinthians should realize that to eat sacrificial meat is not a practice to be insisted on for maintaining Christian liberty.5
As far as the question of whether any action can be morally neutral, John MacArthur is similarly vague.
[E]ating or not eating food has no spiritual significance in itself. Neither act will commend us to God. Commend (paristēmi) means "to place near, bring beside, present to." Neither eating or not eating food will bring us closer to God or make us approved by Him. The general point is that doing things not forbidden by God has no significance in our relationship to Him. They are spiritually neutral. Food is an excellent illustration of that fact.6
It's hard to see how a moral act can have "no spiritual significance," but since this is not the question either Mare or MacArthur are trying to answer here, it probably wouldn't be fair to say they see Paul as teaching the possibility of morally neutral action.
In their defense, John Calvin's view is quite similar.
Meat recommendeth us not to God. This was, or may have been, another pretext made use of by the Corinthians — that the worship of God does not consist in meats, as Paul himself teaches in his Epistle to the Romans…. In this he tacitly acknowledges, that in the sight of God it matters not what kinds of food we partake of, because he allows us the free use of them, so far as conscience is concerned; but that this liberty, as to the external use of it, is made subject to love.7
On the "not better" and "not worse" language of latter part of the verse, Calvin says,
[H]e means, that we have neither more nor less of righteousness from eating or from abstaining. Besides, he does not speak of every kind of abstinence, or of every kind of eating. For excess and luxury are in themselves displeasing to God, while sobriety and moderation are well-pleasing to him. But let it be understood by us, that the kingdom of God, which is spiritual, does not consist in these outward observances, and therefore, that things indifferent are in themselves of no importance in the sight of God.8
Where We Are So Far
In this brief, somewhat random survey of views, we have two that are easily consistent with the idea that everything humans do is, in the final analysis, morally good or morally bad to some degree. We have one view that at least seems incompatible with that. Does the indifference view suggest, or require, that there is a category of human action that is genuinely amoral?
What I hope to do next is dig a bit into the positive case for "everything we do is moral," and see how that affects the light in the room, so to speak, when we're looking at 1 Corinthians 8:8.
Notes
1 Pratt, Richard L., Jr. I & II Corinthians. Vol. 7. Nashville, TN: Broadman & Holman Publishers, 2000. Print. Holman New Testament Commentary.
2 Thiselton, Anthony C. The First Epistle to the Corinthians: A Commentary on the Greek Text. Grand Rapids, MI: W.B. Eerdmans, 2000. Print. New International Greek Testament Commentary.
3 Thiselton, Anthony C. The First Epistle to the Corinthians: A Commentary on the Greek Text. Grand Rapids, MI: W.B. Eerdmans, 2000. Print. New International Greek Testament Commentary.
4 Thiselton, Anthony C. The First Epistle to the Corinthians: A Commentary on the Greek Text. Grand Rapids, MI: W.B. Eerdmans, 2000. Print. New International Greek Testament Commentary.
5 Mare, W. Harold. "1 Corinthians." The Expositor's Bible Commentary: Romans through Galatians. Ed. Frank E. Gaebelein. Vol. 10. Grand Rapids, MI: Zondervan Publishing House, 1976. 240. Print.
6 MacArthur, John F., Jr. 1 Corinthians. Chicago: Moody Press, 1984. Print. MacArthur New Testament Commentary.
7 The Calvin Commentaries, courtesy of The Bible Hub: https://biblehub.com/commentaries/calvin/1_corinthians/8.htm
8 Ibid.
---
Aaron Blumer is a Michigan native and graduate of Bob Jones University and Central Baptist Theological Seminary (Plymouth, MN). He and his family live in small-town western Wisconsin, not far from where he pastored Grace Baptist Church for thirteen years. In his full time job, he is content manager for a law-enforcement digital library service.
2660 reads
18243 reads