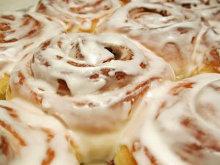 It's unclear who first coined the term "blogroll." Probably because of the sort of eating I've been doing lately, the term sounds to me like an interesting dessert. But around here we know it as a selection of blogs SI readers have found helpful, interesting, thought-provoking—perhaps sometimes infuriating (though hopefully not too often).
The SI blogroll was originally creaed by Austin Matzko back in our Wordpress & VBulletin days. If I'm remembering correctly, in it's first iteration, the blogroll featured a block for each blog, and the blocks updated as the various blog-writers published new content. (If any of you have a screen shot from those days, I'd love to see it.) Later versions approximated that experience, but our last site update abandoned it completely. Instead, each new post from a blogger in the "roll" was added to a single flowing list of posts.
It seemed like a good idea at the time. Given the site-building tools and talent on hand at the time, it was certainly easier to set up. But there were disadvantages. Some bloggers in the list cranked out multiple posts per day, while others posted once a week or once every month or so. The result was that infrequent posters got lost in the stream and the blogroll seemed to be all about whoever happened to crank out the most stuff that day or that week.
So we're back to the old concept. The new blogroll features about a dozen blogs. (One or two are coming back as soon as their writers start writing again.) Each has it's own block, with an "about" link where you can read more about the blog's writer(s), etc. You'll be able to scroll and page through each blog's posts independently. Each post links to the source blog.
Some of you are probably thinking, hey, there are all sorts of RSS readers out there nowadays that have way more funcationality than that, and you can easily create your own custom collection of blog feeds. Why bother with something like the blogroll at SI? Well, it's true that you can do more with Netvibes and the like. But judging from Google Analytics results for the blogroll, many still find it to be an interesting and useful sampling of blogs conveniently located at SI. For some, it's something of a one-stop shopping solution.
So it's back, and I think we can call it "new and improved."
A few miscellaneous observations …
Limitations
The current underlying parser doesn't always manage to render HTML (and maybe some other stuff) quite right. You'll see the occasional link as a big ol' http:// etc etc etc. And, so far, it seems to randomly reproduce some HTML entities raw. In plain English: sometimes the text is messy and seems to have garbage characters in it. It's OK, probably. The blogroll posts are partial and are really intended to just give you an idea of whether you want to read the whole post at the source site. So if a chunk of gibberish appears, you can always click the title link and read the real deal.
The aggregator we're using is more efficient under the hood that what we've used in the past. The downside though is that it will only retain posts (or post exerpts, more accurately) for so long. At the moment, it'll keep them for a month and three weeks. That means some blogs will occasionally have nothing in them, though most are active enough to make this a rare occurrence.
Selections
You'll see a couple of blogs omitted and a couple of new additions.
How are these selected? Well, there is less science—or even art—to it than some suppose. Some of the blogroll blogs are there because they were there when the site was handed off to me back in '08. So it's a bit of a tradition. Most of them are there because their writers asked if we'd include them and we saw value in their output.
Some have been retired due to lack of activity, lack of redeeming value, or just too many complaints. (Sometimes pressure just makes me want to dig my heels in; other times I find myself honestly asking "Is this really worth the hassle?" And sometimes the answer is no—not always because the blog deserves the reactions it gets; sometimes it's just because enough is enough and it's time to trade some old troubles for some fresh ones.)
Some of my favorite blogs are not there for one reason or another (sometimes because I like to use their content on the front page pretty often and having it in the blogroll as well would be redundant).
If you'd like to suggest a blog for inclusion, I'm pretty sure we can handle a few more. Use the site contact form.
Well, this post is already quite a bit longer than I'd planned. Without further adieu then, meet the new blogroll. And Merry Christmas. I hope you find that its contents sharpen you, even if it is sometimes the sharpening of disagreement.
---
Aaron Blumer, SharperIron's second publisher, is a Michigan native and graduate of Bob Jones University (Greenville, SC) and Central Baptist Theological Seminary (Plymouth, MN). He and his family live in a small town in western Wisconsin, not far from where he pastored Grace Baptist Church for thirteen years. He is employed in customer service for UnitedHealth Group and teaches high school rhetoric (and sometimes logic and government) at Baldwin Christian School.
1805 reads
1983 reads