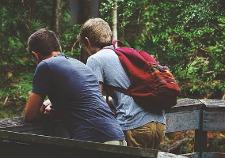 Why is it that the most difficult thing to do at times is ask for help?
I think we know why. When we ask for help, it means we are vulnerable, admitting our weaknesses, and probably owning up to a mistake or two. 
It doesn't matter that we know everyone has weaknesses and makes mistakes. We don't want to be the one in the passenger seat. Although pride is self-destructive, we want to maintain control and handle problems on our own. It's OK if other people ask for help—as a matter of fact, we encourage people to reach out. But this is one area where we don't practice what we preach.
Our friends and family may or may not know when we need help. We put on a brave front and plastic smile and quote a verse about the peace of God. That's great when we really mean it, but what about the times when we are just saying what we think we are supposed to say?
How often have we watched our friends suffer, and out of respect for their privacy and pain, we wait for them to reach out to us? It follows that the same thing happens when we get all buttoned down and try to endure while our loved ones are wishing they could help us.
Bear ye one another's burdens, and so fulfil the law of Christ. Galatians 6:2
While we don't want to be high maintenance, we are Scripturally obligated to bear each other's burdens. Logically, this means it works both ways. As we take the weight off of others, so we allow them to relieve us.
Of course, we should go to God first in Bible study and prayer. But we forget that God often uses our friends to lift up our heavy hands and strengthen our feeble knees.
When I was a leader in a homeschool support group. I saw families begin the homeschool journey year after year, and came to us for information, fellowship, and support. Quite often they were experiencing opposition from family and friends, feeling overwhelmed by the responsibility they were taking on. Yet even in the midst of a group of people dedicated to providing help, they came and smiled and left and kept their struggles to themselves.
Year after year, I saw families become weary and get discouraged, doubting their choice to homeschool. Some decided it was all too much, and put their children back in school. Maybe that's what they needed to do—but did they ask for help first?
They went to a place for support, but they stopped short of actually saying the words to someone, "I need help."
Oh, but now we have the internet, where people can get help from total strangers! No need for face-to-face interaction. You can now enjoy all the perks of an intimate relationship without the intimacy or the actual relationship!
God has given us the gift of companionship through our families, friends, and church. We were built to not only need a Savior, but other people.
We don't have to fall, we don't have to fail, we don't have to be alone.
When you are tired, get some rest.
When you need to refocus, meditate on the Word.
When you need wisdom and encouragement, seek out a friend.
When you are sinking, ask someone for help. Make the call, say the words.
God wants us to love and and support others, but He also wants to us to receive love and support as well.
5692 reads