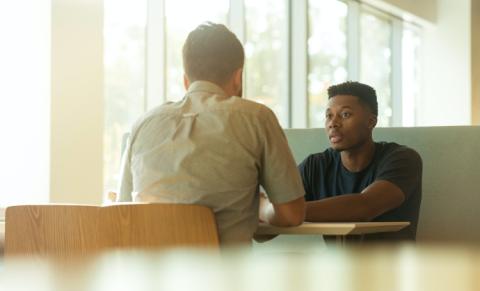 By M.R. Conrad. Reposted from Rooted Thinking.
How do you choose your friends? Your mom likely helped you choose your first friends. She probably told the mothers of your classmates, "I want my kids to have good friends so they stay out of trouble." University professors exhort their students to network to gain connections to move up in their fields. "It's not what you know but who you know," the experts often repeat. But left on your own, how do you go about choosing friends? What common interests draw you to other people? What are you looking for in a friendship?
Timeless Truths for Choosing Friends
At age 25, Henry Martyn boarded a ship for India.1 You might call him the "Father of Tentmaking Missions." Nobody calls him that, but that's what he did in 1806 long before tentmaking trended in missiological circles. He took a job as an Anglican chaplain for the East India Company so he could take the gospel to countries in Asia and the Middle East that did not welcome missionaries. Arriving in Calcutta, Martyn traveled north to Serampore to befriend William Carey and his team of Baptists.
1. Seek Friends More Spiritually Mature Than You Are.
The day after his first meeting with Carey, Martyn wrote in his journal: "I feel pressed in spirit to do something for God. Everybody is diligent, but I am idle; all employed in their proper work, but I tossed in uncertainty; I want nothing but grace; I want to be perfectly holy." He continued, "I have hitherto lived to little purpose, more like a clod than a servant of God; now let me burn out for God."2 The sparks of William Carey's passion for God stoked the fire in the soul of Martyn to live for God.
2. Spend Time with Those Who Push You Closer to God.
Not long after his arrival in India, Martyn moved into an abandoned pagoda near Carey's team. He found the company of Carey's co-worker David Brown particularly inspiring. He wrote: "Went up to Serampore with Mr. Brown, with whom I had much enlivening conversation. Why cannot I be like Fletcher and Brainerd, and those men of modern times? Is anything too hard for the Lord? Cannot my stupid stony heart be made to flame with love and zeal?"3 What we see in our godly companions should stir us to become more like Christ.
3. Engage in Uplifting Spiritual Conversation with Your Friends.
A few months later, Martyn again spoke of the influence of his godly companions in Carey's team: "At night [Joshua] Marshman came, and our conversation was very refreshing and profitable. Truly the love of God is the happiness of the soul! My soul felt much sweetness at this thought, and breathed after God.4" Our conversations with friends should include substantive, spiritual topics.
4. Be Open to the Spiritual Counsel of Your Friends.
At times, Martyn's conversations with his new friends became quite personal. "Had some conversation with Marshman alone on the prospects of the Gospel in this country, and the state of religion in our hearts, for which I felt more anxious… . my pride was a little hurt by Marshman's questioning me as the merest novice. He probably sees farther into me than I see into myself.5" Yet this is what young Martyn needed, and we need such accountability today too.
5. Seek to Encourage those who Encourage You Spiritually.
The senior missionaries too benefited from this friendship. Early on, Carey wrote of Martyn: "A young clergyman, Mr. Martyn, is lately arrived, who is possessed of a truly missionary spirit. He lives at present with Mr. Brown … we take sweet counsel together and go to the house of God as friends."6 A healthy spiritual friendship should be reciprocal.
6. Let God Lead and Guide Through Godly Friends' Advice.
After a few months in India, Martyn had seen the value of Carey's work translating the Bible into the local languages. Carey noticed the talent and academic training young Martyn had. This led to a proposal that would change Martyn's life forever. He wrote in a letter to a friend: "They wish to engage me as a translator of the Scriptures into Hindustani and Persian, by the help of some learned natives; and if this plan is settled at Calcutta, I shall engage in it without hesitation, as conceiving it to be the most useful way in which I can be employed at present in the Church of God."7
Though his tentmaking occupation would take him away from Carey's team, the influence and vision Martyn gained from his friends would follow him across India and into modern-day Iran. He would translate the Scriptures as Carey had suggested into both Hindustani and Persian. Thus, Martyn, like Carey, would pave the way for faithful believers to spread the gospel in these populous regions of the world.
Biblical Principles for Choosing Friends
Martyn's example reflects biblical principles for choosing friends. In 2 Timothy 2:22, Paul instructed Timothy: "Flee also youthful lusts: but follow righteousness, faith, charity, peace, with them that call on the Lord out of a pure heart." Choose friends who are what you want to be for God. May the sparks of their white-hot relationship with God kindle your spiritual fire.
Furthermore, Proverbs 27:17 states: "Iron sharpeneth iron; so a man sharpeneth the countenance of his friend." Find friends who sharpen your spiritual iron. Surround yourself with those who will push you closer to Christ. As they spur you on, spur them on in a kind of spiritual perpetual motion. With God at the center of your friendships, your friendships will draw you closer to Him and expand the horizons of what God can do through you.
---
Dr. Conrad serves in urban Asia. He, his wife, and their four children squeeze into a 700 square-foot apartment where he seizes rare moments of quiet to write amidst homeschooling, a cacophony of musical instruments, and the steady stream of visitors they so enjoy having in their home. He enjoys birding, board games, and basketball. He is the author of Daring Devotion: A 31-Day Journey with those who Lived God's Promises which will be available in November 2020.
Notes
1 Read more about Henry Martyn's testimony in my upcoming book, Daring Devotion: A 31-Day Journey with those who Lived God's Promises (available in late 2020).
2 George Smith, Henry Martyn: Saint and Scholar, First Modern Missionary to the Mohammedans (London: The Religious Tract Society, 1892), 150. (Amazon Affiliate link: purchases contribut to SharperIron.org.)
3 Ibid., 165.
4 Ibid., 157.
5 Ibid., 165.
6 Ibid., 161.
7 Ibid., 240.
1657 reads