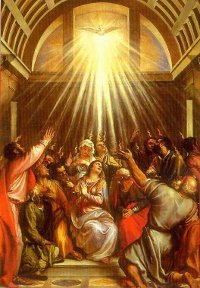 Originally published as a single article: "Tongues—Are They for Today?," DBSJ 14 (2009). Read Part 1 and Part 2.
The argument from the purpose of tongues as attesting new revelation
The purpose of miraculous capacities in the early church was not limited to the attestation of divine messengers, but also included the attestation of their revelatory message (Heb 2:4). This is not to suggest that miracles were never expressions of divine compassion or that tongues never had a didactic function (see, e.g., Acts 2:5–12), but, as Saucy notes, "the primary purpose of the miracles was as signs of authentication pointing to God, his messengers or spokesmen, and their message, which was the word of God."1 This seems to be the reason that the term "sign" (σημεῖον) is regularly used to denote tongues. A sign, by definition, is an "indication or confirmation of intervention by transcendent powers."2 Attention here is on the subordination of the sign to that which it signifies—viz., that God is breaking into the natural order to disclose himself in some way.
Paul makes this point clearly in 1 Corinthians 14 when he notes that the edifying value of tongues is lost unless the tongues either attend or contain prophecy for the church. He writes, "If I come to you speaking in tongues, what will I profit you unless I speak to you either by way of revelation or of knowledge or of prophecy or of teaching?" (1 Cor 14:6). In short, he regards the existence of signs apart from prophecy (that to which the sign points) as a profitless distraction. And while Paul admittedly allows for the interpretation of tongues to supply the necessary prophecy, he notes that this is abnormal in the church—tongues are normally means of assuaging skeptics (14:22), not conduits for revelation.
Peter echoes this sentiment when he describes the "prophetic word [i.e., Scripture] made more sure" by virtue of the miracle of transfiguration (2 Pet 1:19–20). Commentators are divided whether the verse is describing Scripture as "more sure" than the miracle of the Transfiguration, or as "more sure" because of the miracle of the Transfiguration. In either case, however, our point is made: the role of miracles is subordinate in function to the inscripturated Word. Once that inscripturated Word has been sufficiently attested, the major function of miracles and tongues disappears.
It is here that my greatest concern with tongues comes to the fore. If the foregoing is true, then the continuance of tongues implies either (1) that Scripture is a source of revelation that is inadequately attested or (2) that Scripture is a source of revelation that is insufficient for the needs of the present dispensation (violating the spirit of such texts as 2 Timothy 3:17 and 2 Peter 1:3–4). At best this understanding threatens Scripture's unique authority and causes people to neglect Scripture in favor of other, more direct sources of instruction and guidance, and at worst it opens up the faith to an unbounded host of non-orthodox additions and emendations.3 It is difficult to see how the continuation of tongues and prophecy can coexist with the doctrine of biblical sufficiency, and even with the first-order doctrine of sola scriptura. And if church history tells us anything, it tells us that the denial of sola scriptura has functioned time and again as the threshold for heterodoxy in the development of the Christian church.
The argument from the purpose of tongues as kingdom markers
In Hebrews 6:5 we discover that the miracles performed by our Lord and by the early church described as the "powers of the age to come." Dispensationalists have long used this text as decisive in arguing for cessationism—tongues are not for this age, but for the kingdom age, and so we should expect them to be suspended after Christ's kingdom offer has been rescinded and the kingdom program has been properly adjusted to the present NT arrangement.
I believe this is still a sound argument. However, the widespread popularity of "realized eschatology" that swept through Christianity at large in the 1930s, overtook evangelicalism in the 1950s, and finally penetrated dispensational theology in the 1980s and 1990s, has tended to overturn this argument. As we noted earlier, the newest arguments for continuationism are much less rearward in focus, and correspondingly more forward-looking: tongues are not a lingering expression of an ancient church practice, but an anticipatory expression of eschatological hope. Seizing on the apparent fulfillment language of Acts 2:16–21 with reference to Joel 2:28–32, these argue (1) that the prophecy of tongues in Joel 2 is clearly eschatological in nature, (2) that its fulfillment began in Acts 2, and finally (3) that we should expect this eschatological practice to continue and even to expand in the life of the church as it approaches the end of the age. Many, in fact, seem to regard the eschatological argument for continuationism as unassailable.4 The following syllogism, adapted from Douglas Moo's similar syllogism with reference to healing, has direct implications for the issue of tongues and prophecy:
Where the kingdom of God is present, tongues and prophecy are present.

The kingdom of God is present in and through the church in our day.

Therefore tongues and prophecy must be present in and through the church today.5
Moo goes on to qualify the conclusion to say that "the presence of the reign of God in and through the church makes miracles of healing possible, but not necessary," noting that the latter understanding smacks of an "over-realized eschatology" that sees the kingdom present in all of its fullness. Moo concludes that "biblical balance is best preserved if Christians remain open to the exercise of miraculous healings but do not insist on them."6
Looking objectively at this syllogism, I find the logic impeccable—if the major and minor premises are in fact valid. And it is not surprising that progressive dispensationalists, who have embraced not only the major premise (A), but also (at least in part) the minor premise (B), have begun to cautiously embrace more open views on tongues—there remains little in their system to preclude this.7 But traditional dispensationalism, which holds to a postponed kingdom and thus rejects minor premise (B), is able to deny the conclusion and argue positively for cessationism. In fact, one might go so far as to argue that traditional dispensationalism alone can successfully argue for cessationism.8 Not all, of course, are thus inclined. Robert Saucy (a progressive dispensationalist), for instance, denies that inaugurated eschatology demands tongues, arguing that while the church enjoys some of the spiritual/redemptive benefits of kingdom life, the full manifestation of the physical/empowering benefits of kingdom life remain future.9 Richard B. Gaffin (a non-dispensationalist) argues that tongues belong properly to redemptive history and not church history, noting that the "waiting" church does not have all of the kingdom benefits promised to the eschatological community of the redeemed.10 But while these attempts to maintain a cessationist position are noteworthy, they seem to reflect a bit of arbitrariness in application that is difficult to maintain. I am convinced that by far the most ironclad defense of cessationism lies in the hands of the traditional dispensationalist who sees tongues as expressions of powers of a kingdom in abeyance, as markers of an age still to come (Heb 6:5).
Joel 2 in Acts 2
The scope of this paper does not permit a full defense of the traditional dispensational view of the kingdom. This has been effectively accomplished elsewhere.11 But it does seem relevant to at least answer the specific question of the use of Joel 2 in Acts 2. At first blush Luke does seem to be suggesting that Joel's kingdom promises are being fulfilled as the newly inaugurated kingdom begins to blossom: "This is that which was spoken by the prophet Joel" (Acts 2:16, KJV). And in continuationist literature, this is regularly assumed to be true without argument. However, as we begin to compare Acts 2 with Joel 2, an astonishing discovery emerges, viz., that none of the details of Joel's prophecy find fulfillment in Acts 2: (1) the events in Acts do not take place "after the Great and Terrible Day of the Lord"; (2) the Spirit is not poured out on all mankind; (3) dreams and visions do not occur in Acts 2, and there is no clear indication that prophecy occurs either; (4) blood, fire, columns of smoke do not make an appearance, and (5) the concealment of the great luminaries does not occur. In fact, the one miracle that we do find in Acts 2—tongues—is ironically not predicted in Joel.12 As such, we have a great hermeneutical conundrum on our hands. Several options emerge:
I am convinced that fidelity to the plain, unalterable, and infallible text of the OT makes the first two options not only implausible, but incompatible with inerrancy. The third might be plausible if only there were at least one piece of the Joel prophecy actually fulfilled in Acts 2. In view of the fact that this is not the case, I am convinced that the analogical understanding of Peter's language is to be preferred. In this case, the exercise of tongues in Acts 2 is not to be associated with the arrival of the kingdom, but is, instead, a kingdom marker, that is, a signal of a shift in God's kingdom program that heretofore had been a mystery. As such, tongues in Acts functioned in the absence of the completed Word of God to confirm, specifically (but not exclusively) to the Jews, the viability of the dramatic change in how a believer is to rightly relate with God in view of the dissolution of sacrifices, the setting aside of the Law, the unfolding of God's new dispensational vehicle, the church, and the unlikely inclusion of Gentiles in that body. All these changes, which a Jew would naturally view with a skeptical eye, merited proof from God that they were, indeed, legitimate changes—proof that a shift in God's kingdom program had truly occurred. And this proof came, very often, in the form of glossolalia.
Editor's note: the conclusion of this series will discuss tongues and the church.
Notes
---
Mark Snoeberger has served as Director of Library Services at Detroit Baptist Theological Seminary since 1997, and as a part-time instructor here since 1999. Prior to coming on staff at DBTS, he served for three years as an assistant pastor. He received his M.Div. and Th.M. degrees from DBTS in 1999 and 2001, respectively. Dr. Snoeberger earned the Ph.D. in systematic theology in 2008 from Baptist Bible Seminary in Clarks Summit, PA. He provides pulpit supply for area churches on an active basis and teaches in the Inter-City Bible Institute. He and his wife, Heather, have two sons, Jonathan and David.
11122 reads