Are Rules Dangerous? Part 1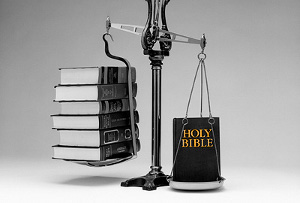 "Young Fundamentalists" are generally not fond of rules, especially in ministry settings. Exactly why this is the case is an interesting study in itself. Perhaps it's due to the fact that many of them grew up in rules-heavy Christian schools in an era full of glowing idealism about what these highly-disciplined, conscientiously spiritual educational environments would produce. The inflated hopes of those days were sure to result in disappointment. And maybe the current rules angst is the result of a generalized disgust with the whole concept and all that seems connected to it. In defense of those who feel this way, it is only too easy to find examples of rules excesses and absurdities.
Whatever the reasons, young Fundamentalists are often eager to cast "man-made rules" in a negative light and to argue from Scripture that these rules are dangerous at best, and downright hostile to Christian growth at worst.
My aim here is to offer a "young Fundamentalist" perspective that differs from that of many of my peers, but one that I believe answers better to Scripture and wisdom.
Points of agreement
I count myself among those who believe any Christian ministry that seeks to grow believers must aim to develop principled and discerning servants of God. Young people (or old ones, for that matter) who merely conform to a slate of rules in order to avoid punishments have not arrived at "the measure of the stature of the fullness of Christ" (Eph. 4:13 NKJV), no matter how wise and comprehensive that slate of rules might be.
In fact, seeking to instill understanding of the reasons for rules is not aiming high enough either. Since we're commanded to love the Lord our God with all the heart, soul, mind and strength (Mark 12:30), we're not truly living the life unless we obey in body, intellect and affections. We are not fully obedient until we do the right thing driven by both faith and love.
But should we conclude that "man-made rules" do not contribute at all to walking in a manner worthy of our calling? Is it accurate to say that rules contribute nothing to sanctification? Should we even believe that they are—as some suggest—inherently dangerous and often hostile to growth in grace?
Argument from the nature of sin
Sin interrupts fellowship with God, dulls spiritual senses, weakens resolve, perverts affections, damages body and mind, poisons relationships and forms enslaving habits. I'm taking it for granted that I don't need to prove that here. We've all seen it in our sins if we've been paying attention, and finding examples in Scripture is almost as easy as opening the Book at random and reading.
Given that sin does so much harm, may we not conclude that it is always better to do right than to do wrong? To put it another way, isn't a believer who avoids a sin because of a rule-and-penalty better off than a believer who sins?
Perhaps some confusion on this point is due to binary thinking about the relationship between the inner man—the heart and mind—and outward behavior. Is it true that a believer either obeys with faith and love or sins? What if he obeys without faith and love or—as is more often the case, obeys with incomplete faith (and understanding) and less than pure love? Is this "sin"? Even if it is, is it no better than the sin the rule is intended to prevent?
I believe the dynamic between inner man and outward conduct is far from binary (all or nothing) and looks more like this:
Best: do right out of faith and love
Good: do right to avoid punishment, etc. (lacking in faith and love)
Bad: do right with some evil motive
Worst: do wrong
Many gradations are possible between these levels, and it's debatable whether "doing right with some evil motive" is doing "right" at all, but this scale illustrates the complexity of the possibilities.
To make the idea less abstract, suppose a teen is invited to a drinking party. Scenario A: The school has strict rules against this. The teen knows if he attends and is found out, he'll be expelled from school. He skips the party for no other reason than that. Scenario B: The school has no rule, the teen attends the party, goes on a drunken joy ride that ends in the death of several of his friends. Of course, scenario B doesn't have to end that way, but that sequence is only too common. Even if he doesn't drive and doesn't hurt anyone, sin does its damage. Fellowship with God is interrupted. His desire to live for God is dulled to some degree. His conscience is, in some measure jaded. His resistance to committing the same sin again is weakened. The joy of his Christian experience is sullied. The list goes on.
So has the teen in scenario A been helped along in his journey toward Christlikeness? Absolutely. Would it have been better if he did the right thing out of faith and love without a rule? Definitely.
But this is where an important point comes into focus: the truth is, he can act out of faith and love without or with the rule. If he has the necessary faith and love, the rule is useless (1 Tim. 1:9) but harmless. If he lacks the necessary faith and love, the rule is a lifesaver, and those responsible for his care have done him a great service.
The argument from the nature of sin, then, is this: sin is so damaging that reducing it by means of rules is a genuine spiritual blessing to believers. Not sinning is always better than sinning, even when understanding is lacking and love is not the primary motivation.
Argument from the nature of holiness
Just as sin is inherently damaging and habit-forming, every act of obedience is inherently helpful and habit-forming (1 Tim. 4:8). Obedience deepens fellowship with God (1 John 1:6-7), sharpens spiritual senses, strengthens resolve, tunes affections (1 Pet. 1:22), nurtures body and mind, enhances relationships and forms liberating habits.
And let's not undervalue good habits. Habits are simply choices we make repeatedly until they become so much a part of us they no are longer made consciously. Growth in sanctification consists largely of old habits losing out to new ones (this includes habits of intellect and affections as well as habits of body). This is the Lord's work in us, but our obedience is required and that obedience is frequently the tool He uses to produce yet more obedience (Phil. 2:12-13).
Admittedly, it is possible to obey a rule—even in the sense of "a generalized application of Scripture" (see below)—and not obey God in the fullest sense. That is, pleasing God could be furthest thing from the complier's mind. He is not obeying fully because his affections are not God-ward in the act. But even though he is not obeying at the subjective level, he still obeying at the objective level and making a better choice. By doing so, he is getting a taste of clean living whether he wants one or not. I believe these "tastes" are always habit forming to some degree in the life of a regenerate, Spirit-indwelt person.
The argument from the nature of holiness, then, is this: obedience is so helpful that increasing it by means of rules is a genuine spiritual blessing to believers even when their faith is incomplete and love is not their primary motivation.
Summary
I've argued here that rules in ministry settings (especially schools) are not as dangerous or hostile to growing in grace as many suppose. I've done so on the basis of the nature of sin and the nature of obedience. But the case is far from complete. It barely scratches the surface.
In Part 2, I'll offer an additional argument—this time, from the nature of rules themselves, then address a series of objections, including these:
If what you're saying about rules is true, shouldn't we make as many as possible? (We know that leads to disaster!)
Doesn't Jesus' handling of the Pharisees show that rule-making is inherently hazardous?
Doesn't Colossians directly forbid rule making (Col. 2:20-23)?
Doesn't 1 Corinthians 13:3 teach that doing good without love is worthless?
(Part 2)
---
Aaron Blumer,
SI
's site publisher, is a native of lower Michigan and a graduate of
Bob Jones University
(Greenville,
SC
) and
Central Baptist Theological Seminary
(Plymouth,
MN
). He, his wife, and their two children live in a small town in western Wisconsin, where he has pastored
Grace Baptist Church
(Boyceville,
WI
) since 2000. Prior to serving as a pastor, Aaron taught school in Stone Mountain, Georgia, and served in customer service and technical support for Unisys Corporation (Eagan,
MN
). He enjoys science fiction, music, and dabbling in software development.