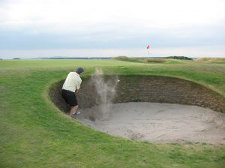 I recently wrote a brief defense of the importance of personal effort (or "trying harder") in God's gracious design to transform His saints. My central claim was that we put ourselves at odds with the NT if we understand or teach the dynamic of sanctification in a way that devalues or strongly cautions against hard work.
But that doesn't mean emphasizing hard work has no attendant hazards.
Bob Hayton wrote of one of these pitfalls in a post last summer: Particular Pitfalls of Independent Baptists: Performance-Based Sanctification.
Work hard, feel good; blow it and feel terrible. Where is the confidence in God's grace in this model? The secret to living victoriously for Christ is gritting your teeth, doing more, and not doing the things you shouldn't do. Try, try, try. Harder, harder, harder! Don't quit. Keep going. We say that salvation is by grace, but growing in Christ is about the will power, the commitment and the determination.

This can lead to despair or a terrible form of pride.
The solution Bob advocates (citing Terry Rayburn and Tim Kellar, in part) is to reject trying harder, and focus exclusively on faith. Several Reformed leaders have emphasized a similar perspective in recent years (with a burst of back and forth on the Web beginning in the summer of 2011, see the table posting tomorrow), Tullian Tchividjian and Sean Lucas among them.
My purpose here is to explore the problem Bob and others have described. Perhaps we can come to more fully understand it.
The "just preach the gospel to yourself" view of sanctification has a legitimate complaint when it describes the despair-pride yo-yo experience many believers go through. I've not only met Christians like this but have done my share of bouncing up down as well. Whatever might be lacking in the "just preach to yourself" or "gospel centered" model, it's advocates are right that a state of alternating inner turmoil and arrogance cannot be what Christ and the apostles had in mind in the New Testament.
Where is the peace?
Jesus said He was leaving His peace with us and that our hearts should not be troubled (John 14:27). We know that this trouble-free state isn't intended to be unvarying (1 Pet. 1:6-7, for example). But it is supposed to be a state of heart that dominates our experience and never completely subsides. Though Jesus promised His followers hardship and toil, He also promised us abundant life (John 10:10) and rest for our souls (Matt. 11:29).
Especially after His resurrection, Jesus' favorite greeting was "Peace be with you!" (Luke 24:36, John 20:19, 21, 26). And it's no coincidence that Paul's favorite opening blessing focused on "grace and peace."
John 16:33 brings the experiences of trouble and peace together.
I have said these things to you, that in me you may have peace. In the world you will have tribulation. But take heart; I have overcome the world. (ESV)
In the midst of trouble, we are called to gather up the loose ends of our thinking and rest our hope on our future grace (1 Pet. 1:13). So if our efforts to live the Christian life in a God-honoring and God-pleasing way have us in a state of continual turmoil, we're not doing it right. Something is out of kilter, in attitudes, actions or both.
Where is the joy?
Just as Jesus promised a life of peace, He promised one of joy. He said one of the specific aims of His teaching was to impart His joy to them and that this joy would be "full" (John 15:11, compare John 17:13).
The epistles are also full of calls to rejoice. "Rejoice in hope" (Rom. 12:12); "finally brothers, rejoice" (2Cor. 13:11); "you also should rejoice and be glad with me" (Php 2:18); "rejoice in the Lord" (Php. 3:1); "rejoice always" (1 Thess. 5:16). Peter sums it up beautifully.
Though you have not seen him, you love him. Though you do not now see him, you believe in him and rejoice with joy that is inexpressible and filled with glory, obtaining the outcome of your faith, the salvation of your souls. (ESV, 1 Pet. 1:8-9)
If our approach to the pursuit of godliness is joyless, we're actually trying to be godly by being ungodly. You don't need a Master's degree to know that can't be right.
The real problem
The anxiety and pride yo-yo experience does not represent what the NT teaches about sanctification, but does it follow that we should reject "trying harder" in favor of exclusive focus on faith? To approach the question from another angle, is it possible to call believers to more sacrifice and greater devotion, and emphasize obedience, without producing anxiety-ridden, joyless or proud Christian living?
As my post last week shows, it must be possible because it's what the NT actually does. The imperative is not sacrificed for the indicative or the indicative for the imperative. Calls to faith, peace, and joy abound along side of (and directly related to) calls to try harder.
So what's really behind this worried, joyless, struggle-focused sanctification dynamic?
1. Selectivity
The Pharisees described in the Gospels were not sincere God-loving men who happened to be overly fond of rules. They were unbelieving God-rejectors in the service of their father the Devil (Matt. 23:14, John 8:44-47). Still, it is possible for believers to resemble Pharisees in some ways. One of the most common ways we do this is by creating a highly selective list of criteria for gauging Christian authenticity and maturity. It's often a very superficial list we find personally easy.
But when we select a handful of superficial benchmarks to pursue with great zeal we end up neglecting some "weightier matter." We replace the call to "walk in a manner worthy" (Eph. 4:1, Col. 1:10) with a call walk in outward conformity to our pet values. This version of "try harder" is usually a pretense for "You all need to try harder so you'll be like me [and I'm not trying at all anymore.]"
"Trying harder" in this way robs believers of joy because it puts distance between us and the One who is the real source of our joy.
2. Impatience
Effort in the pursuit of holiness becomes anxious and joyless when we lose sight of the big picture. For reasons of His own, God's way is to bring us slowly and sovereignly to Christlikeness. This is why Paul had to remind the Philippians that God would be "faithful to complete" the good work He had started (Php. 1:6).
If we're boiling with anxiety about some lingering sinful habit, the question is "Am I being faithful in using what God has provided?" If the answer is yes, we're not only permitted, but called to rest in His wisdom about what He changes in us when and in what sequence.
3. Forgetfulness
The "preach the gospel to yourself" advocates are right about one thing. We do need to constantly preach the gospel to ourselves. The error lies in giving this task exclusivity in the sanctification dynamic or in emphasizing this task in a way that belittles the value of working hard. We are to preach the gospel to ourselves and try harder. It's the only way to avoid forgetting who we are, what has been done for us, why we are to not be conformed to this world, and where the transformative power comes from.
Interestingly, Peter links forgetfulness with failure to try harder (2 Peter 1:8-9). But he does not say the relationship can only work in one way. If we get too busy working, we can easily fall into Martha's error and become so busy trying harder we forget Who it's all about (Luke 10:41-42).
Conclusion
When we pursue the work of sanctification with a deep and abiding awareness that we do so because God is at work in us (Php. 2:12), trying harder becomes a joyful participation in what God is graciously doing. We see Him work in and through us and overflow with humble thanks for what we know we do not deserve—and we rejoice all the more in anticipation of what He will do in the future.
[node:bio/aaron-blumer body]
10373 reads