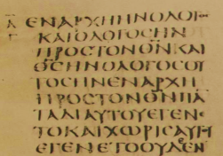 The Gospel of John is important. And, in a piece of writing noted for its Christology, the prologue (John 1:1-18) is rightly considered to be a masterpiece. Because it's so important, it's attracted any number of critics and false teachers who desperately try to explain why it doesn't actually say … what it actually says.
An ordinary Christian can go batty pondering all the controversies inherent in this passage. Was John 1:1 ("and the Word was God") translated correctly? Have Christians been influenced by pagan, Greek philosophy to interpret "the Word" as the co-equal, co-eternal Son of God? These are good questions, and lots of good theologians and bible teachers have lots of good answers for them. But, setting these issues aside for a time, if you take a step back and just consider the content as a literary unit the message is very clear.
Who is the Word?
At1 the very beginning, when the creation happened, the Word was there (Jn 1:1a). So, whoever this Word is, He's eternal. He's prior to creation. More than that, the Word is with God (Jn 1:1b). God is before creation, and so is the Word. They're together. They share the same space; they're with one another. Even better yet, the Word actually is God (Jn 1:1c).
1226 reads