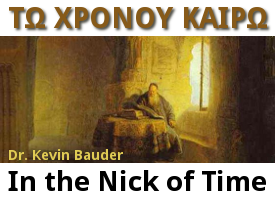 Read Part 1, Part 2, Part 3, Part 4, Part 5, Part 6, Part 7, and Part 8.
H. Richard Niebuhr has provided the paradigm for discussions of Christianity and culture. In his seminal volume, Christ and Culture, he articulated five "ideal types" that are now widely employed in this conversation: Christ against culture, the Christ of culture, Christ above culture, Christ and culture in paradox, and Christ the transformer of culture.
Critiquing these categories has become a cottage industry in the theological village. It seems that one way of gaining one's theological spurs is to offer a new evaluation of Niebuhr. Naturally, the explanations and criticisms have varied in their usefulness.
One of the most frequently heard is that Niebuhr's categories do not fit real-life individuals, and that several of Niebuhr's examples seem strained. This criticism would be more telling if Niebuhr had meant to provide a taxonomy rather than a typology. Since ideal types are supposed to represent logical possibilities, however, it is not surprising that few "pure" examples of any type can be found.
A more responsible criticism is that Niebuhr's typology is incomplete. One recent evaluation of Niebuhr's work, a volume by Craig Carter (Rethinking Christ and Culture, Brazos, 2007), offers a sustained argument to this effect. Carter suggests that Niebuhr's discussion assumes "Christendom," i.e., a cultural situation that has been created by the sustained political and social enforcement of Christian domination. Since Christendom is now disintegrating, Carter presents a series of alternative types for Christians to employ in the future. Unfortunately, Carter's discussion is skewed by his Anabaptist assumption that non-violence and non-involvement in the state are requirements for Christians.
1266 reads