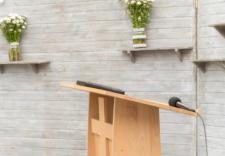 Reposted from The Cripplegate.
Women are a great gift of God. I love the four I get to live with. My daughters are showing me up in skiing and soccer. My wife was a gymnast for years, and can do backflips on a four-inch wide balance beam four feet off the ground. I'm still working on somersaults. And she is smarter than me in every area of life. But that's just a small sampling of the great ways God has skilled and gifted the ladies in my life. And the list would get long if I also mentioned the skills and giftedness of the women in the local church I get to serve.
God created women for his glory. In fact, his word has the highest view of women compared to any and every religion, ideology, spirituality, or philosophy out there. But, that does not mean that God has men and women share every task and role. That's part of his glory; the ways in which men and women complement one another.
The issue of women preachers has again arisen to the forefront of evangelicalism. One position holds that Scripture forbids women from preaching to congregations where men are present in the local church. Another (egalitarianism, "soft complementarianism") hold that Scripture does not forbid women to preach, or permits it under certain circumstances. This article will consider a few matters concerning the debate.
390 reads