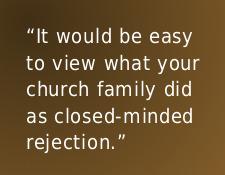 This post is a supplement to the "church discipline process" document/training posted earlier. The goal of this series is to equip churches to conduct church discipline with restorative excellence. Reposted, with permission, from bradhambrick.com.
Friend,
I would imagine it is very difficult to receive a letter from your church or a Christian friend at this time. Thank you for your willingness to read what I have to say.
Reading this letter means you are at the end of a long journey that resulted in a conclusion that no one is happy with. The people on this journey were once friends, and even considered one another brothers and sisters in Christ. An unsatisfying conclusion to this kind of journey stings to put it lightly.
If I could give you one piece of advice at this juncture, it would be "reflect don't react." It would be easy to view what your church family did as closed-minded rejection on the basis of a sense of moral superiority. But for the stewardship of your own emotional and spiritual well-being, I would ask you to reflect on the following questions:
4267 reads