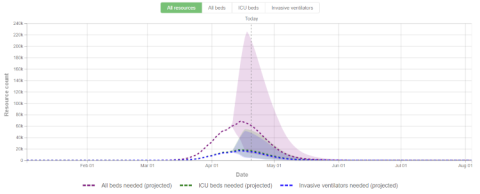 Over the last several weeks I've encountered a range of negative views toward the models epidemiologists have been using in the struggle against COVID-19. Skepticism is a healthy thing. But rejecting models entirely isn't skepticism. Latching onto fringe theories isn't skepticism. Rejecting the flattening-the-curve strategy because it's allegedly model-based isn't skepticism either.
These responses are mostly misunderstandings of what models are and of how flattening-the-curve came to be.
I'm not claiming expertise in scientific modeling. Most of this is high school level science class stuff. But for a lot of us, high school science was a long time ago, or wasn't very good—or we weren't paying attention.
What do models really do?
Those tasked with explaining science to us non-scientists define and classify scientific models in a variety of ways.
The Stanford Encyclopedia of Philosophy, for example, describes at least 8 varieties of models, along with a good bit of historical and philosophical background. They've got about 18,000 words on it.
A much simpler summary comes from the Science Learning Hub, a Science-education project in New Zealand. Helpfully, SLH doesn't assume readers have a lot of background.
9748 reads