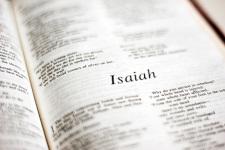 This post continues a series of extracts from a draft chapter in the book The Words of the Covenant: A Biblical Theology, Vol. 1 (forthcoming, d.v.). Read the series.
The Kingdom of God and the New Heaven and New Earth
The prediction of a new heaven and a new earth seems to throw a spanner in the works of those interpreters who think they see a kingdom-age after the second coming of Christ but before the New Creation. I think McClain is right in saying that the prophet simply views the kingdom-age and the New Creation together.1 And it is true that the Prophets do place events together which consequently are seen to be separated by millennia. The prophecies concerning the first and second comings of Christ are cases in point. Isaiah 65:17-25 predicts not only a new heaven and earth, it also predicts death and sin, though in a greatly modified setting where children and sinners die at a hundred years of age (Isa. 65:20). But Isaiah has already said that God will abolish death (Isa. 25:8). What is to be done? I think both should be taken literally, although they don't seem to belong together. Are we to believe that death and sin are still in evidence in the New Creation? But what of the efficacy of the finished work of Christ?
1980 reads