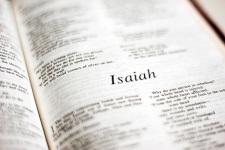 This post and those to follow are extracts from a draft chapter in the book The Words of the Covenant: A Biblical Theology, Vol. 1 (forthcoming, d.v.). Read the series.
The Intertwining of the Covenants: A Little Summary of the Coming Kingdom
In these kinds of passages Isaiah presents a picture of the future kingdom of the Branch that is glorious in many respects. It is fair and just and safe and beautiful. After the initial battles, there will be a realization of the dream of world peace, brought about by the great mass of people turning to the true God—a New covenant era.
193 reads