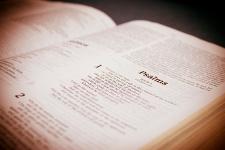 Read the series.
The Christology of the Psalms continued …
Christ's Resurrection and Ascension
Christ's Resurrection and Ascension in Psalms 16:10 (resurrection), and 68:18 (ascension).
Psalm 16:10: "For You will not leave my soul in Sheol, Nor will You allow Your Holy One to see corruption."
It is not fully apparent in Psalm 16 just who the "Holy One" is. David is the author of the psalm, but would David call himself "the Holy One"? It is this passage the apostle Peter quotes and applies directly to the Risen Christ in Acts 2:25-30. Sheol was the place of departed souls and generally has negative connotations in the OT. David appears to be speaking of it, not as a place of his temporary punishment, but of separation still from the presence of God. If this is true then the hope of resurrection, and an ascension of some kind, is certainly in David's mind as he writes, and it is this that Peter picks up and uses.
Psalm 68:18: "You have ascended on high, You have led captivity captive; You have received gifts among men, Even from the rebellious, That the LORD God might dwell there."
606 reads