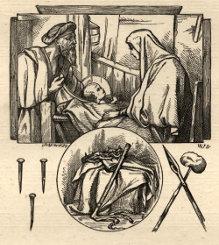 Years ago when our kids were very young, we lived in South Florida. Even though I hadn't grown up with an annual white Christmas (snow in our part of Tennessee was a pretty rare event) I found it very difficult to get into the Christmas spirit when it was 75 degrees outside. You can only turn the air conditioning down so far, and there's just something wrong with Christmas lights strung on palm trees.
In fairness, the people who lived there tried to get into the spirit of the season. One year a car dealership announced that they were bringing a truckload of snow to dump in their lot so that kids could come and play. There were a lot of kids there, including ours, to play in the "snow." But what they ended up with looked more like something that came out of a snow cone machine than out of clouds in the sky.
Christmas has always been important to me. When we were very young, our parents had us memorize the Christmas story from Luke 2. We would quote it from memory on Christmas morning before opening the presents. When the only thing standing between you and presents is twenty verses from Luke, you can talk pretty fast.
Many of the traditions we set then when I was child carried forward into our family. Some of them, including Luke 2, we still do today. Although as long as my parents don't read this, I'll admit that these days somebody usually has a Bible handy in case we get stuck. I never can remember whether "and the shepherds returned" comes before or after "and Mary kept all these things."
797 reads