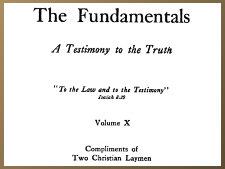 CHAPTER VIII - CONSECRATION (Exodus 28:40-43)
BY REV. HENRY W. FROST, DIRECTOR FOR NORTH AMERICA OF THE CHINA INLAND MISSION, GERMANTOWN, PA.
Some years ago, when I resided in Toronto, I went one Sabbath morning to attend service at Knox Church, of which the Rev. Dr. Henry M. Parsons was pastor. I went to the service in a very comfortable state of mind, longing of course, for a new blessing, but without any special sense of the kind of blessing which I needed. God, however, understood my real need, and before the sermon was done that morning my comfort was past and I was in distress of mind and spirit. The sermon had been upon a theme connected with the new life in Christ, and the Lord had made such a personal application of it to me that I felt wholly undone. My situation was similar to that of the bride in Solomon's Song who cried: "Look not upon me, because I am black, because the sun hath looked upon me!" And in that state of heart, I returned to my home.
2770 reads