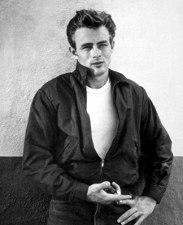 From VOICE, July/Aug 2015. Used with permission.
My frequent travels take me to some unusual places, but one that always catches my attention is in central Indiana. There, alongside Interstate 65, is a billboard proclaiming the "Birthplace of Cool."
James Dean was born in Fairmount, Indiana, in 1931. But it wasn't until 1955, when his movie "Rebel Without a Cause" was released, that cool was truly born. When that film hit the theaters, youth culture exploded into middle-class white America and so did the concept of cool.
James Dean was edgy, rebellious, a misunderstood loner. He played by no one's rules but his own. And following this most cool cultural icon came many others for my generation, especially in music. Elvis pushed trans-generational, wholesome pop singers like Perry Como and Pat Boone off the scene much to the delight of his fans. Then rockers joined Elvis and everything exploded as my generation came of age: sex, drugs and rock and roll ruled the 1960s.
The American "Youth Culture" which was born in the 1950s and exploded in the 1960s is a phenomenon that just will not cease. It won't stop because my generation, like Peter Pan, refuses to grow up.
I shake my head as I see photos of 72-year-old Mick Jagger prancing on stage singing about his continued lack of satisfaction fifty years after the Rolling Stones hit our radio stations. Knowing that Jane Fonda, at age 77, continues to slither about with "youthful sexuality" makes me reflect on the Proverbs 31 women I know whose godly lives are in stark contrast and are so refreshingly pure and sweet. Harley-riding grandparents dress themselves with whatever cool they can, despite how silly they may appear in their bad boy apparel. Advertisers on television attempt to lure the AARP crowd into self-deception: "you can reverse the effects of aging." Many aging Baby Boomers remain trapped in their days of youth.
All of these indicators, and many more, tell me that my generation is unwilling to assume maturity as a desirable destination. The effects on local church ministry and leadership can be most harmful when this mindset controls those who are in the prime years for leadership responsibility but continue to cling to immaturity.
To this day coolness feeds the American longing for perpetual adolescence. It's all around us, saturating our culture. We can't escape it. It's an attitude, a habit, a feeling, a worldview. And it's sad.
Defining Coolness
In their book Cool Rules: Anatomy of an Attitude, Dick Pountain and David Robins supply a definition of cool: "an attitude of permanent, private rebellion."1 The teenage years are the crucible of cool, when teens adjust their mannerisms, words and appearance, acquire possessions and arrange their lives in an attempt to be accepted. The stakes are high: winners get happiness and losers get misery. It leads to that attitude where kids distance themselves from authority and rather than directly confront it, they simultaneously attempt to be acceptable to their peers and scandalous (in varying degrees) to their parents.
Cool appears in many forms, such as teenage sarcasm and mockeries which provoke the adult world's fears of irrelevance. Then there's the for-profit advertising world selling certain kinds of images to exploit our inse­curities. Coolness involves trendiness and seeks freedom from labels, norms, and imposed constraints. It shuffles around with an ironic detachment and nonchalance based on narcissism, an exaggerated admiration of yourself. It gives rise to the feeling that the world revolves around you and most definitely should share your moods, your likes and your dislikes. Coolness is intrinsically judgmental and exclusive; it can ulti­mately define itself only by excluding what is Uncool. It is a deeply held virtue among people my age.
And if Cool is a profound virtue, then the worst sin you can commit against it is to be judgmental, that is, to make disparaging value judgments about someone else's attitudes and life­style choices. The next worst sin is to do precisely what I am doing here, namely attempting to define and analyze Cool. (Guess I'd better say "oops.")
Christians & Coolness
My generation of Christians has pursued the idol of trendiness and undiscerningly dragged it into the church. I've seen it and heard it in many ways and in many different places over the last number of decades.
Permit me a little testimony here. I was not raised in any church and I never went to a church youth group. I came to faith in Christ after High School and my early Christian experiences were as a student in a Bible Institute just three months after my salvation. There I noted that the Christians I met were an anxious lot. Most of them grew up with two social circles (church youth group and public school friends) and seemed to be overly worried about their sta­tus as cultural outsiders. They wanted to be "in," yet that "in crowd" was the very group I left when I trusted Christ. They loved to quote Paul's words about "becoming all things to all men" (1 Corinthians 9:20-22) while I embraced the shame of following Christ after I explained my new life to family and friends back home. I took great comfort in studying the Bible where persecution, hardship and opposition were the norm for the Old Testament prophets and the New Testament disciples.
To me it seemed way too many of my college classmates wanted to be hip and relevant. But I knew as Christians we were "out" as far as the world was concerned. I knew that because that's exactly what I thought of Christians right up until I repented of my sins and trusted Christ as my Savior only months earlier. And that's what I heard as I announced my salvation to everyone I could in my hometown. I consciously decided to leave the world of coolness when I came to Christ, and then I saw all sorts of Christian kids terribly afraid they were somehow going to be left out of that world! It was a more than a little puzzling, even disheartening, to me. Forty years later, I look at many of the churches that have been led by my gen­eration and I wonder sometimes if we'll ever grow up.
Sadly, my generation's lust for cool­ness is nothing but idolatry. And John warned us to keep ourselves from idols (1 John 5:21). Now the chances of Americans today bowing to Baal or burning incense to Diana of the Ephesians are not great. But to place anything above the Lord God Almighty is to give it preeminence, which is idolatry. To become too attached to a philosophy or thing is to place it above God and elevate it to an idol. Something that has taken the place of God is an idol. That may be money, a relation­ship, some possession, our job, or our popularity. And a lust for acceptance and popularity is what coolness is all about and that's why I wrote above: my generation's lust for coolness is idolatry.
And It Continues
Now twentysomething Brett McCracken sees the same things in his own generation as they struggle to adapt themselves to their understanding of how Christians should function in this world. It seems the hippies of the 1960s have become the hipsters of today.
McCracken has written about his concerns in his book Hipster Christianity: When Church and Cool Collide. Here is one of his salvoes:
as with all things cool, no one in Christianity is really talking about this in any sort of direct way. The talk is usually about "contextualization" or "postmodernity" or "meeting the culture where it's at." But it all really boils down to one simple desire: the desire to make Christianity cool. And this desire is big­ger and stranger and more difficult than we'd like to admit. It comes with impli­cations, baggage, and inherent problems that need to be discussed. The question of cool is loaded, and it's time we stopped dancing around it.2
After his book was written, McCracken adapted his thoughts into an article in The Wall Street Journal entitled "The Perils of 'Wannabe Cool' Christianity."3 His assessment of this mindset is that it is "the impulse to rehabilitate Christianity to make it cool." Reminding me of the attitude of permanent, private rebellion inherent in my own generation, McCracken observes:
one of the most popular—and arguably most unseemly—methods of making Christianity hip is to make it shocking. What better way to appeal to younger generations than to push the envelope and go where no fundamentalist has gone before?
He concludes with this profound statement. "As a twentysome­thing, I can say with confidence that when it comes to church, we don't want cool as much as we want real."
The sins of the fathers have been passed along to the sons.
(Tomorrow: The Bible & Coolness)
Notes
1 Dick Pountain and David Robins, Cool Rules: Anatomy of an Attitude (London: Reaktion Books, 2000), p. 19.
2 Brett McCracken, Hipster Christianity: When Church and Cool Collide (Grand Rapids: Baker Book, 2010), p. 20.
3 Brett McCracken "The Perils of 'Wannabe Cool' Christianity" in The Wall Street Journal. Updated version posted online August 13, 2010 at www.wsj.com.
---
Les Lofquist earned his BA at Grace College, and his MDiv at Grace Theological Seminary. Over his years of ministry, he has served as a missionary church planter, Bible college instructor, youth pastor and senior pastor. He has served as Executive Director of IFCA since 1999. He and his wife Miriam have been blessed with several children and grandchildren.
916 reads
5353 reads