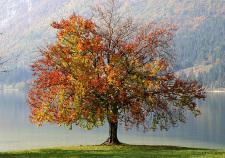 Read Part 1.
General Revelation is not potential knowledge, but actual knowledge. The phrase "gnontes ton theon" in Romans 1:21, translated as "[they] knew God" implies knowing God already. If that is the case, a theological apologetic witness to God utilizing only the world around should be aimed at awakening and reminding the sinner to what they have suppressed, and elucidating what is presently known. When we look at the world, we are always reminded of our Creator.
Now, it is true that men can and do shut out that reminder, they can quieten the voice of conscience and the voice of memory (both of which are revelational to a degree). When they then put forth their numerous alternatives; religions and philosophies, and argue for their truth over against the Christian truth claim, they are doing nothing more than exhibiting the results of their ongoing distortion of God's revelation in them and around them.
But however low man may go, man is still the image of his Creator; spoiled, confused, and corrupt at turns though he may be. He has eternity in his heart (Eccles. 3:11), but he has set himself against his Maker and will not be reconciled.
For the mind that is set on the flesh is hostile to God, for it does not submit to God's law; indeed, it cannot. (Romans 8:7)
1271 reads