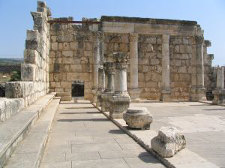 Reprinted with permission from As I See It, which is available free by writing to the editor at dkutilek@juno.com. Read the series so far.
Chapter Five: The Public Service in the Synagogue and the Church (continued)
Bible Reading in the Church
While accepting the complete OT canon of the Jews, NT-era Christians also recognized additional written works as divinely-inspired and therefore authoritative. As the various Apostolic writings were composed and circulated, their authority was recognized and they began to be read in the churches in addition to the Old Testament Scriptures.
In 1 Timothy, Paul's "textbook" on "church polity" (see 3:14-15), he instructs Timothy, proseche tei anagnosei, "devote yourself to the reading" (4:13). That this is the public reading of the Scriptures and not simply an exhortation to extensive private study is evident, first, from the presence in Greek of the definite article, "the reading," that is, something well-known The article is similarly used in the references to the reading of the Scriptures in the synagogue, Acts 13:15; 2 Corinthians 3:14. Second, the two following activities, "the exhortation, the instruction," are clearly public activities carried out in the assembly. Most commentators seem to understand the reading to be public and in the church, rather than private. Included in this number are Alford,1 Ellicott,2 Fairbairn,3 Van Oosterzee,4 Liddon,5 White,6 Lock,7 Robertson,8 Hendricksen,9 and Earle.10 On the other hand, there are those who understand the verse to mean private study, including Calvin,11 Gill,12 and Barnes13 (Clarke understands it of both public and private reading).14
3573 reads