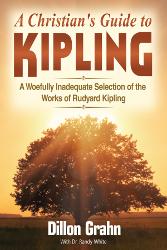 Reposted with permission from Dispensational Pubishing House.
The following is an exert from A Christian's Guide to Kipling, co-authored by Randy White and published by Trust House Publishers, a division of Dispensational Publishing.
I'm not the first to suggest that poetry is the supreme art. Philosophers and common-folk alike have come to this simple conclusion. While one may prefer the art of the canvas, created by paintbrush or camera, or the art of sculpture, created by clay, wood, or stone, I'm not talking about preference. I'm talking about the art that reigns supreme.
Setting aside all art save those related to words, I still believe that poetry is supreme. There are other word-based arts, of course. I regularly practice the art of oratory through preaching.  It is a combination of the spoken word and (hopefully) sound logic. I also frequently make use of the art of rhetoric in the written word, which is somewhat more limited in persuasion from oratory. The sights, sounds, and immediate feedback from oratory outshines the written word on almost every occasion. All of us love drama, in varying degrees, and drama is certainly a word-based art. But drama takes a stage, an actor, a script, and, more often than not, a cast.
1535 reads