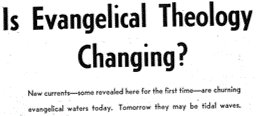 A Re-opening of the Subject of Biblical Inspiration
Now just a pebble in the pond of conservative theology, this could expand to the bombshell of mid-century evangelicalism.
Evangelicals, like fundamentalists, believe that the Bible is the infallible, inspired Word of God. But evangelicals are making bold to ask, "What does 'infallible, inspired' mean?"
Few evangelical theologians believe today the view that it was "dictated" by God much as a business man does when he says, "Take a letter, Miss Brown." Neither do they deny that errors have crept in as the Bible has passed down to us through translations.
What they do say is that God spoke through writers who were fully kept from error by the influence of the Holy Spirit.
Is this enough of an explanation? Perhaps it once was. But now liberal trends—notably pro-orthodoxy—are using the old standby terms of orthodoxy. So orthodoxy is forced to redefine its terms.
Says Wilbur Smith: "I believe that most conservative theologians today agree that the whole subject of biblical inspiration needs reinvestigation. What the majority of conservatives of our time mean by 'the inspiration of the Scriptures' is certainly not, for example, what Luther meant by the phrase."
Carl F.H. Henry echoes this view and adds: "The impact of neo-orthodox theology has been felt especially in the areas of Biblical authority. I notice a weakening even in some conservative circles of confidence in the high doctrine of Scripture."
Warren C. Young says: "Evangelicals must cope with this problem (biblical inspiration) in the light of neo-supernaturalism. Any type of verbal inspiration which fails to recognize the conceptual side will not carry much weight today."
A Growing Willingness of Evangelical Theologians to Converse With Liberal Theologians
When conservatives first lost the battle on the denominational front, theologians pulled their heads in their shells. Now they're poking them out again.
Vernon Grounds believes: "An evangelical can be organizationally separated from all Christ-denying fellowship an yet profitably engage in an exchange of ideas with men who are not evangelicals. Why not? How else can we bring them into an experience with the Christ Who is Truth Incarnate?"
Says Lloyd Kalland of Gordon Divinity School (Mass.): "Evangelical scholars today are more willing to be drawn into this open conflict with the liberals than at any other time in recent history."  
This sums up some ripples on the waters of evangelical thinking. Will they grow to ground swells?
Kenneth Kantzer of Wheaton College (Ill.) points out that: "Evangelical thought is very much a grassroots affair, humanly speaking." Nevertheless the men who are teaching the future preachers, Cristian educators and lay leaders of tomorrow are bound to have a tremendous effect on the whole evangelical movement.
What about the future? Do the theologians view with alarm or point with pride?
Vernon Grounds: "The future, I sanguinely predict, is bright for the evangelical cause if somehow it can counteract its fissparous tendencies. Never before has there been such an opportunity to demonstrate the inadequacy, vitality and necessity of the Gospel."
Paul Wooley: "Conservative Christianity is faced with a decision. It can stick to a lot of unnecessary traditional baggage in the forms of customs, practices and lingo beloved through the generations but now obstacles to preaching the Gospel to the unsaved. Or it can recognize that it has the opportunity to state the truths of the Christian faith in new terms and by new methods."
Paul Erb, editor of the Mennonite Gospel Herald: "Evangelical Christianity is likely to dominate the future if it can face openly and creatively the certainties, not the doubts, of modern scholarship—for instance, in the field of textual criticism."
No doubt about it. With a man like Billy Graham in the world spotlight, the Gospel that evangelicalism preaches is being put before men and women as never before. Atomic war threatens. The world is tense and troubled. People want the genuine Gospel.
Evangelical Christianity has what they are hungering for. That's why its future is bright.   
2292 reads