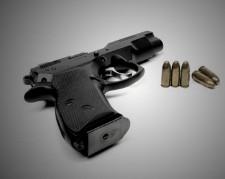 From Baptist Bulletin, March/April 2016, used by permission. All rights reserved.
A foreign nation launches an unprovoked military attack on another country for the purpose of gaining control of valuable natural resources or to gain control of a strategic military position. This is not the threat of such an attack, but an actual invasion in which force is being used and people are being killed. Do the people of the nation under attack have the right to defend themselves with military force even if that means many of the invaders will be killed? May Christians serve in the military and participate in such deadly force?
What if the Christian is a civilian? In which of the following situations, if any, would you consider it acceptable or appropriate for a Christian to exercise lethal force or to condone such force by a fellow Christian?
A terrorist group not officially sponsored by any national entity is detected in the act of implementing an attack against unarmed civilians by means of large explosive devices, a nuclear device, and/or poison gas, any of which would result in the death of hundreds if not thousands of people.
Unknown attackers invade a conference center where a large political rally is being held and kill hundreds of people with machine guns and grenades.
A heavily armed gunman opens fire in a public setting, shooting people at random.
An attacker invades a church's building during a worship service and shoots the pastor as well as many congregants.
Just as ushers finish collecting an offering, several people armed with knives enter a church service and demand all the money.
An armed assailant breaks into a home during the night, holds the husband at gunpoint, and proceeds to rape his wife.
Several husky teenagers surround an older man walking with a cane and demand his wallet.
Gang members verbally attack a man and his wife on the street, using abusive and graphic language to describe the woman in an obvious attempt to provoke the man into a fight.
Several men attack, for no obvious reason, another man who is physically fit and active. Using baseball bats, they beat him into the ground and appear intent on continuing the attack.
A pastor who has had a lengthy and sometimes fruitful ministry to gangs in an inner-city setting encounters a particularly belligerent gang member who is either drunk or high. In the process of hearing the gospel, the gang member both assaults the pastor verbally, mocking Christianity and cursing Jesus, and deliberately insults the pastor with a backhanded slap across the face.
The list could go on nearly indefinitely. The examples cited here are all realistic situations, and all could be illustrated with news clippings from recent years. Such news reports raise the question of self-defense in a very palpable way. Most Christians' discussions of self-defense focus on military attacks and relate to the validity of just war theory. That is not the focus of this article, though the questions are interrelated. Nor is my present concern with the question of the Christian's defense against a tyrannical ruler. Rather, I am interested in the more personal question of an individual's right to self-defense.
We are all sinners living among other sinners in a fallen world where evil is undeniable. One consequence of this is the inevitable violence committed by some people upon others. It has been this way from the beginning, when Cain murdered Abel. Modern technology enables violence on a much greater scale. It does no good to deny the existence of violence, nor is it responsible to avoid thinking about how one would respond to a direct, personal encounter with violence. Christians living in the United States are fortunate not to face routinely the sort of atrocities that are common in some other parts of the world. That security, however, does not excuse thoughtlessness, for even here, bad things do happen to God's people.
Biblical Considerations
To address these questions, I will first examine a series of Bible passages that are either relevant to the questions raised or have been claimed by some to be relevant. Relatively few texts address the question of self-defense directly. Following that examination, I will attempt to synthesize a coherent Christian view of the subject.
Old Testament texts
In terms of the Old Testament texts discussed here, it is important to realize that many of these texts are part of or under the jurisdiction of the Old Covenant. Though they may establish general principles regarding God's view of self-defense, they are not in themselves normative in governing the conduct of anyone who is not under the legal jurisdiction of the Mosaic law.
On the basis of Genesis 2:15, Patrick and John Henry have claimed, "The right of self-defense predates the fall of Adam and as such it is one of the universal rights of man." The text states, "Then the Lord God took the man and put him in the garden of Eden to tend and keep it." To deduce the right of self-defense, they understand "to tend" in the sense of "guard," and conclude that this authorizes guarding oneself from any and every possible threat. Yet this is found in a description of pre-Fall Eden. From what or whom is Adam guarding the Garden? The Henrys appeal to a defense against Satan and then extend that concept to any future aggressors post-Fall. The presumptions and conclusions seem rather dubious. How would one defend oneself against the attack of a spirit being? Certainly not by physical means. Nor is there any indication that this general statement can legitimately be transferred to other domains post-Fall. More likely, the verb should be understood in the sense of "to take care of," as almost all English translations agree and as the parallel construction with "keep it" (lit., "work/farm it") implies.
Genesis 14 has also been used to support personal self-defense. This is the account of Abraham rescuing Lot, who had been kidnapped by raiding parties. Though the principles involved might well be relevant at a national level (Abraham was essentially the head of a tribal group at this point), it is a stretch to apply the corporate actions of a tribe to an individual. There may be related principles here, but they should first be treated at the level of national just war theory before a tertiary application to individual self-defense is attempted.
With Exodus 22:2 and 3 we have a clear reference to self-defense under the Old Covenant: "If the thief is found breaking in, and he is struck so that he dies, there shall be no guilt for his bloodshed. If the sun has risen on him, there shall be guilt for his bloodshed." In this example the thief is said to "break in." The law assumes an altercation in which the owner kills the invader. No statement discloses the details of the confrontation. It is enough that a home invasion has taken place and the aggressor has been killed—whether intentionally or accidentally is immaterial in this particular case.
In this situation the homicide is judged to be a case of justified self-defense, provided it occurred at night. No explanation is given as to the rationale for the verdict, only that the homeowner does not have bloodguilt. The assumption may be that at night the aggressor's intentions are not clear.
The situation is different during the day. Though justified at night, there is no such provision "if the sun has risen on [the thief]." The specifics are somewhat ambiguous in this case. The limitations of verse 3 may simply forbid killing someone caught in burglary during daylight hours, or it may forbid revenge killing (tracking down the thief and killing him later that day), or it may assume that the night thief did make off with property but was later apprehended. In any case, this text provides a clear basis for justifiable homicide in self-defense in at least one situation.
(Next week: The New Testament evidence, answers to objections.)
---
Rodney J. Decker (ThD, Central Baptist Theological Seminary) was professor of New Testament and Greek at Baptist Bible Seminary, a member of Northmoreland Baptist Church, Tunkhannock, PA, and author of many books and articles. He went to be with the Lord in 2014.
805 reads
6472 reads